Question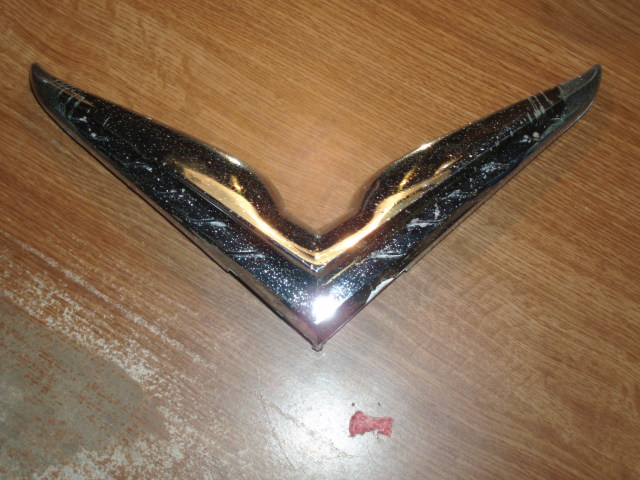 Ornament
Hi there,
Do you know what model/make this chrome ornament goes to?
Thanks,
Mike
Answer
REVISION:
Hi Mike,
Well, as promised i have continued looking into this photo for you, and after consulting with a friend and fellow expert from this website, we were able to put our heads and combined knowledge together and get an answer for you.
The piece you have is from a 1951 chrysler New Yorker Convertible. I was wrong in saying that it was not factory, because i now know this to be false, it was a Factory HOOD and TRUNK ornament appearing on the 1951 Chrysler New Yorker Convertible. Visit this website below for photos and proof that this is infact from a 51 new yorker
http://www.sunbeltcars.com/chrysler51newyorker.htm
I am still not sure if this piece is originally made in the 50's or if it is a replica, because it is in very good condition for a 60 year old ornament, if it is stock however, it is rare and worth holding onto, as not many are still around and very few are in this condition.
Below is some information on the vehicle your ornament appeared on.
1951 Chrysler New Yorker Convertible
This top of the line Chrysler was the first New Yorker to use a V8 engine. The V8 was called the "Firepower Engine." Cars with the V8 power were identified by large V ornaments on the hood and deck lid.
New Yorker nameplates were placed on the front fenders. Power steering was an industry first and "Oriflow" shock absorbers were now available.
Styling changes were basically limited to the area in front of the cowl. Grille changes consisted of a heavily chromed look with a chromed centerpiece. The dash panel continued its padded design and remained similar to the 1949 type.
I am glad i was able to find the answer for you with my colleague's help. It was starting to nag at me because i knew i had seen it before, but could not place where. I was correct in my statement about it being a 50's style ornament though, which makes me feel a little better =)
I hope this proves helpful to you, and now at least you can read up on the car that you have a piece of.
Also incase you would like to thank the expert who assisted me with this you can email him at installsupport@aol.com his name is robert.
Thank You
Antonio Ibarra
Hi Mike,
After some research and using my own knowledge of auto parts and accessories. I can not say for sure where this part comes from, however all is not lost what i can tell you is this.
This piece is definitely, in my oppinion, not a stock automotive emblem or ornament. It appears to be a mimic of the 1950's theme hood ornaments, which were modeled after air planes, the hood ornaments of the 1950's use this winged design that you see in your ornament. Airplanes were the biggest technology of the times in the 50's.
This piece is definitely not original from 1950's or if it is it is very well maintained, however i believe it is an aftermartket piece made to mimic the theme of the 50's.
I will continue to look into this further and see if i can get you a better answer or atleast the name of the company that produced it and what car it was meant for.
I am sorry i can not be of more help at this time, but as i said i will look into it further and get back to you.
Thank You, Great question.
Very nice looking onrament also.