Question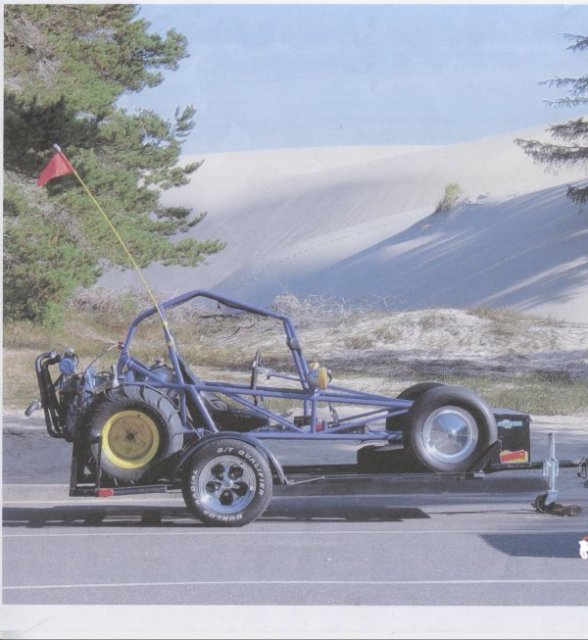 At the Oregon Dunes
I purchased a VW auto trans. It has a torque converter, so I assume it's a conventional style, not a autostick. Could you tell me what year beetle it came from, how many speeds it has, and what is the ring gear ratio. I'm thinking maybe I would like to put it in my sandrail. Do you think this might be a good option. Are they a strong trans. I have broken many std. trans. I feel I would be great fun not having to shift gears, just stomp and go.
Thanks for any help you can offer.
Bruce P.
Answer
Hi Bruce,
The only transmission the beetles used with a torque converter is the autostick. I have an autostick, and it is very reliable and strong if maintained.
The transmission has the following characteristics:
It has 3 forward gears, Low, 1st and 2nd, and one reverse.
(if the transmission is late '74 or 1975, it will also have "Park" on it, to keep the car from rolling.)
In order to put it on your sandrail, you will need the following components for it to work:
1) Stick shift for autostick (has microswitch in it)
2) Vacuum Tank
3) ATF Tank
4) Special two-stage oil pump.
5) Control Valve for Autostick
6) Vacuum servo for the automatic clutch
7) Hoses and Lines
8) Intake manifold with large vacuum port for control valve.
As you can see, there are a lot of components. Your best bet is to look at a VW that has the system installed and see how you like it.
My recent restoration was converted to a manual, I switched it back to it's original auto-stick configuration and had to find all the parts above. It was initially a lot of work, but the end result was very gratifying.
I hope this helps!
Ron