Tips on Buying Cars: purchasing a used car ASAP
Question
Thank you for offering to help as I don't know much about purchasing but desperately need to get a car this week. Is a 2002 Kia Magentis (otherwise known as Optima in the US ) a good deal at $3000.00 Canadian dollars? It has 133,000 km and is a 4cyl. Once certified, how many more years could I expect to get out of it with small town driving?
Answer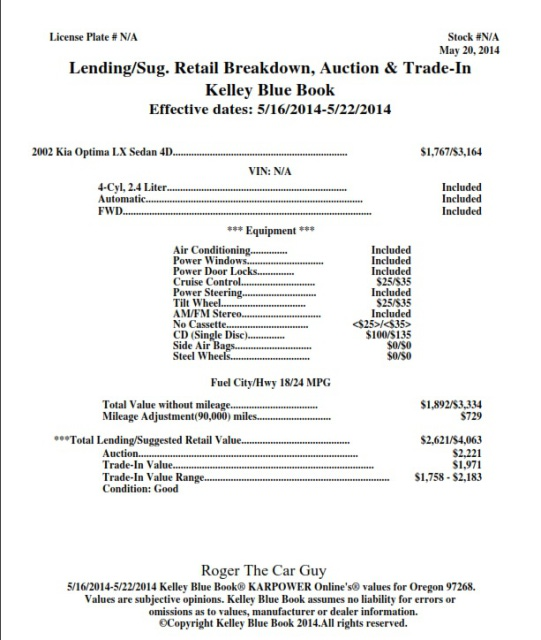 kia
Darn it Diane I just saw your question ...I changed my settings so I would get a text message when a new question came in and apparently I turned off all notifications ..hope I'm not to late.
OK ...so the exchange rate between the Canadian dollar and the US Dollar is just about .92 Canadian = 1.00 US
and
133 Km = 82,500 Miles
So now that we have that out of the way the answer to your question of is it a good price? ....is ...its a fairly reasonable price but its not a terrible price either depending on how good of condition it's in.
Here is the book sheet on this car assuming its a no frills model with power windows locks etc and a CD player... (see photo) as you can see the car has a wholesale value of $2,600.00 (close to 3k Canadian) but the auction value is $2,200.00 (plus buy fees) if this car is in great shape then 3k would be a good price. If this car were on my lot we would be asking $4,499 for it. Make sure you inspect it for rust underneath and run a carfax or autocheck on it and as always feel free to ask as many follow ups as you like my personal email is roadloans@gmail.com where I will get them immediately Thanks for the question please give me perfect reviews and if you can't then get ahold of me and I will address any deficiency in my answer...thanks and I hope this car works out for you