New Auto Theft Trends Target Gym Rats, Distracted Drivers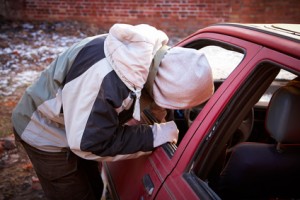 Gym rats and distracted drivers should take notice: a recent report out of Michigan says that they are targets of new auto theft trends.
Although the number of stolen cars and carjackings in Michigan has dipped recently, "thieves are coming up with new ways to steal vehicles and target drivers," according to Terri Miller, executive director of Help Eliminate Auto Thefts (H.E.A.T.).
New methods often involve criminals following their marks (aka drivers like you). Thieves will trail someone to their gym, then swipe their key from the key rack. Or they could tail a distracted driver, rear-end them, then make off with the vehicle when that driver exits it to review the damage.
The key to prevention? Awareness.
"Drivers need to be aware of the evolving trends in auto theft and the ways they can protect themselves and their vehicles or property. Using common sense and being aware of auto theft trends can prevent you from falling victim to auto theft-related crime," Miller said.
Here is the list of new auto theft trends from H.E.A.T.:
Car Thieves Targeting Gyms: Opportunistic criminals are watching when gym-goers exit their vehicles and head inside the gym to workout. Criminals either grab keys from the key rack in the gym before driving off with a victim's vehicle, or take advantage of the time they have to steal tires, rims, airbags, navigation systems and other personal property. Remember to bring your keys into the gym and keep them with you, and never leave valuables in plain view. If you must leave something in your vehicle, lock it in the trunk or place items out of sight.
Crowded Parking Lots: Concerts, sporting events and other summer activities bring cars and fill parking lots which attract criminals in search of easy-to-steal property. The next time you visit a crowded area or attend an event downtown, consider parking in a secure, city-owned lot or in a well-lit area with an attendant or heavy pedestrian traffic.
Online Fraud: Many thieves are turning to online purchasing sites such as Craigslist.com or local sites like cars4detroit.com as easy outlets for online selling or trading of stolen, cloned or re-tagged vehicles and stolen auto parts. H.E.A.T. reminds consumers that if the deal is too good to be true, it probably is.
Unique Strategies: Be aware of the unique strategies some thieves employ. For instance, thieves may rear-end a vehicle at a slow speed to cause minimum damage, and then drive off in your vehicle when you exit your car to check for damage. If it's dark outside or if you aren't visible to other people, avoid getting out of your car. Also, be alert and aware of your surroundings as you approach your vehicle. Avoid talking or texting on cell phones or digging for keys as it can be a distraction and can make you an easy target to criminals.
Thefts of Older Vehicles: As technology in newer vehicles improves, criminals are turning to older models and stripping the vehicles for their parts. Arm your car with extra security to help deter criminals, including electronic immobilizers as well as visual and physical deterrents such as steering wheel locks, floorboard and pedal locks, gearshift locks and wheel clamps.
Tire and Rim Thefts: An ongoing problem throughout the state, especially in Metro Detroit, is the increase in tire and rim thefts. Thieves typically target easy-to-steal tires and rims, in order to sell them to crooked dealers and repair shops. H.E.A.T. recommends that drivers park in a garage whenever possible or in a parking lot with an attendant.
"Push" Steals: Since thieves need your keys to steal newer vehicles, they're switching methods for stealing parts or even entire vehicles. "Push" steals occur when thieves push the vehicle away after forcing entry to release the gears. Often times, thieves push the vehicle to another location where the tires and rims are removed from the vehicle. Arming your vehicle with extra security can help prevent criminals from "pushing" your car.
Online Auto Insurance has been reporting on car thefts throughout July, which is Auto Theft Awareness Month. Read our other entries in our anti-theft series:
Protect Your Car
My Car's Been Stolen! Now What?
Big Cars, Big Theft Targets: Tips for Sports Utility, Crossover Vehicles
A lot of Cars, a Lot of Thefts: A Look at Thefts of Compact Cars
Fast Theft Facts for Fast Cars: How to Protect Your Sporty Vehicle