How to Switch Over a Title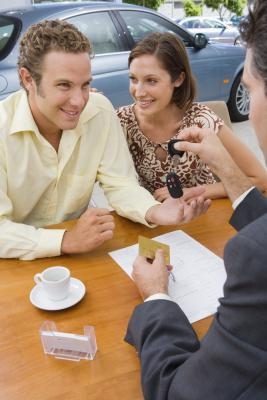 When a vehicle changes ownership, you are required to switch over the vehicle's title to the new owner. Transferring the title also requires filling out a release of liability form, which releases you, as the previous owner of the vehicle, of any responsibility that may arise from the use of the vehicle by the new owner. The title of a vehicle is an important document that contains information about the vehicle's owner, as well as the make, model, year and odometer reading of the vehicle. This document serves as proof of ownership of the vehicle.
Things You'll Need
Vehicle title
Transfer fees
Smog certification (if required)
Proof of insurance for the new owner
Pen
Locate the vehicle title. On the back side of the title, in ink, print the name of the new owner, the owner's address, the odometer reading at the time of sale, the new owner's address, the date the vehicle was sold and the selling price. You, as the vehicle's previous owner, will also need to fill out some information, such as the address, and will have to sign and date the title.

Certify by signing, on the front of the title, under penalty of perjury, that your signature as previous owner of the vehicle releases the interest of the vehicle. The new owner will also be required to again fill out the odometer reading and obtain the signature of the company selling the vehicle, if applicable.

Find, attached to the the title, a separate form that the new owner will need to fill out and mail to the DMV, usually within five days of purchase, in order to avoid penalties and fines. This is called a Notice of Transfer and Release of Liability form. The new owner will need to fill out information such as the previous and new owner's personal details.

Instruct the new owner to take the title to the DMV to have it transferred. The DMV agent will verify information, collect a transfer fee, and a new title will be mailed out to the new owner.