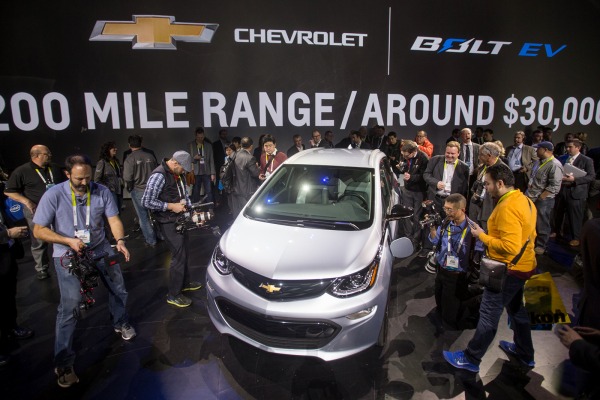 The latest advancements in electric vehicles, autonomous driving and infotainment systems took center stage at the 2016 Consumer Electronics Show (CES) in Las Vegas.
In 2016, we can expect a 200-mile range electric vehicle from Chevrolet, Apple CarPlay and Android Auto are coming to Fiat-Chrysler and Ford vehicles, and a revised Mercedes-Benz E-Class and Volkswagen e-Golf will offer all-new infotainment systems.
Looking a bit further, expect to see the emergence of a new electric car brand, gesture-based infotainment systems, artificial intelligence that prevents accidents in self-driving Toyota vehicles, a fully autonomous Kia by 2030 and a Volvo in which the hardest choice you'll have to make is which TV show or movie to watch first.
Apple CarPlay and Android Auto Gain Traction
In 2015, there were only a handful of vehicles from Chevrolet, Honda, Hyundai and Volkswagen that offered both Apple CarPlay and Android Auto. In 2016, that number will be significantly higher.
Fiat-Chrysler announced that Apple CarPlay and Android Auto will come to select 2017 vehicles equipped with the fourth-generation Uconnect systems. The overall look remains similar to the current Uconnect system, but Fiat-Chrysler promises that the upgrades will include more responsive capacitive touchscreens, performance improvements for quicker startup time and enhanced processing power.
Ford also plans to add Apple CarPlay and Android Auto on its 2017 vehicles, starting with the Escape. Owners of 2016 Ford vehicles equipped with Sync 3 will have the opportunity to upgrade, via a software update, later this year.
Future Infotainment Interfaces
Not content to let Apple and Google handle the infotainment system duties, automakers at CES continued to show how these systems can evolve in the short and long term.
The Volkswagen e-Golf Touch has an all-new 9.2-inch touchscreen display. The volume knob is the only physical input. Drivers and passengers perform all other functions with the touchscreen or with left- and right-hand gestures for simple commands like skipping a track or changing a radio station. The system will also listen for the voice prompt, "Hello Volkswagen," which then displays and initiates the voice-controlled features. The e-Golf Touch also has a digital instrument panel borrowed from the Europe-only Passat. Both displays can be customized to provide as much or as little information as the driver prefers. The e-Golf Touch is coming in 2016, and the new infotainment display should make its way to other models soon after.
Mercedes-Benz previewed the infotainment system on its upcoming 2017 E-Class sedan. Two high-definition, 12-inch displays are set adjacent to each other and give the impression of a single ultrawide screen. The left screen handles the driving information, while the right screen handles the navigation, audio and car applications. The steering wheel features a pair of touch-sensitive pads that correspond and control each screen with a light swipe of a finger. The vehicle will also have a redundant control knob in the center that performs the same functions for passengers or drivers who prefer a larger input method.
When (or if) autonomous cars become the norm, we'll have a lot of free time, and carmakers are developing systems to help us while away the hours when we're "driving." BMW's i Vision Future Interaction concept looks like a modified i8 without a roof. In this autonomous vehicle concept, the goal is to have a larger screen for driver interaction. Gestures control the 21-inch screen, with the driver's hand effectively becoming a mouse's cursor, used to select a tile. A button press on the steering wheel confirms it.
Volvo is taking the idea of what to do when the car is driving itself a step further. The "Concept 26," named after the average commute time, has a large display that emerges from the dash when the driver selects "relax" mode. The seat reclines and the steering wheel retracts, at which point the driver is free to stream shows from participating video providers. This concept is admittedly much further down the road, as current laws require the driver to pay attention to the road. Still, this would be a dream car for anyone with a long commute.
Electric Vehicles Continue To Evolve
Carmakers unveiled three vehicles at this year's CES: events usually reserved for traditional auto shows. All three stressed the importance of having a dedicated EV-centered architecture as part of the design process.
Chevrolet engineers took the lessons they learned from the Volt and Spark, and applied them to the 2017 Chevrolet Bolt. The company says the Bolt will have a range of more than 200 miles — nearly double the range of its closest price competitor, the Nissan Leaf. The battery charges to 80 percent in about 60 minutes, provided you're using a DC fast charger. The battery is mounted flat in the center of the vehicle, which frees up space inside. That gives the Bolt the exterior dimensions of a small crossover, and the interior space of a midsize sedan. Inside, there is a 10.2-inch touchscreen display that is customizable and features a navigation system that can find a route to maximize range or bring you near a charge station. The Bolt also features Bluetooth low energy, which begins pairing your phone as you approach the car and is instantly ready to go when you start it. The Chevrolet Bolt will go into production in late 2016 and is expected to cost about $30,000 after federal tax incentives.
Volkswagen tapped its heritage for inspiration as it revealed the Budd-E concept, an all-electric, spiritual successor to the Microbus of the 1960s. The Budd-E has an estimated range of about 233 miles and its battery charges to 80 percent in about 30 minutes. The Budd-e's doors open with a gesture or voice command.
The interior is designed as a "social space" for passengers to bring their own content on a tablet and queue it up on a larger screen in the vehicle. It also has connectivity features that can communicate with smart appliances in the home. The CES demo showed how the driver could talk to guests arriving at his home and even unlock the door to let them inside. When the Budd-e leaves the garage, it can tell home appliances to enter a low-power state until the homeowner's return. Volkswagen didn't give a timetable for the Budd-e's release, saying instead that it offers a glimpse of what a connected car would look like in 2019.
A new EV company, Faraday Future, unveiled its first concept car, the FFZERO1, an extreme vision of what an electric vehicle platform can achieve rather than a preview of a first production car. The FFZERO1 is a single-seat sports car and is just a shade of black away from the Batmobile.
Faraday says it's more of a technology company than a traditional automaker, although its key leaders come from companies such as BMW, Jaguar and Tesla. The company's early goal is to "launch with fully electric vehicles that will offer smart and seamless connectivity to the outside world."
The FFZERO1 "gave us a chance to search for our DNA," said Richard Kim, head of global design for Faraday Future. Styling cues such as the shape of the instrument panel, the color scheme and the tailfin with external communication are likely to make their way onto the first production vehicle, Kim said.
The underlying platform offers the Faraday engineers a number of options when it comes to creating vehicles of different sizes and performance benchmarks. Sections of the battery pack can be removed to make a smaller vehicle, for example. Up to four electric motors can be added to meet different power needs.
"No one else has approached a battery pack design like this," said Nick Sampson, senior vice president of R&D and product development for Faraday Future.
The company will break ground on its first factory in Nevada in early 2016. It will likely be another three years before the first vehicle rolls off the assembly line.
More Players in the Autonomous Vehicle Race
Ford, General Motors, Kia, Toyota and Volkswagen all made announcements at CES on their plans and progress toward a fully autonomous or "self-driving" car.
Ford had a Fusion Hybrid on display that was outfitted with LIDAR sensors atop the roof. The company announced that it would not only triple the size of its autonomous test fleet, but also that it would accelerate the testing and development of the sensors and software needed for the vehicle to better "see" its surroundings. For example, the array of sensors on the roof has been consolidated to a cylindrical object slightly larger than a hockey puck, putting an autonomous vehicle one step closer to road-readiness.
Toyota stressed the importance of having a self-driving vehicle that is capable of learning and operating in the most difficult driving conditions. Autonomous vehicles work well in ideal road conditions, but when objects or inclement weather obscure line markings and road signs, many systems can no longer make out their surroundings and call for the driver to take over.
"Our standard for human drivers is more tolerant of error," said Gill Pratt, CEO of Toyota Research Institute, "but we expect technology to be perfect."
Toyota gathered robotics experts, computer engineers, university professors and other bright minds to found a research center dedicated to artificial intelligence and robots. Its goal is to create smarter autonomous vehicle software and robots that will assist in personal mobility of another kind, such as helping elderly people more easily move around their homes.
Kia showed its autonomous Soul EV, which has served as its test bed for many advanced driver assistance systems. Kia also predicted that it would have a highly automated vehicle on the road by 2020 and a fully autonomous vehicle by 2030.
Finally, General Motors and Volkswagen announced that they are partnering with Mobileye, a company that specializes in visual imaging software and equipment for autonomous vehicles. This equipment will ensure that the vehicles are able to better detect objects in the road, while also lowering the component costs.
---
.