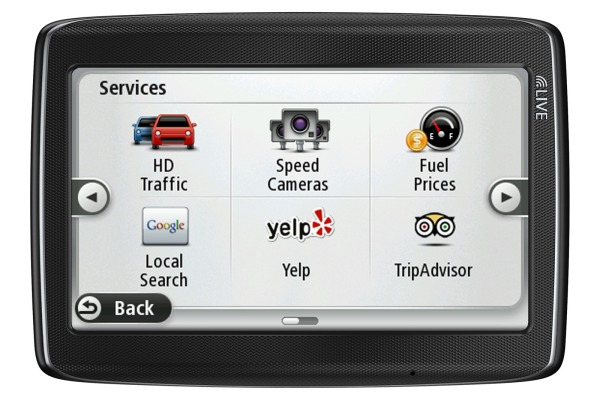 Automakers have stolen most of the thunder from aftermarket electronics at the annual Consumer Electronics Show (CES) in Las Vegas. But it's still the place to see the latest and best technology you can add to your car — without buying a new one. Here are the top 10 aftermarket products we found at 2012 CES. The gadgets run the gamut from high-end replacement head units that cost more than $1,000 to a free smartphone app that can help keep you from crashing your car.
TomTom Go Live GPS Navigation
TomTom Go Live is the turn-by-turn navigation system for people who have resisted buying a smartphone. It has helpful GPS features, such as lane guidance and TomTom's exclusive IQ Routes that uses actual road speeds to determine arrival times. However, it uses apps and the unit's built-in connectivity to deliver real-time information such as hotel availability in an area, Yelp reviews, weather forecasts and live fuel prices. If you run into delays along the way, you can also automatically tweet your ETA to your contacts — all without a smartphone. Price: $249, with a $49 per year subscription after the first year.
JVC KW-NT800HDT Navigation Head Unit
The JVC KW-NT800HDT offers a 7-inch WVGA monitor for vivid maps and video playback, a fast processor for rapid touchscreen response and an 8GB solid-state drive. Also included are HD Radio and a free lifetime subscription to Clear Channel Radio's Total Traffic HD +/Total Traffic Connect for real-time traffic, news, sports and weather updates. The KW-NT800HDT also features Pandora and iHeartRadio music streaming services, SiriusXM compatibility and Bluetooth hands-free. It lets you browse HD Radio and AM/FM stations by song or artist title, and HD Radio bookmarks generate onscreen QR codes that can be scanned with a smartphone to download the song. Price: $1,300.
Escort Live Radar Detection
Drivers have alerted others on the road about speed traps since the CB days. Escort updates that low-tech social-networking concept with Escort Live. Load the app on your smartphone and swap your compatible Escort radar detector's power cord for a Bluetooth-enabled Live cord, and you're Cloud-connected to all the other Live users. Whenever you detect radar or a laser, the system posts it on the app's GPS map on other users' phones. As you and other users confirm the speed trap or flag it as a false alarm, the system becomes more accurate. Bottom line: You get a head's-up on what's ahead well before you're in range. In addition to live alerts, you can access a database of fixed speed-camera positions. Price: $80 for the Live cord, iPhone or Android app and a one-year subscription to the service.
Sony XAV-601BT MirrorLink Head Unit
Sony's new head units expand smartphone connectivity by using the emerging MirrorLink protocol to control USB-connected smartphones. MirrorLink technology transfers the graphic user interface of a smartphone to an aftermarket or OEM head unit's touchscreen to control the phone's apps and functions. (MirrorLink is compatible with Android and Symbian smartphones, but not iPhones, BlackBerry or Windows phones.) Sony is the first aftermarket supplier to offer MirrorLink in two new head units. The XAV-601BT can also control an iPhone-stored TeleNav navigation app, which is only available for Sony head units. An optional nav module uses TomTom technology instead. The XAV-601BT also has Bluetooth audio for streaming Pandora Internet radio. Price: $549.
Rockford Fosgate Low-Current Amplifiers
Low power consumption has been the Holy Grail for battery-powered handheld devices for decades. But generally, car electronics have been impervious to the problem. With the introduction of hybrid and electric vehicles, power consumption is rapidly gaining in importance. Rockford Fosgate responds with two new low-current power amplifiers, joining two others already in the product line. The PBR300X2 is a two-channel, 200-watt stereo amplifier, while the PBR500X1 is a single-channel, 500-watt model designed to power subwoofers. Both use power supplies that reduce current draw on the car's battery. Price: $269 for the PBR300X2, $399 for the PBR500X1.
Alpine INE-Z928HD Navigation Head Unit
Aftermarket and stock stereo converge with Alpine's INE-Z928HD head unit. It has an 8-inch screen, but fits in the factory double-DIN space that's found in most cars. That's achieved through Alpine's vehicle-specific Perfect F.I.T. (Factory Integration Technology) installation kits, available for 10 vehicles from Ford, GM, Toyota and Volkswagen. The customized kits include a dashboard bezel and wiring harness. They let you (or a car dealer or aftermarket specialist) drop in the big screen and get a like-factory appearance. The INE-Z928HD unit also has built-in custom sound tuning for the specific vehicles. Features include navigation, free lifetime traffic updates, a WVGA screen and iPhone compatibility. Price: $1,500; kits range from $149-$400.
JL Audio StealthMod
If you want to upgrade the sound system in your car but want to keep your radio and the interior unchanged, JL Audio's StealthMod kits provide custom add-on systems for three vehicles: 2007-and-up BMW X5s, 2010-and-up Chevy Camaro convertibles and 2010-and-up Kia Souls. Each StealthMod kit includes JL Audio speakers that drop into the stock locations and a Stealthbox subwoofer enclosure that fits in the nooks and crannies of a vehicle's trunk. It also comes with a multichannel amplifier, adapter plates, wiring harnesses, a subwoofer-level remote and all the nuts and bolts for an easy installation. If you don't own one of those cars, don't worry. Kits for more vehicles are on the way. Price: Soul, $1,300; Camaro, $2,000; X5, $1,650.
Mobileye
Mobileye supplies technology for advanced driver assistance systems (ADAS) to automakers. Now the company is making a push into the aftermarket with two smartphone-connected products that can help prevent collisions. The Mobileye 550 and 560 systems use a camera to detect pedestrians, cyclists, unintended lane departures and imminent front and rear collisions. The units can also read speed limit and other traffic signs, intelligently control high-beams and provide personalized safety statistics through the driver's smartphone via Bluetooth. Price: $749 for the Mobileye 550, $849 for the 560 with an Eye Watch Display unit.
iOnRoad Smartphone App Upgrades
Safety experts often blame smartphones for causing driver distraction, but iOnRoad believes that with the right apps, smartphones can help keep a driver from crashing. Once a smartphone is mounted on a dashboard, the company's app uses the phone's native camera and sensors to detect vehicles in front and alert the driver. No other hardware is required. The app can also read text messages aloud, and you can take a picture of a road hazard and automatically upload it to Facebook to alert others. The newest version of the Android app adds lane departure warning. An iPhone version of the app is coming soon. Price: Free.
Cobra JoyRide Car Charger
A few weeks ago, the National Transportation Safety Board recommended banning cell phones in cars. Just in time, Cobra Electronics has announced a new product that makes it easier and safer to use an Android phone in the car. The JoyRide car charger automatically launches an Android app as soon as you plug the phone into the charger via micro USB. Instead of scrolling through numerous screens to access the features you need when you hit the road, this app puts your phone into a customized road warrior mode. You set it up to behave the way you want, with large icons to activate features such as hands-free calling, voice command or GPS. It can even geo-tag your location as you leave the car so you can easily navigate back to your car in a crowded parking lot. Price: $39.95 when released in the spring.
---
.