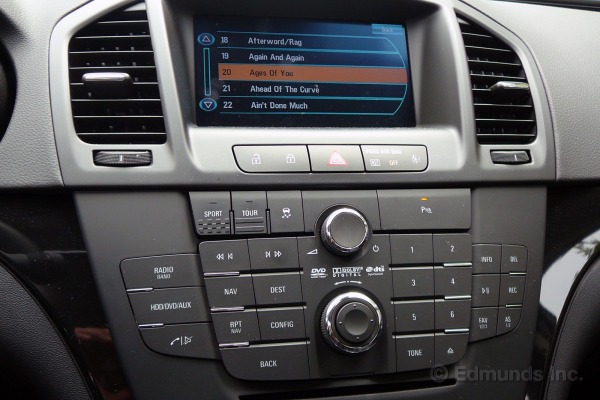 Automotive sound systems used to be simple. You had a radio receiver, a few speakers and maybe a CD player. But now car audio is an exercise in technology that seems like it's out of a recording studio, complete with high-powered amplifiers and booming subwoofers, not to mention additional sound sources such as portable music players, hard disk drives and even Bluetooth audio.
While the bedrock-basic radio/speaker setup hasn't changed much in recent years, it can be difficult to understand all the modern audio features that are available, much less comprehend the technical terminology. Ultimately the complication makes it difficult even to decide which audio components and features are right for you when you're shopping for a new car.
To help understand the nuts and bolts of car audio systems, read "Car Audio Basics." Next, consider the audio system questions below for the cars you're interested in buying. And once you're at a dealer, use our Car Audio Checklist to make sure your new car's audio system has the features you want.
And since modern car audio systems are so multifaceted — and since we can't cover every technology in a single article — check out our detailed stories about music player integration and Bluetooth audio.
Finally, "How to Tech-Test Drive Without Dealer Interference" gives tips on how to avoid any hassles you might get from a dealership while you're testing technology in a vehicle.
Head Unit Basics

Is the car stereo head unit a standard DIN or double-DIN unit, allowing you to easily switch it out for an aftermarket head unit if you choose? Or are audio components spread out across the dash?
Do the audio controls consist of a touchscreen interface, physical knobs and buttons or some combination of the two?
Are the controls easy to operate while driving?
Is the display big enough? Is it easy to read at a glance and in bright sunlight? Does it provide information such as artist/song/album for a CD or music playing from a connected music player? Does it show artist/song/channel for satellite radio?
Car Radio Features

Which radio sources are available: AM, FM, satellite, HD Radio?
Does the system offer seek-and-scan tuning and the ability to save favorite stations as presets? How many presets are there?
Does the system use traditional knobs for radio tuning or buttons and switches?
Does the radio display mimic an old-fashioned radio dial so you can gauge where you are within the range of frequencies, or does it only show station frequencies?
Does the system offer Radio Data Service (RDS) that shows artist and song information and groups stations by category so that they're easier to find?
Does the system offer a "time-shift" feature that stores live radio content to a hard drive?
Is it easy to quickly tune to the satellite radio categories and channels that you like?
Will the system alert you when a favorite song is playing on a satellite radio channel?
Does the system let you block explicit content on satellite radio by setting parental controls?
CD and DVD Features

Does the system have play/pause, skip forward/back, fast-forward/rewind, repeat and random playback for disc-based formats?
Will it play MP3 files burned onto recordable discs?
Will the system play DVDs as well as CDs? If so, will it play DVD movies when the car isn't moving?
Will it play DVD-Audio discs? If so, does it play them in high-resolution, multichannel surround or does it "down mix" the audio to two-channel stereo?
Music Players, Bluetooth Audio and Hard Disks

Does the system have an aux-in jack?
Does the system allow you to plug in portable players like an iPod? If so, is it through a USB port or proprietary cable? (For more on this topic, see the story, "How to Test-Drive a Music Player System."
Does the system allow you to plug in a thumb-type USB drive with music files?
Does the system have Bluetooth audio for wireless music streaming from a compatible device? (For more information, check out the story "Wireless Streaming Audio: Bluetooth's Second Act."
Does the system have a hard disk drive (HDD) for storing music files? If so, does it allow you to add music files from a CD, a USB thumb drive or both? Does it catalog files in a format similar to the one used by an iPod and allow you to create playlists, repeat tracks or albums and play tracks in random order?
Car Audio System Features

Does the system use digital signal processing (DSP) to combat ambient noise by raising the volume relative to the speed of the vehicle and the amount of road and wind noise?
Does it offer DSP such as Dolby Pro Logic II and Harman's Logic 7 to give stereo recordings a surround-sound effect?
Does it use DSP to optimize the sound for only the driver and front passengers or for all occupants?
Does it have midrange and subwoofer-level controls in addition to bass, treble, fader and balance?
Does the car have steering-wheel audio controls? If so, does it allow you to change audio sources as well as turn the volume up/down, skip forward/back on a CD or switch radio stations?
Does the vehicle have voice activation that lets you control aspects of the audio system?
Let Your Ears Be the Judge
Of course, the most important aspect of a car audio system is how it sounds. So bring your own music and spend time listening to the system while you're driving to see how it performs. You'll also need to get a feel for how easy — or how difficult — the audio system controls are to operate while you're on the road. If you let your ears judge the sound and your other senses determine if you'll be happy with operation of the system, you'll come to a sound decision on a car audio system.
---
.