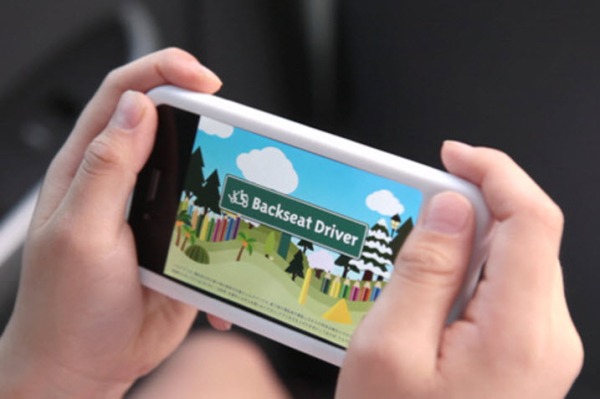 Toyota promises that its free iPhone app, Backseat Driver, will bring peace and tranquility to a car filled with kids — and enough Apple devices to keep them all occupied. You may not get the game, but who cares if it will keep your kids quiet and happy for hours on road trips.
The app allows each youngster to "drive" a bubble-shaped Mama Car that follows behind the Papa Car icon that represents the car they're in. A tip of the iPhone simulates turning left or right as the Mamma Car moves along. Not used to taking a backseat to anyone, I brought my 12-year-old daughter along for a drive to test the app.
Backseat Driver uses an iPhone's GPS capability and accelerometer to simulate the direction and speed of the actual car that the player is sitting in. At least that's how it's supposed to work.
When first launched, the app asks you to set your current location and you enter the Garage, where you can customize your Mama Car by changing the color and installing the new parts (once you've earned prize money). You can also view the game's instructions and your route history in the History page.
While waiting for me before our test drive, my daughter was able to take a slow virtual ride down Main Street, a few blocks away. As she cruised at a snail's pace in her Mama Car, icons floated by that she could run over and, when successful, the names of actual stores in town popped up and a dollar prize amount floated off screen. She was excited until I informed her that the local merchants likely wouldn't honor the "money" she was earning.
In a moving vehicle, the app performed marginally better and her car accelerated. And although we were going in the opposite direction, the same merchants popped up on the screen — even though they were now miles away from our current location. And when the Papa Car turned into a strip mall with a grocery store and several nationally known merchants, none of these store icons appeared on screen.
Maybe my adult mind misses the point and looks for a little too much reality. But after parking the car, I had to wait for my daughter to finish using her prize money to customize her bubble car with pink polka-dot tires and a tiger-print paint job. That is where the fun is found in the Backseat Driver app, at least for my daughter — and perhaps for any budding car enthusiast.
Players can also share their bubble-car creations with others on Twitter and compete via the app's online ranking system. I think that my daughter's age maxes out the potential appeal of this app, and she's just now getting bit by the social-media bug. But, really, how many elementary-school kids are Twittering these days?
This app could buy you an hour or two of peace and quiet in the car. Just remember to turn off the sound before handing over the iPhone, or hand the kids headphone: The music on this game is annoying. Even worse than the pop music my daughter always want to listen to while in the car. — Gretchen McFarlan, contributor
---
.