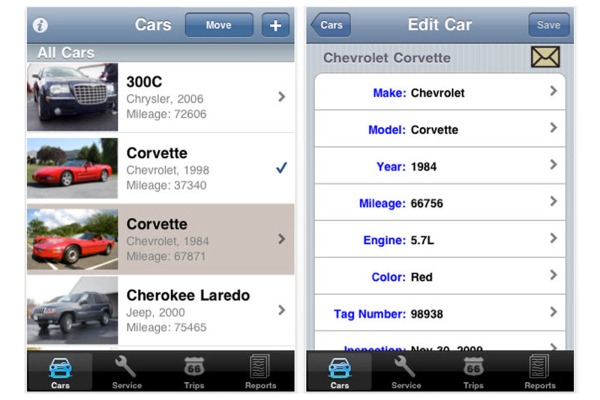 Many car owners don't think about regular auto maintenance until it's too late and they're stuck with a costly repair bill. Now there are smartphone applications to jog your car-care memory, so we tested four for the iPhone.
These apps can help you stay on top of scheduled maintenance and keep tabs on operating costs. They have reminders about vehicle service intervals and comprehensive yet user-friendly fuel logs. Some also let you document repairs, keep spreadsheet-style maintenance records and you can even send e-mail reports with a tap of a finger. With these inexpensive apps, you can stop cluttering up your glovebox with oil-stained spiral notebooks.
AutoLog
Grade: B-
Price: 99 cents
Pros: Deep details, handy e-mail icon
Cons: Needs service reminders and a larger notes field
Compatibility: iPhone, iPad, iPod touch
If you love lots of detail, AutoLog lets you know you've got the right app right from the setup. When loading vehicle data using other apps, you're usually asked to input only the basics: make, model, year and mileage. But inputs with AutoLog include engine displacement, oil and oil filter preference, air filter preference and tire specifications. Like most other maintenance apps, it also gives you the option to track multiple vehicles and record trip data.
Once it's up and running, you'll see icons along the bottom of the screen that let you update maintenance records, log trips and generate detailed spreadsheetlike reports. Tapping the wrench icon quickly gets you to the Service screen, where you can record all data relevant to your vehicle's maintenance and log activity, ranging from major repairs to filling up the tank. One thing you won't find is a way to set a service reminder, which would be an essential addition to a future update for this app.
The Trips icon lets you log travel details such as mileage and purpose. As with other screens, however, a larger notepad-style field for input would be nice. Finally, we love the Reports screen, which gives you separate Excel-style spreadsheet views for each car's services and trips. And if you want to e-mail any of these records, AutoLog gives you a handy onscreen icon to do it with just a tap.
Car Care
Grade: B+
Price: $2.99
Pros: Extensive list of default reminders, excellent fuel data
Cons: Doesn't record repairs
Compatibility: iPhone, iPad, iPod touch
Car Care greets you with a simple input screen where you choose from New Fuel or New Service. The inputs for fuel include odometer reading, price per gallon and quantity. It provides an option to indicate whether you're topping off the tank and the location of your fill. There's also a space for notes.
The Service screen lets you log your odometer reading and the type and cost of service, and provides a small field for notes. Like most other apps in the category, it also tracks multiple vehicles and provides service reminders. A noted difference is Car Care's exceptionally deep fuel-usage data, including calculating cost per mile over various time intervals.
The Reminders screen lets you select your own preferred timetable for routine maintenance. Defaults include Oil Change, Tire Rotation and Tire Balance, and the app has an extensive list of suggested service reminders, including Alignment and Radiator Flush. You can also create your own reminders and have the option to set intervals by miles or months.
A tap on the main vehicle graphic (a photo of your own ride) and you're into the heart of the app. That's where you can view all the stats and schedules. In addition to Reminders, this is where you can find categories such as Fuel Graphs and one-touch e-mailing of your gas and service entries.
Probably the most impressive aspect of this app is Vehicle Stats, which gives you comprehensive data including average and total fuel costs, fuel economy, service costs per mile and even your carbon footprint. You'll also get multiple reminders to tell you when services are due, thanks to an icon that appears on the app's home screen, as well as through text alerts on your device screen. On our wish list: a way to log repairs.
Car Minder Plus
Grade: A
Price: $2.99
Pros: Intuitive at-a-glance controls, easily e-mails records
Cons: Doesn't record fuel grade
Compatibility: iPhone, iPad, iPod touch
Car Minder Plus stands out by featuring all the essentials, including logging repairs, tracking your fuel economy and, of course, keeping the maintenance records of multiple vehicles. After a quick setup where you input basic car data, tap on your car icon (use the default VW Beetle or your own picture) and the app will ask if you want to list the five default services or add your own.
The Maintenance screen then gives you presets such as Air Filter, Belts and Oil Change, with preset intervals that you can edit or delete altogether. Once you've input your desired service intervals, the app displays red, yellow or green status dots next to the repair type for an at-a-glance indication of when service is due. For quick reference, it also shows the number of pending services next to your car icon.
Icons along the screen's bottom include Repairs (where you can note how much that new fuel pump cost, for example) and a convenient Gas Log that gives you dashboardlike views that display miles-per-gallon stats with a swipe of the finger. When you touch the Car Info icon, you can input your current odometer reading and notes on a yellow notepad field. You can then e-mail the info with a tap. It's simple and efficient — kind of like the app's vintage Beetle icon. There's a lot to like about Car Minder Plus.
Car Maintenance
Grade: B
Price: $1.99
Pros: Syncs with Mac computers
Cons: Basic graphics, insufficient note fields
Compatibility: iPhone, iPad, iPod touch
If you are looking to save a dollar over the two apps described above, Car Maintenance is your choice. Just don't expect fancy graphics or bells and whistles. The app consists of bare-bones iPhone list menus you have seen a thousand times, so there's essentially no learning curve. Enter the vehicle info: make, model, year, license, VIN and mileage and you're on your way.
From the Vehicle screen you'll either enter mileage to track your fuel cost and usage or record your most recent vehicle maintenance. Default maintenance settings are Air Filter, Fuel Filter, General Service, Oil Change and Tire Rotation. You can also add your own service category, which is one of the few customization elements available. Other options are the ability to add extra vehicles and note the location of your mechanic.
You'll also get standard SMS-style alerts for when you're overdue for a particular service. And there's one-touch syncing, using the Mac version of the Traxx Car Maintenance software.
---
.