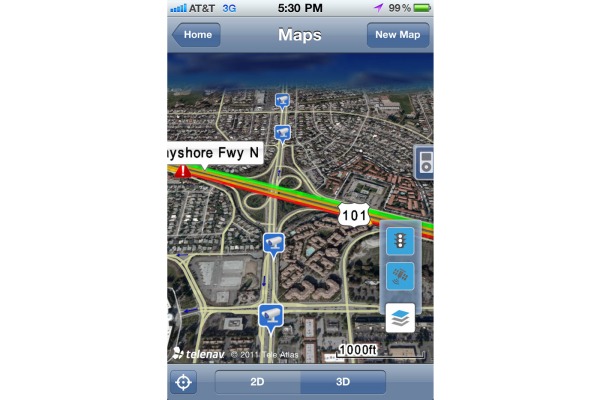 The first generation of navigation applications for the iPhone generally did a good job of getting you from here to there, and they even had a few of the bells and whistles found on their in-dash and portable counterparts. But next-gen nav apps, as represented by the four that are tested here, have features that represent a far more sophisticated level of development.
These nav apps include live traffic reports with alerts from traffic cameras and even such things as a crowd-sourced database that contains millions of Points of Interest (POIs). These apps can direct you to places where you can get the lowest-priced fuel for your car.
In short, nav apps have come a long way from the group of navigation applications we tested in 2009.
But remember that these apps take up lots of space on your device (1.5GB is the norm) and can quickly drain batteries. So if you choose one, you might want to delete any unused apps on your device and get a powered phone cradle before hitting the high road.
AT&T Navigator by Telenav
Grade: A-
Price: Free app, but subscription fees are $9.99 per month or $69.99 annually
Pros: Satellite-view Bing maps; voice-activated search
Cons: Pricey subscription
Compatibility: iPhone 3G, 3GS, 4 (not with Verizon service, however)
Telenav's AT&T Navigator app features a home screen that offers abundant options depending on how you want to get from Point A to Point B. The app's Drive To option gives you a list of one-tap choices that can direct you to a favorite destination, get you to an intersection or local airport, or simply access an address out of your iPhone's contacts. You can also search by voice with a single touch of a microphone icon. Say an option like "Restaurant" and then further refine the results using one of three categories that include Best Match, Best Rating or Closest.
Another home screen option is Search, which gives you a list of popular categories such as Wi-Fi hotspots, coffees shops or gas stations (which can be refined by price and fuel type). You also can enter a name or category into a search box at the top of the screen. We found the user interface both simple to use and fast, quickly providing the results we anticipated in one Los Angeles neighborhood. Voice search also worked without a hitch.
While under way, the Navigator by Telenav gives you multiple navigation options called Summaries, including Route (a turn-by-turn summary that includes voice prompts), Traffic (for live traffic updates) and Map (an overall view of your route from start to finish). The active map screen also allows you to engage or turn off views from satellite or traffic cameras, as well as control music on your iPod. A tap of the Maps & Traffic option from the home screen lets you initiate a new map and switch between two-dimensional and three-dimensional perspectives.
A standout function is the "hybrid" navigation ability of the app, which Telenav touts as an industry first. It caches maps, turn-by-turn directions and the POI database when you're without a data connection.
Magellan RoadMate
Grade: B
Price: $59.99
Pros: Lifetime live traffic updates; free upgrade for existing users
Cons: POI gaps; occasional routing issues
Compatibility: iPhone, iPad and iPod Touch (the latter with use of the Magellan Premium Car Kit, sold separately)
When we upgraded to the newest version of Magellan RoadMate, it ran flawlessly and preserved existing data such as previous destinations, the kind of things that reminded us how much we liked the first-generation RoadMate. And if you have an older version of the app, your upgrade is free.
The OneTouch button is still the heart of the app and a no-brainer way to navigate within it. With a tap, you get icons and actions such as nearest gas station, nearest coffee shops and a broad POI database containing everything from airports to wineries. There are also 15 spots allotted for the addition of custom one-touch addresses and POIs. But the database isn't without flaws. A popular Mexican restaurant in the same location for 50 years didn't turn up in a search we conducted in the Los Angeles area.
After selecting a route and destination, the information screen offers up the oversize orange Go button that will be familiar to first-gen users. There's also a wealth of additional information and options, including destination address, distance and ETA. There are also one-tap icons for selecting either car or pedestrian mode and an option for choosing either a map view or a turn-by-turn list. As in the earlier version of RoadMate, voice guidance provides adequate time before maneuvers and speaks directions clearly. A smart, new feature is the live traffic icon on the active map. It lets you check conditions with a tap while simultaneously reviewing conditions on a suggested alternate route. You can also share your location and destination via e-mail and social media.
One speed bump we encountered during testing proved to be route choices. In one case, the fastest route selection shunted us down a long alleyway for blocks, rather than directing us down an adjacent major artery that was clear of traffic. But there's still a lot to like in the app, including best-in-class assist for making traffic lane choices that helps you get through complicated intersections or transition from one major highway to another.
Navigon MobileNavigator North America
Grade: B+
Price: $59.99
Pros: Deep feature set and extras like augmented-reality view
Cons: Extras will cost you
Compatibility: iPhone 3G, 3GS, 4G (not with Verizon service, however)
The MobileNavigator's main menu keeps it straightforward with four selections: 1) Enter an Address (filtered for your location); 2) .