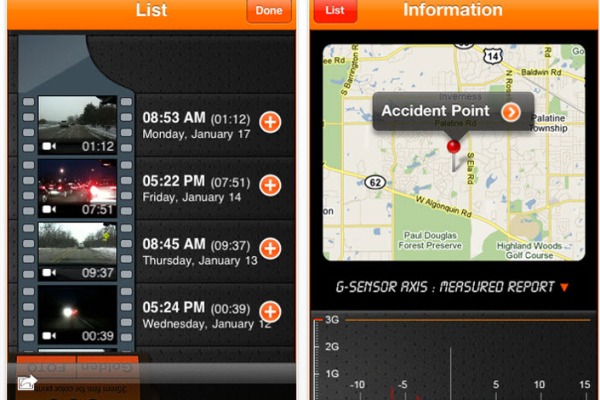 Here's an app that you hope you never have to use — or at least see how well it works in a worst-case scenario. iCarBlackBox purports to take the place of expensive "crash cams" that record accident info, and that you may have seen on the dash of cabs.
The 99-cent app is available for the 3GS and iPhone 4 only and uses the device's built-in accelerometer, GPS receiver and camera to automatically record an accident and its communication capability to send an email or text to a designated contact in the event of a crash. But it also has one weak link.
In order for the app to work effectively, an iPhone has to be positioned on a windshield mount. While that's fine for fender-benders, we have to wonder how well it will work — and if your iPhone will go flying — in the event of a severe crash. And in our test of iPhone mounts, we found that not all can keep the device snug and secure during even regular driving.
Still, the iCarBlackBox shows how just much technology and features you can get in an app for less than a dollar. The main screen includes a speedometer that's selectable between mph and kmh and a g-sensor with a sensitivity setting. The user can also select a contact from the phone's address book to email or text in case of an accident and set an emergency default message.
The app is activated by pressing an Emergency Recording button on the main screen, which also shows a speedo and g-meter as well as an "Eco Drive" indicator. In case of a minor accident or hard braking, iCarBlackBox will automatically cancel the "save" function after five seconds unless the user intervenes. If a more serious impact is detected, the app will automatically save the recording after 10 seconds and send an emergency message to the designated recipent.
iCarBlackBox can also capture a movie of the accident (no more second-guessing who is at fault) via the iPhone's camera and pinpoint and save the location via GPS and display it on the iPhone's Google Maps app. It will also record the crash speed and uses an oscilloscope graph and g-sensor info to record up-down, left-right and front-back movements and provide detailed data on an accident.
The iCarBlackBox app is impressive. But besides having the eyesore of your iPhone constantly stuck to your windshield, another downside is that it makes the device difficult to access for other functions, such as making calling and selecting music. But then you should be using Bluetooth hand-free for phone calls and some form of iPod integration while driving — or risk having an accident while looking down at your iPhone.
---
.