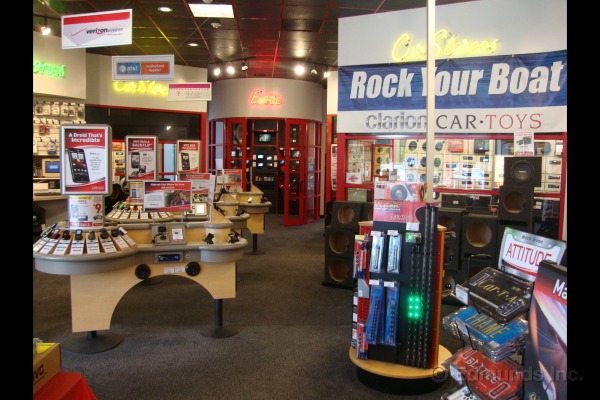 Stock stereo systems are much better now compared to what manufacturers offered in the past. But for the very latest features and the best sound quality, an aftermarket car stereo system is still the way to go for tech- and sound-conscious consumers.
Not too long ago you could just pull into a car stereo shop and buy a replacement head unit or radio, maybe an amplifier and some speakers. And then have the shop install it all in your ride in a matter of hours. But shopping for a car audio system — or even just shopping for components to upgrade a stock setup — is now more difficult since modern vehicles are more complicated and have more integrated electronic systems. This means that shopping for aftermarket car audio components — as well as a dependable shop and installer — is even more important.
Know Your Vehicle and Goals
Before you visit a shop, you should know the size of the components that fit your vehicle without major modification. Many aftermarket auto-electronics manufacturers and online retailers have guides to help determine what size radio and speakers will match your vehicle. Metra, a manufacturer of parts used by car stereo installers, offers one of the most in-depth fitment guides on its Web site.
Once you know which components will best fit your vehicle's stock provisions, you need to determine your realistic goals. Building a showy, bass-thumping system is far different from designing a great-sounding system using existing speaker locations. And when adding subwoofers, you have to consider how much cargo space you are willing to sacrifice for the sake of bass.
You'll also want to consider whether to maintain a stock appearance to discourage theft. And if the vehicle is leased or you plan to trade it in, you'll want to choose components and installation techniques that won't permanently alter the appearance of the vehicle and can be easily removed. You may also want to contemplate keeping your factory head unit, especially if it integrates with other systems in your vehicle, and only adding "downstream" components such as amplifiers and speakers.
What's Your Budget?
Any good salesperson is going to ask the question, so it's best for you to know your budget before you enter a store. Don't forget to allow for installation, labor and parts, such as head-unit mounting kits and amplifier wiring. If you decide to keep your factory radio, ask what options are available for interfacing with it and what any required adapters will cost.
When coming up with a budget, keep in mind the old adage "you get what you pay for." Don't expect great sound quality or the latest features from ultra-cheap, low-end car audio components. Spending a little more for high-quality components will help you achieve a satisfying sonic experience, and you can always add on to the system over time as your budget allows.
Shop for Shops and Installers
Finding car audio retailers in your area is simple with an Internet search. But deciding which shop to go with is the hard part, and the shop you choose is just as important as the products you buy.
Ask friends about a shop's reputation or check online reviews. Always ask retailers if they're an authorized dealer for the brands they carry and how any product warranty issues are handled. On the installation side, you need to know if a shop's installers are professionally certified, as well as the installation rates and guarantees they offer. If they're not posted, make sure to ask about labor rates and warranty on installations.
Once you choose a shop, it's best to visit it on slow days, when the store is less crowded. You'll want time to ask questions, test-drive the products and do some critical listening without being rushed. Weekday mornings are usually the slowest times for retailers, so visit during those hours to receive the most helpful attention.
Picking an installer to trust with your precious vehicle is a huge part of the decision process. An experienced installer can be your best liaison to designing a system for your vehicle that both sounds great and is reliable. Always ask to see the installation bays where your car will be worked on. These should be spacious, clean, organized and well lit. Installers should have ample tools and plenty of supplies handy.
Ask if the shop's installers are certified by the Consumer Electronics Association's MECP program. MECP stands for "Mobile Electronics Certified Professional" and is the only nationally recognized program to vet car audio installers. MECP certification provides the peace of mind that your vehicle is being worked on by a qualified and trained professional.
Start at the Head
Once you decide on a shop, start with the head unit or radio if you're shopping for a complete system. You can narrow your search according to head units that fit your vehicle — DIN, DIN-and-a-half and double-DIN are standard sizes — and have the features you're looking for, such as navigation, satellite radio, MP3 playback and iPod integration.
Don't just rely on the salesperson's pitch to learn about each head unit on display. Check out all of the features and controls yourself. Make sure the layout is logical and displays are easy to read. Are the controls a good fit for the size of your fingers and the info easy to read at a glance? Try operating the head unit by standing to the left of the unit to simulate the mounted position in a vehicle.
Of course, the whole point of a stereo system is good sound reproduction, so listening and evaluating components (especially the speakers) is crucial. Always take your own music with you to audition audio components, and use tracks you know well and have a good idea of how they're supposed to sound.
It's pretty hard to judge an amplifier's sound, so often buying decisions will come down to budget, system configuration and your own brand preferences. With your head unit and amplifier choices in mind, you can move to the fun part: choosing speakers. Just remember there's no reason to buy a 100-watts-per-channel amplifier if the speakers you like only handle 50 watts.
Listen Up
After narrowing your search for speakers based on what will fit your vehicle, you'll have to put your ears to work. Everyone hears sound slightly differently, and evaluating speakers is very subjective. You will be the one listening so it's best to go with speakers that you like, while playing your own music.
Unfortunately, the demo rooms at most retail facilities aren't ideal for auditioning speakers. The acoustics and speaker positioning are nothing like what's found in vehicles, so speakers will sound different in your vehicle than on the wall in a store. If the retailer has demo vehicles available, check out the speakers in them to get a better idea of how the speakers will sound when they're installed. Also ask which amplifiers are driving them and with how much power in watts.
Subwoofers can be just as hard to judge in a sound room because a closed vehicle will alter the bass response of subwoofer enclosures (usually enhancing it). It's essential to be up front with your salesperson and installer about your expectations. You can't expect to have booming bass that can be heard a block away when you're driving only an inexpensive 8-inch sub. A good retailer will make sure your component choices work together and accomplish your audio goals.
Be Prepared and Get the System You Want
Knowing the basics about your vehicle and your sound system goals are key to being prepared as you shop for a car audio system. And asking the right questions of sales staff and installers will make choosing your system and installer a much easier experience.
---
.