Automotive App of the Week: Aha Radio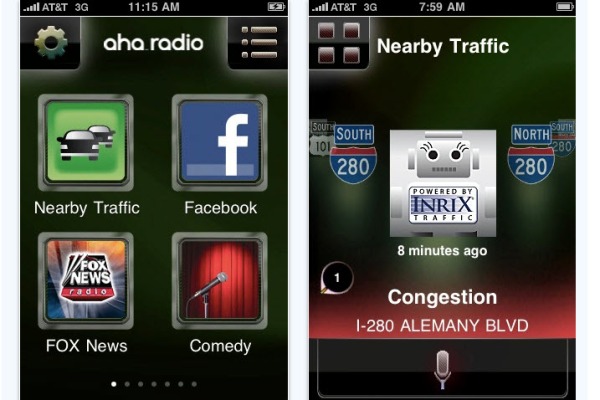 There's been a lot of talk -- and controversy -- around adding Facebook and Twitter feeds to the car. And recently there's been action to back it up, with OnStar announcing that it will add a Facebook feature and Ford Sync allowing Twitter feeds through its AppLink add-on. Beating them to the punch on providing both is Pioneer with a new series of head units that lets social-media junkies to get their Facebook and Twitter fixes behind the wheel.
The new Pioneer heads simply link to an app called Aha Radio on a connected smartphone and allow voice control of the app. This not only allows Facebook and Twitter posts to be read aloud in a robotic voice, but it also provides traffic reports, restaurant reviews, podcasts, Internet radio and a feature called Carioke for when you want to get your Glee on -- and sing out to the rest of the world.
The free Aha Radio app is available for iPhones. You can login to your Facebook and Twitter accounts within the app to receive posts, which are converted to audio using text-to-speech technology. You can also sign up to receive podcast as well as tune in various Internet radio stations.
Traffic info is based on your location using a phone's GPS capability and provided by Inrix. We found the info could be spotty, but about as accurate as other "real-time" traffic services. The Carioke feature is pretty frivolous unless you're one of those people who turn into Freddy Mercury behind the wheel -- and feel compelled to share it with your fellow motorists. But kids love it and the feature can help kill time on a long trip.
But, unless you pop for one of the Pioneer head units, this and other aspects of the app are best operated by passengers so that time is the only thing killed. When the app is first fired up, it provides this message: "Safe Vehicle Operation is the driver's responsibility. Use Aha Radio only when traffic conditions permit." Or, better yet, when pulled over to the side of the road just to be safe.
---
.