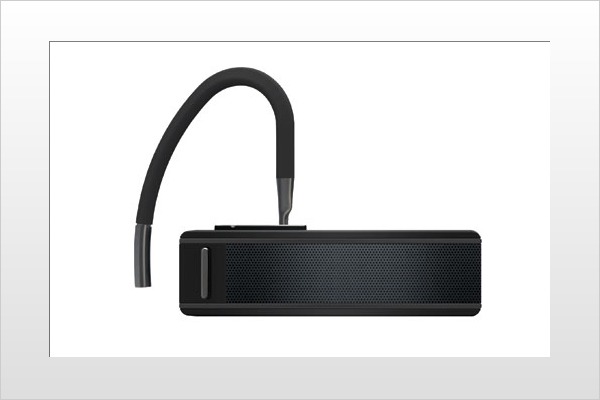 Bluetooth has gone from being an accessory to a necessity — not only to save drivers from getting a citation if they want to talk on a phone and drive, but also to save them from getting distracted and having an accident. Plenty of aftermarket Bluetooth products are available for easily adding hands-free phoning to a car, ranging from car stereos with the technology built in to free-standing and portable speakerphones. Bluetooth headsets are another good option — if you don't mind the fashion faux pas associated with wearing one.
Some of the latest Bluetooth headsets, like the Blue Ant Q2 ($129.99), can be operated almost entirely hands-free via voice commands, making it well suited for in-car use. The Q2 also includes what Blue Ant calls Wind Armour technology that supposedly provides superior performance in noisy environments, which we put to the test in two convertibles. And because it's portable, you can move it from car to car and can also use it when you're not driving.
Design
The Blue Ant Q2 is flat black in color and measures 2.2-by-0.6-by-0.3 inches. It weighs 0.4 ounce without its ear hook and 0.4 with it. In addition to the ear hook, it comes with several sizes of ear "gels" (including "stabilizing" gels so you don't have to use the ear hook), an AC charger, a USB cable, soft carrying case and an owner's manual. Controls include a volume up/down rocker on the top side, a multifunction button (MFB) and small LED indicator on the outer side and a sliding power switch on the inner side.
The Q2's true selling point is its voice activation, which lets the user pair, configure and control the device with spoken commands, including making and receiving calls. It uses text-to-speech (TTS) technology to announce the name of a caller if that person is in your phone's address book. The Q2 also incorporates Bluetooth audio to wirelessly stream music from a compatible device or turn-by-turn directions from a smartphone navigation app.
The Q2 also has several unique features that make it ideal for use while behind the wheel. It works with the Vlingo SafeReader app to let BlackBerry and Android owners receive and hear e-mails and text message via TTS, and also integrates with Microsoft's Bing-411 so users can get directions and hear news, weather, sports scores, traffic info, movie times and stock quotes (these can incur extra charges). The headset also has multipoint technology that allows the user to connect it to two phones at one time and answer whichever rings.
Installation
The Blue Ant Q2 requires no installation. It comes with a minimal battery charge right out of the box so users can just fire it up and follow verbal instructions that walk them through the pairing process. It will also automatically download up to 2,000 contacts stored in a phone's address book. The only thing left to do is find the appropriately sized ear gel, install the ear hook and fully charge the headset by either plugging the USB cable into a computer or the AC adapter into a wall socket.
On the Road
The Q2 was a breeze to pair with my iPhone 3GS and it automatically downloaded the phone's contacts. I had no problem understanding its voice prompts and it had no problem understanding my voice commands. Of course, you need a phone that has a voice control feature for this to work, and you still have to push a button to activate voice dialing.
But then you simply say "Phone Commands" to activate voice dialing, or you can say "Redial," "Call Back," "Answer" or "Ignore." Other non-call commands include "Check Battery," "Pair Me," "Sensitivity Level" (to configure the sensitivity of the voice recognition), "LED Light" (to turn it on and off), "Update Phonebook," "Am I Connected?" and "What Can I Say?"
These all worked well in an enclosed cabin, but the real test of the Blue Ant Q2 came when I drove two ragtops: a 2011 Mercedes-Benz E550 Cabriolet and a 2011 Jaguar XKR Convertible. The E550 Cabriolet has a feature called AirCap that reduces the amount of wind flowing through the cabin. But in both the Mercedes-Benz and the Jaguar, the person on the other end of the call had no trouble hearing me with the top dropped — even at highway speeds.
While traveling on the highway with the top down, one caller commented that he could hear me "clear as day." When I called my wife, she said that it was "one of the best yet" — and I regularly call her on Bluetooth systems to test them. By contrast, this was not the case with the cars' built-in Bluetooth systems during top-down driving, although they aren't really designed for it.
I only have a few minor quibbles with the Q2. One is that there's no way to charge it in the car, short of pulling out your laptop and firing it up. But it has five hours of talk time and 100 hours of standby. Plus, the USB charging cable is only 12 inches long, which seems far too short. And no matter which gel I used, I had a hard time getting the Q2 to fit comfortably on my ears, although that could be more a matter of physiology than a shortcoming of the product.
Why You Want It
If you want to use a phone while driving, you owe it to yourself and fellow motorists to only do it hands-free, and it's the law in more and more places these days. While there's no shortage of aftermarket Bluetooth add-ons available for vehicles, the Blue Ant Q2 headset goes a step further by allowing you to call using hands-free voice activation for most smartphones and adds features such as Bing-411. You can also use it outside the car — if you can deal with the social stigma.
Others To Consider: Aliph Jawbone Icon, Blue Ant Q1, Motorola Endeavor HX1, Plantronics Discovery 975
The manufacturer provided Edmunds this product for the purposes of evaluation.
---
.