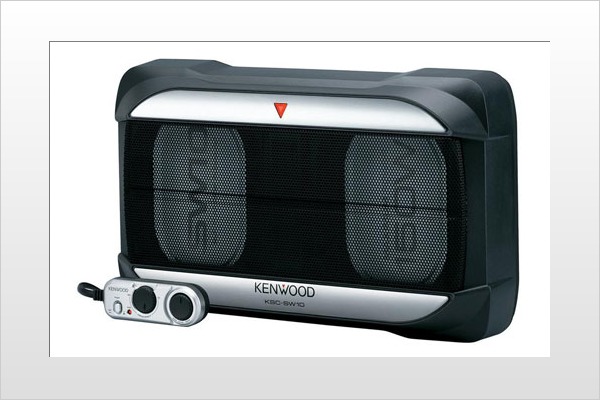 Automakers have made great strides in improving the overall sonic quality of OEM audio systems in recent years. And better sound, along with better in-car electronics integration, has reduced car owners' incentive to replace a stock audio system after purchasing a vehicle.
Despite this raising of the OEM audio bar, most discerning music lovers would agree that the majority of stock systems could benefit from more and better bass. But since vehicles are designed for mass-market taste, good in-car bass response that requires large speakers and a decent-size enclosure often gets sacrificed in order to save on cost, weight and space.
While not everyone wants a "boom car" with a trunk full of woofers, adding a bit of bass is one of the most significant improvements you can make to bring music to life in your car. And it's actually quite easy, thanks to simple subwoofer upgrades from the aftermarket that can be added to almost any existing car stereo system.
Ready To Rumble: Amplified Subwoofers
Adding a subwoofer to your audio system generally means also having to purchase and install an amplifier to power it. All-in-one amplified subwoofer enclosures offer the convenience of built-in power matched to the subwoofer specs. In most cases, the built-in amp features speaker-level inputs that are required for integration with OEM systems, which generally don't have line-level (unamplified) outputs for adding aftermarket amplifiers.
Kenwood's KSC-SW10 ($299) amplified subwoofer system is small enough to fit just about anywhere, including under seats. It features a 5-by-7-inch woofer paired with a matching passive radiator to enhance bass output. Powered by a built-in 150-watt amplifier, it also comes with a wired remote control to adjust volume and a variable crossover. If you're looking for a bigger bass kick, Boss Audio's S10A ($249) features a 10-inch subwoofer powered by an 800-watt amplifier in a sealed enclosure, and also has a wired remote control to manage subwoofer levels.
Originally introduced in 1985, the Bazooka Bass Tube was one of the first amplified sub systems to hit the market and it's still going strong 25 years later. The BTA850FH ($150) is an 8-inch subwoofer powered by a built-in 50-watt amplifier. Offered as a complete OEM upgrade package, it comes with all the wiring needed to add DIY bass to a system. And, as a bonus, Bazooka Bass Tubes use a strap-in mounting system that allows for quick removal for those times when you need all of your cargo space.
Let's Get Specific
The one drawback to most vehicle subwoofer enclosures is the inevitable loss of cargo space. But vehicle-specific subwoofer enclosures designed to fit in the nooks and crannies unique to a vehicle alleviate that issue. These enclosures cost more due to their specialized design, but you get a perfect-fit subwoofer system tuned specifically to your vehicle with minimal loss of cargo space. In most cases, however, you'll still need an amplifier to power them.
JL Audio's Stealthbox subwoofer line includes more than 100 vehicle-specific enclosures. JL Audio designs Stealthboxes after evaluating potential mounting locations and analyzing the acoustics of the target vehicle to choose the best enclosure type (sealed or ported) for the application. The enclosures, which do not come with amplifiers, feature various configurations of JL Audio subwoofers, depending on the application. Since each Stealthbox is designed for a make and model of vehicle, pricing varies.
MTX's ThunderForm is another vehicle-specific option. The enclosures are made of a high-density polyethylene resin and come in a variety of colors and configurations. Pricing also varies since, in addition to the 100-plus vehicle applications, ThunderForms are available with or without MTX woofers loaded in them. And they come in amplified and non-amplified versions.
Bass and Space
If you have a stock or aftermarket system and plan to add a subwoofer and amplifier, you'll have lots of options for small subwoofer systems that don't take up much cargo space. Stillwater Designs invented the category with the original "Kicker Box" back in 1980. Today, Kicker offers a wide array of subwoofer enclosures to fit almost any vehicle. The TCVT12 ($300), for example, is a slim-profile enclosure and features the company's CompVT 12-inch subwoofer.
Rockford Fosgate is another respected name in aftermarket car audio, and the company's P1L-1X10 ($220) features a 10-inch Punch Series subwoofer mounted in a compact ported enclosure. Another prefab enclosure that creates big bass in a small space is Polk Audio's dB1212 ($200), which includes a 12-inch subwoofer in a slot-ported box.
Box? Who Needs a Box?
Some "raw" subwoofers are designed to produce bass in vehicles without any box at all. These "infinite baffle" or "free-air" subs usually mount in a vehicle's rear deck and use the trunk as an enclosure. Unlike with traditional enclosed subwoofer systems, this design maintains nearly all of a vehicle's trunk space. But it requires subwoofers specifically designed for free-air applications, and won't work as well if there's not a good seal between the trunk and the car's interior.
The TS-SW841D 8-inch subwoofer ($179) from Pioneer Electronics is designed for free-air installations. And with a mounting depth of only 2.5 inches, this "shallow-mount" subwoofer is also suitable for very small enclosures. JL Audio offers the M10IB5 ($320), a 10-inch free-air subwoofer, which is actually designed for marine applications. Even though marine-grade speakers typically have white grilles and frames, JL offers the same woofer in a titanium-and-black color scheme more suitable for automotive use.
---
.