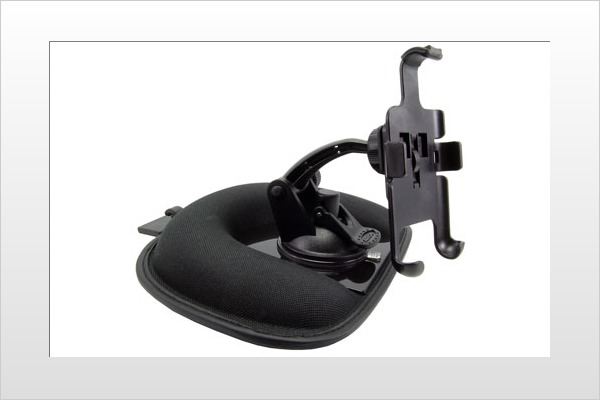 More and more people are relying on their iPhones and accompanying navigation apps to get them from Point A to Point B. But having safe and convenient access to view maps and directions or input destinations on the phone's small screen can be an issue. So can being able to hear turn-by-turn voice prompts in a noisy, moving vehicle.
Fortunately, a number of companies that already supply a surfeit of iPhone and iPod accessories also offer various car-specific solutions for securing the popular devices while on the road. We selected a handful of entry-level iPhone car cradles with similar features and took to the road to test them.
Unlike more expensive car cradles that can charge an iPhone, these are all non-powered and don't have a separate amplified speaker. These "passive" cradles are inexpensive — all under $40 — an important thing, because we know that AT&T's data plan doesn't come cheap. Also be sure to check your local ordinances, as some states do not allow windshield mounts.
Arkon Mini Friction Dashboard Mount with iPhone Safety Anchor
MSRP: $29.95
Grade: A-
Pros: U-shaped base for unobstructed viewing; redundant safety hook
Cons: Won't accept iPhones with cases or skins
For those who prefer a dash-mounting system over a windshield mount, the Arkon Mini Friction Dashboard Mount kit is a U-shaped "bean bag" type that's paired with a cradle designed to fit the original iPhone, 3G and 3GS models. But the phone cradle and pedestal can also be easily secured to your windshield if you choose.
The base itself is a sturdy, weighted design featuring an anti-skid surface on the bottom that performed like a champ. The shape is also an improvement over similar doughnut-style pads since it offers an unobstructed view of the screen no matter how you position your phone. For added security, Arkon has incorporated an attached loop and adhesive hook to create a redundant way to secure the mount to your dashboard.
The pedestal articulates and adjusts smoothly with a tightening knob for the ball and socket, and it affixes securely to the dash mount with an 80mm suction cup. We were disappointed that the cradle itself couldn't accommodate an iPhone with a case.
Griffin Window Seat
MSRP: $29.99
Grade: B+
Pros: Tabs for easily removing an iPhone; included auxiliary audio cable and arm extension for steeply angled windshields
Cons: Won't accept iPhones with cases or skins
Griffin's Window Seat comes with specific custom cradles for each of the various flavors of iPhone, in addition to the iPod Touch. These are easily changed out by removing a small plastic plug in the center, detaching a cradle and attaching the correct insert.
Griffin uses a ball-and-socket system featuring an extension arm in case your car requires a longer mount to accommodate deeply angled windshields, such as in a Toyota Prius. While we personally prefer the simplicity of a flexible gooseneck, if you like the more precise articulation of a ball-and-socket system, this would be a good way to go.
Other things we liked about the Griffin system are its turn-to-lock windshield suction mount and the fact that each cradle allows for unrestricted access of peripherals, such as a charging device. We also found that Griffin made it easy to insert and remove an iPhone once you get the feel of the small release tabs on opposite corners of the mount.
Griffin also provides an auxiliary audio cable, allowing you to hear your iPhone's audio through the car's speakers if you have an aux-in. Alas, you won't be able to get your iPhone into any of the cradles if it's sporting a skin or case.
Kensington Sound Amplified Cradle for iPhone
MSRP: $39.99
Grade: A
Pros: Accommodates iPhones with cases and skins; passive audio amplification doubles audio output; includes vent mount
Cons: Most expensive cradle tested; rubber seals at the bottom of the mount tend to fall off and don't ensure the amplification you get when using a caseless iPhone
We have to admit we were a little dubious about an essentially low-tech idea — passive amplification — that's the main selling point behind the Kensington Sound Amplified Cradle for iPhone. But channeling the audio from the iPhone's wimpy speaker through a chamber in the back of the unit worked really well, effectively doubling the volume without requiring external power.
A proviso, though: It was less effective when using an iPhone with a case. Kensington provides swappable rubber inserts for the 3G, 3GS and original iPhone. But even with these inserts, we couldn't get a solid seal that duplicated the performance when using a caseless iPhone. Plus, the seals tended to fall off.
The unit features spring-loaded cradle arms to securely hold an iPhone in conjunction with the bottom support that does double duty amplifying the audio. It's also smartly designed to allow the use of accessories like a recharging device. In addition to the easy-to-deploy windshield suction mount, Kensington throws in a vent mount that's ideal for use in states that frown on windshield-mounted devices.
Scosche SnapFit Window & Vent Mount for iPod and iPhone
MSRP: $29.99
Grade: B
Pros: Accommodates iPhones and many different iPods; comes with a vent mount
Cons: Won't accept iPhones with cases or skins; could grip the iPhone more snugly
Scosche has been in the automotive aftermarket game for a long time and knows how to deliver smart packaging and good value, and the SnapFit Window & Vent Mount system is no exception. Essentially a universal cradle fitting devices up to 2.5 inches in diameter, the SnapFit provides a straightforward mounting system that's designed as a solution for not only the iPhone, but devices as small as the iPod Nano.
Scosche achieves this flexibility by designing two sets of side brackets that can be easily swapped and adjusted to accommodate units of various sizes. Other high marks for versatility go to the unit for bundling a vent mount with the kit. We also found the gooseneck window suction mount both secure and easy to remove.
But while the cradle gets high marks for versatility, we did find that if you inverted an iPhone 3G (let's say you overdo it in adjusting to landscape view) a nice bump in the road will send your iPhone spilling out of the cradle.
---
.