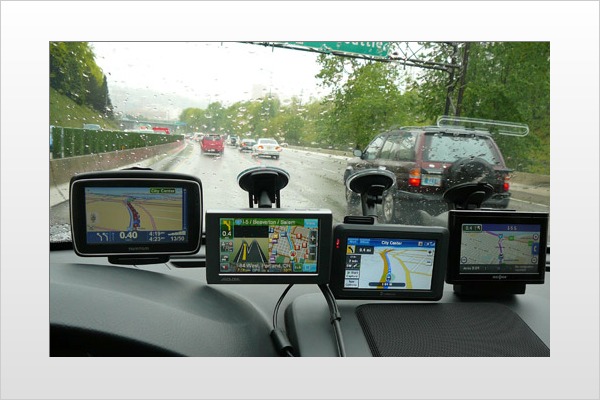 A portable navigation system can pinpoint your location using GPS satellites and give directions to millions of points of interest (POIs) such as gas stations and restaurants. Some also offer text-to-speech guidance, receive real-time traffic info and have built-in Bluetooth. But compared to the next generation of Internet-connected portable navigation systems, current models are downright dumb.
They can't do a Google search for up-to-date info rather than accessing a months-old database. They can't find the best fuel prices. And they don't allow you to send addresses you've found on the Web directly to the nav system with a click of a mouse. The latest "connected" portable nav systems can do all this and more.
Automakers already offer limited connected-nav features. Sirius Travel Link, which debuted last year on Ford and Lincoln vehicles, beams traffic reports, gas prices, weather reports, sports scores, movie show times and more to a vehicle via satellite. And BMW, Mercedes-Benz and OnStar all allow you to send an address to an onboard nav system from the Web.
But you have to buy a new car — and an expensive in-dash navigation option — to get these services, whereas the four connected portables we tested are priced under $400. As with in-dash connected nav systems, to get the enhanced services you also have to pay for a subscription.
Following are four connected portables (all with 4.3-inch touchscreens) we tested and how they stacked up.
Alpine PND-K3msn
Price: $299.95Connected Services Subscription: $49.95 a year or a one-time payment of $129.95, after a three-month free trial periodDimensions: 4.8 by 2.9 by 0.78 inchesWeight: 6.3 ouncesPros: Accurate and timely traffic info, intuitive user interface, built-in Bluetooth and music playerCons: No Google search function, limited connected coverage compared to other units testedOverall Grade: B+
The Alpine PND-K3msn is the odd man out in this group in that it uses MSN Direct to supply connected info via an FM receiver. (MSN Direct is also available on portable navs from Garmin, Nextar and Pioneer, as well as the Garmin unit available in the Suzuki SX4.) While full coverage is available in more than 100 U.S. cities, the other systems tested here can receive connected services anywhere there's a cell signal.
MSN Direct supplies traffic and weather reports, gas prices, news, stock quotes, movie times, local events info and has an Internet send-to feature. Because it focuses on specific categories, the information supplied is excellent — traffic data, for example, was the best of the bunch — and it's available at the touch of a button. But we found the Google search function of the other units to be much more useful when trying to find something specific, even though the PND-K3msn has a database of more than 6 million POIs.
For everyday navigating, the PND-K3msn was our top pick. It had the most intuitive interface, very fast routing and clear lane guidance to help when confronted with a confusing freeway interchange. It also doubles as a music player and has Bluetooth for hands-free calling and a Web send-to feature using Microsoft's Live Search Maps and a Web send-to feature using Microsoft's Live Search Maps.
Insignia NS-CNV20
Price: $349.99Connected Services Subscription: $99.99 a year, after a one-year free trial periodDimensions: 3.2 by 4.0 by 0.88 inchesWeight: 6.4 ouncesPros: Google search function, GasBuddy fuel price info, Internet send-to featureCons: Frustrating touchscreen, low-tech graphics, short car power cordOverall Grade: B
The Insignia NS-CNV20 is electronics retailer Best Buy's house brand of connected portable nav. (Another unit, the NS-CNV10 with a 3.5-inch screen costs $100 less.) It offers a dedicated Google search screen icon, or a search can be conducted by category from a Browse icon within the same menu. Hitting the Google Search icon brings up a touchscreen keyboard. But we found that the tiny keypad made it easy to hit the wrong letter or number, and our test units (we tried two) wouldn't always respond to inputs on the first attempt, which was frustrating.
Under the Browse category is a Gas by Prices icon that culls info from GasBuddy.com and sorts stations by distance. After the user selects a station, the screen displays the full address, cash price for regular and premium and the option to route to that station.
Another connected convenience is a Google Maps "send-to" feature that forwards destinations to the NS-CNV20, where it appears under Favorites in the navigation menu. The NS-CNV20 has Bluetooth built in and also receives traffic alerts, although they weren't as accurate or as timely as those from the other units we tested.
Besides the problem with the touchscreen, we also found the NS-CNV20's coiled car power cord too short; in one vehicle it wasn't long enough to reach from the windshield to the 12-volt outlet in the center console. Its map screen was also low-tech compared with the other units, and it doesn't offer lane guidance.
TeleNav Shotgun
Price: $299.99Connected Services Subscription: $11.99 a month, $129 for one year or $239 for two years, after a three-month free trial periodDimensions: 4.9 by 3.1 by 0.75 inchesWeight: 8 ouncesPros: Convenient send-to features, Mileage Capture function, detailed traffic infoCons: Limited map scaling, no Google search function or Bluetooth capabilityOverall Grade: B+
The TeleNav Shotgun doesn't use Google Search, but instead pulls information from a proprietary database, which according to the company includes more than 11 million POIs. To find what you're looking for, you either enter the name into a touchscreen keyboard or search categories such as Food/Coffee, Gas Station, Banks/ATMs and Hotels/Motels. There's also a Gas by Price category that, as on the Insignia unit, finds the closest stations and their fuel prices and offers one-touch routing to them.
The Shotgun's send-to feature is accessed through the My TeleNav section of the company's Web site by adding addresses to a Favorites folder. From there they are automatically sent to the Shotgun and appear under the My Favorites category on the device. The Shotgun also has a browser plug-in that lets you send addresses to the unit directly from a Web page. An added convenience for business travelers is a Mileage Capture feature that records mileage and automatically uploads the data to the My TeleNav Web site, where it can be exported as a PDF or Excel file.
Additionally, the Shotgun had one of the most detailed traffic-info services, but the scale at which you can adjust the map is limited compared to other nav systems, so it was difficult to see what was ahead. The Shotgun also lacks a Google Search function, it doesn't have lane guidance and it doesn't allow you to connect to a Bluetooth phone like the others.
TomTom Go 740 Live
Price: $399.95Connected Services Subscription: $9.95 a month, after a three-month free trial periodDimensions: 4.9 by 3.1 by 0.75 inchesWeight: 7.9 ouncesPros: Voice activation, Bluetooth, detailed lane guidanceCons: Most expensive unit tested, hard to see on-screen iconsOverall Grade: A-
Not only does the TomTom Go 740 Live offer many of the features found on the other units we tested — Google search, traffic and weather info, fuel price finder, Bluetooth — but it also has plenty that the others don't, including voice activation, iPod control and multiple guide voices and an innovative and easy window mount. It can even be set up for left-hand or right-hand users, as well as for use by pedestrians or bicyclists.
While the voice activation feature of the Go 740 Live is limited in terms of available commands compared to what you would find on an automaker's in-dash system, it works well and allows hands-free input of destination info. There's even a voice-level indicator to show whether you're speaking too softly, too loudly or just right.
Because of its cellular connection, the Go 740 Live has a Buddies feature that allows a user to keep track of the location of friends that also have the device and even send instant messages. The Go 740 Live also takes advantage of TomTom exclusives such as Map Share, which allows users to make corrections to mapping errors, and TomTom Home, a free computer app for updating and managing the device.
The TomTom's largest weak spot was its screen, which was difficult to read in bright sunlight. The map-scaling icons on the touchscreen are not only hard to see, but so small that we often ended up choosing the wrong icon. Plus, the traffic info wasn't on par with the rest of the unit's performance, especially given that the Go 740 Live is the most expensive unit we tested.
---
.