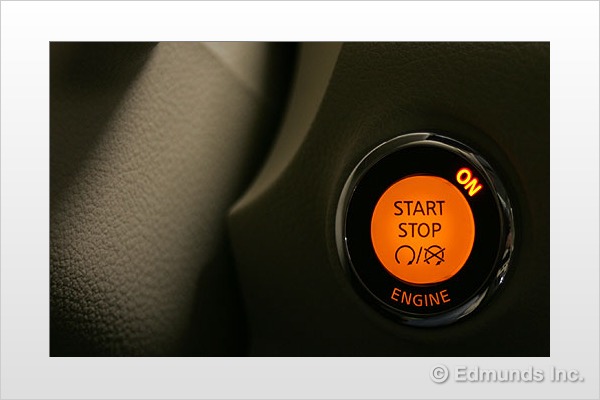 You're at home, draped over the couch, eyes glued to Desperate Housewives. You want to turn up the volume so you can hear all about Edie's latest roll in the sheets. The TV's only 3 feet away; it would be perfectly easy to stumble from your perch and pump up the sound. But technology has made it so you don't have to. Instead, you palm the remote, and push a button.
You're at the gas station, about to spend a small fortune filling up your ride. In another era, you'd have only one choice: trudge over to the register and fork over some bills. But these days, you have options. So instead, you slide your debit card and pay for your purchase at the pump.
We're living in an age when convenience is king, and it's this kind of thinking that's behind one of the latest automotive technologies. It's called push-button keyless start, and as its name suggests, it allows you to fire up your car's engine without the hassle of key insertion. It hasn't hit the mainstream — yet — but for some car shoppers, keyless start is a must-have, offering convenience at its most cutting-edge.
Easy In, Easy Out
Push-button keyless start couldn't be simpler. The driver slides behind the wheel, with the key fob in her pocket, briefcase or purse. The car's system recognizes the presence of the fob, and the driver needn't remove it to wake up the engine. All she needs to do to get the motor running is depress the brake pedal, and push a button on the control panel.
Shutting off the engine is just as hassle-free, and is accomplished by merely pressing the start/stop button.
Safe and Sound
Keyless ignition systems contain safeguards to ensure that your car doesn't spring to life at the wrong time. Says Erin Ryder, a product and technology public relations assistant at Mercedes-Benz: "As a security measure, the brake pedal must be depressed with the shift lever in 'Park' for the engine to start." Additionally, the key fob must be in the vehicle to get the motor running.
These systems are designed to deter theft and break-ins. The absence of a metal key makes life a lot harder for car thieves. Offers Ryder: "[Mercedes-Benz has] the industry's first fully electronic ignition key system, [and] there is no metal key that could be illegally copied [copies can only be made at an authorized Mercedes-Benz dealership]. It's nearly impossible to unlock the steering column or start the engine without the owner's remote unit."
And the engine won't respond to a signal from just any old key fob. Dave Buchko, BMW product communications manager, explains: "Each key contains a chip with an ID code that the car must recognize. In addition, there is a random code that each key receives when the engine is shut off. The vehicle will read and match both codes. If the car cannot match the ID code to the last random code sent to the key in question, it won't start."
Keeping You Covered
The fobs that are at the heart of keyless start systems are battery-powered, which begs the question: Could a driver find herself unable to start her car in the event of a dead battery? Not a chance, says Ryder. "The data exchange with the car works even when the battery inside the key is dead, and the car can still be started with the remote unit."
Additionally, many systems are intelligent enough to make lock-outs a thing of the past. Martina Wohlsperger, Audi public relations specialist and press fleet manager, notes: "It's more difficult to lock yourself out of your car or lock keys in the trunk, because the system will sense it and prevent the user from locking them in."
Some keyless ignition systems can even help out with vehicle maintenance and servicing. BMW's system has the capacity to receive service data from the car, which can then be read in the service department without the car being physically present.
Making It Personal
Many keyless start systems are sophisticated enough to make customization a breeze. Says Cadillac STS Product Manager Judy Greig: "The Cadillac STS system has memory capabilities for two separate drivers that allow you to customize your seat settings."
It doesn't end there. Cadillac's system also allows drivers to customize power tilt/telescopic steering wheel position, radio/HVAC settings, outside mirror position and navigation information, along with head-up display and address book information. Drivers are able to recall these settings when they push the engine start button, or when they push the door unlock button on the key fob. Greig adds: "Our system also has seat and steering wheel exit memory, which will move your seat and steering wheel out of the way when exiting the vehicle."
The keyless start systems from Mercedes-Benz and BMW boast similar capability.
Convenience Versus Necessity
It's easy to see why keyless start is a godsend for multitaskers on the go. Some drivers report that keyless start is useful for those who are frequently on a cell phone, and for women with long fingernails.
Steve Mazor, an automotive engineer with the American Automobile Association, thinks keyless start is a feature that many drivers will embrace, and offers this anecdote: "My commute is 70 miles each day. I'm always taking lots of stuff with me. Having that key in your pocket is one less step and makes it easier to handle armloads of stuff."
For drivers with disabilities that impede their ability to grip and turn a key, keyless start becomes more a matter of necessity than convenience. Marcy O'Koon Moss, editor in chief of Arthritis Today, feels that push-button keyless start offers incredible utility for those with arthritis.
"Many people with arthritis have trouble with standard ignitions because of the 'grip-and-turn' movement required," she says. "Gripping the key requires a pinching movement, which is hampered by a lack of finger joint agility and strength, common problems when arthritis affects the hands. The turning motion, however, requires finger grip at the same time the wrist turns, a complex movement that can be very difficult to do if arthritis affects the fingers, wrist, elbow or shoulder joints. What seems to be a simple task for most people is a problem faced many times each day for many people with arthritis."
O'Koon Moss reports that Arthritis Today published a story on arthritis-friendly cars that met with tremendous response. "Would people with arthritis pay more for cars with push-button ignition? Absolutely, though one common theme to the responses we got for our article was that people want arthritis-friendly features at an affordable price," she says. "Where that threshold might be, I can't say. People with arthritis are all around us — one in three is affected by joint pain — so wouldn't you say ergonomic cars are necessities to the majority of Americans?"
Lap of Luxury
Currently, push-button keyless start is available mainly in high-end vehicles, although the technology is starting to creep into many more affordable cars. Here is a list of current makes and models that offer the technology as standard or optional equipment:
Acura - RL Audi - A6, A8, Q7, S6, S8 Bentley - Continental GT, GTC, Flying Spur BMW - 3, 5, 6, 7, B7, M5, M6, X5 Cadillac - STS, STS-V, XLR, XLR-V Cheverolet - Corvette Infiniti - FX35, FX45, G35, M35, M45 Jaguar - XK Lexus - ES 350, GS 350, GS 430, IS 250, IS 350, LS 460 Maybach - 57, 62 Mazda - CX-7, CX-9, Mazdaspeed 6, RX-8 Mercedes-Benz - CL, CLK, CLS, E, GL, M, R, S, SL Mini - Cooper, SMitsubishi - Outlander Nissan - Altima, Altima Hybrid, Maxima, Murano, Sentra, VersaSuzuki - Grand Vitara, SX4 Toyota - Avalon, Camry, Camry Hybrid, Prius Volkswagen - Touareg Volvo - S40, S80, V50
Going Wide
Is keyless start destined to achieve the mainstream popularity of, say, power windows? "Currently, we see the feature as an option that will remain on luxury vehicles and eventually [reach] midlevel luxury cars," Mercedes-Benz's Ryder notes.
Toyota sees things differently, and appears to be thinking seriously about making this feature more widely available throughout its lineup. "It's currently under study to expand this feature to other models," says Toyota Product Communication Administrator Bill Kwong.
Over at BMW, Buchko predicts big things ahead. "With remote locking systems and electronic immobilizers becoming more commonplace, I think you'll see this happening. Sophisticated immobilizing systems make the physical presence of a key, in the traditional sense, redundant."
Many drivers would love to see keyless start become more commonplace. In a recent Inside Line survey, nearly 50 percent of over 3,000 respondents polled picked keyless ignition as the premium feature they'd most like to have on their next vehicle.
What's Next
Going forward, keyless start seems set to up its "gee-whiz" factor with even more features designed to enhance safety and coddle drivers hungry for luxury. Wohlsperger predicts "more development around security, particularly biometric sensors." Ryder anticipates "continued personalization of features with an emphasis on convenience."
Losing your car keys has never sounded so good.
---
.