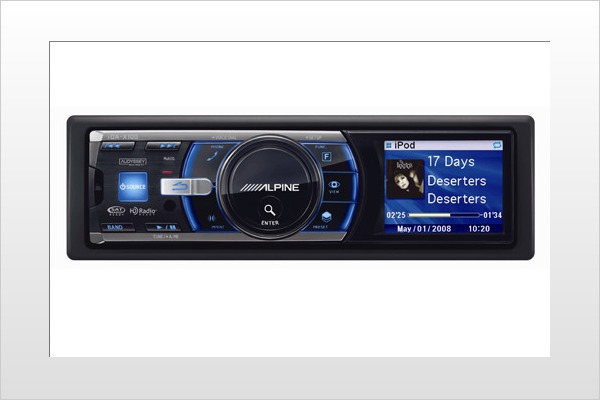 In our article "The Four Primary Flavors of iPod Integration" and the accompanying video, we detailed the various connections available from automakers that allow plugging in an iPod as well as the level of control you can expect from each one. But if your car doesn't come with a way in for an iPod, aftermarket solutions are available that range from swapping out your car's stereo head unit to adding an iPod car adapter or kit that allows you to access music on the popular portable media player using a vehicle's existing audio controls. As with automakers' offerings, aftermarket iPod integration runs the gamut from pricey and permanently installed components that provide the best possible sound quality and most advanced features to inexpensive and easy-to-add but sonically less-than-stellar iPod car adapters.
Below are seven aftermarket iPod-integration solutions we've chosen that show the scope of available options and will fit almost any car and budget.
Alpine iDA-X100 Digital Media Receiver ($400)
In 2007 Alpine introduced the first car stereo head unit without a disc drive and designed solely to control an iPod: the iDA-X001. The popularity of this innovative approach led the company to expand the iDA series with three more head units, including the iDA-X100. Without a CD slot, there's room on the front panel for a 2.2-inch color LCD screen to display album art as well as control functions, while a large rotary knob in the center allows you to easily find music on an iPod using a QuickSearch feature. A direct USB connection provides the highest possible sound quality as well as a way for other MP3 players and USB jump drives loaded with music to be plugged in. Adding an optional HD Radio receiver makes iTunes tagging possible, which permits one to store a song heard on HD Radio on an iPod and offers the ability to preview, buy and download the track the next time the player is connected to iTunes.
DICE Electronics Universal iPod Kit ($130)
DICE provides kits that allow iPod integration with factory stereo systems in vehicles from 19 different automakers, and the company recently released its first universal kit to fit any car with a factory FM radio. It can be installed in two ways: either a "hard-wired" configuration so the unit ties into the car's electrical system and the audio signal from an iPod is routed directly into a stock radio via an FM modulator for a cleaner sound with less static, or the kit simply plugs into a car's 12-volt outlet for power and uses a built-in FM transmitter to wirelessly send the audio signal to the stock radio. With either version, song title and artist information are displayed on the screen of a factory radio with RDS capability, although control of an iPod is performed on the device itself.
Harman Kardon Drive + Play 2 ($400) Harman Kardon's Drive + Play 2 is another add-on solution for virtually any vehicle, but it's a big step up from the DICE kit in terms of features, performance and price. It consists of a color display and a controller that can be permanently or temporarily mounted and a "media hub" that plugs into a 12-volt outlet or can be hard-wired to the vehicle for power. An iPod connects to the media hub and the signal is transmitted to a stock stereo using either a wireless FM transmitter, a wired FM modulator or a car's aux-in jack for a good, better, best preference in sound quality. The controller's four buttons are arrayed around a center dome that's pressed to make a selection, mimicking the design of an iPod click wheel. Features such as an alphabetical search similar to that of latter-day iPods and an automatic mix feature that creates custom playlists based on the acoustic properties of music justify the Drive + Play 2's high price, and other MP3 players and USB drives can be plugged in and their music files accessed using an iPod-like menu structure.
Eclipse CD1200 ($160)
If you're looking for an inexpensive way to add iPod integration and a new head unit to your ride, the Eclipse CD1200 receiver will fit the bill and a DIN-size opening in your dash. You'll need to purchase a $30 cable to hook an iPod up to the CD1200, but once the player is connected you can access most of an iPod's menu functions using the radio's controls. The iPod cable accommodates USB drives for even more access to digital music files, and the Eclipse CD1200 also has an aux-in jack and will play MP3- and WMA-encoded CDs. And with a detachable faceplate, dual (red/green) illumination and a three-band EQ, this budget head unit also doesn't skimp on features.
Kenwood CarPortal KOS-V1000 ($700)
Many car owners may not be willing or even able to ditch their stock stereo for full aftermarket iPod integration because they don't want to give up conveniences such as steering-wheel audio controls, or they lease their vehicle or simply don't want to alter the car. Kenwood's CarPortal line of "OEM upgrade" processors allow you to add iPod capability as well as an array of aftermarket components and features to almost any stock stereo, while keeping factory functions intact. The KOS-V1000 is a hideaway processor that taps into a stock stereo system and allows you to integrate an iPod so it can be controlled either from a factory in-dash monitor or by adding a Kenwood touchscreen monitor. The KOS-V1000 can also display video from an iPod on separate monitors to keep rear-seat passengers entertained, and other Kenwood components can be added to provide navigation, Bluetooth hands-free calling, satellite and more.
Pioneer AVIC-F500BT ($600)
Pioneer's AVIC high-end in-dash navigation radios offer innovative iPod integration and features in addition to cutting-edge nav capability. But with the AVIC-F500BT, you don't have to drop more than a grand or give up your stock radio since this more affordable portable solution can sit on top of the dash (or be permanently installed). The AVIC-F500BT provides access to iPod functions from its 5.8-inch touchscreen, and adding the optional CD-200IUVM cable adds control over the player using VoiceBox Conversational Voice Search. This means you don't have to learn a set of canned commands; you can simply say "Let's hear U2's Joshua Tree" instead of "Play Album Joshua Tree." The AVIC-F500BT also will play video content and podcasts with compatible iPods.
Sony CDX-GT630UI ($160)
Lots of car stereos sport a USB port on their faceplates, but Sony's CDX-GT630UI head unit allows you to plug an iPod in directly using the cable supplied with the player. Plus, USB thumb drives or other MP3 players can also be jacked in and music on the media can be accessed using many of the same features, including ZAPPIN that audibly scans a few seconds of each track and Jump mode that quickly searches through an iPod's content. Passenger control also retains access to an iPod's native controls while the player is connected, and the CDX-GT630UI includes Sony's DM+ technology to enhance the sound quality of compressed audio formats like AAC, MP3 and WMA.
---
.