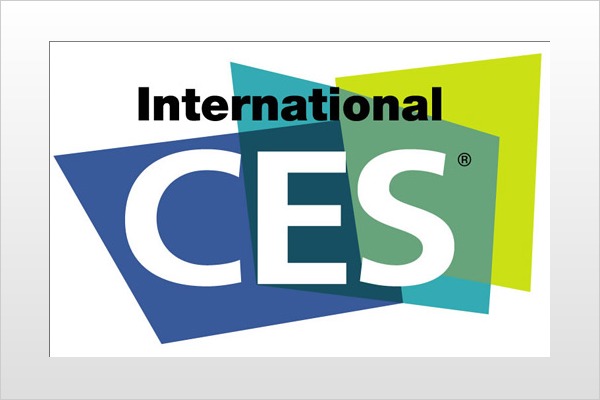 U.S. consumers spend more than $160 billion on electronics each year. More and more, that money is being spent on in-car gadgets and features like upgraded stereos and portable GPS units.
That's where the Consumer Electronics Show (CES) comes in. CES rolls into Las Vegas every year with the sole intent of showcasing the latest in consumer electronics. Unlike past CES events, this year's show had a heavy automotive slant. Ford had more cars in various booths than it's ever had before, and Microsoft announced a significant upgrade to the Sync system the company developed. General Motors also had a strong showing by rolling out the Chevrolet Volt and fuel-cell-powered Equinox. GM's CEO Rick Wagoner was even on hand to deliver one of several keynote speeches.
Although CES has plenty of oversized subwoofers and demo cars stuffed with more video equipment than your neighborhood Radio Shack, it's the more down-to-earth stuff that will likely make it into consumers' hands.
Here's a look at the significant automotive products featured at this year's CES: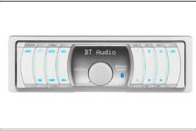 Clarion FB275BT (Photo courtesy of Clarion) — At first glance, this Clarion head unit looks like a stylish but typical aftermarket car stereo. However, the FB275 is "mechless" which is just a techie way of saying it has no moving parts. There's no CD player, and it doesn't receive AM radio. It plays music via an SD card or jacked-in portable music player.
The BT at the end of the rather clunky name means it's Bluetooth compatible so an external microphone is included.
There are 18 FM presets, the built-in amp is 50 watts by four channels, and you can also choose your own color illumination — there are 728 different color choices in all. The Clarion FB275BT is a 2008 CES Innovations Award Winner.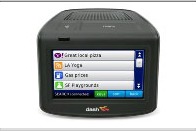 Dash Express (Photo courtesy of Dash Express) — The keyword for the next generation in automobiles is "connected." It is the next new thing, so expect to hear it as often as terms like "green" or "hybrid" in the coming decade. For Dash Express buyers, the dream of a truly connected car is a reality today. The Dash Express is a portable navigation device, but it also uses WiFi and the cellular phone network to provide services like Internet search capability.
While most nav systems come preloaded with approximately what feels like a million points of interest (POI), the Dash's POI database is essentially unlimited since it can find people and places through an Internet search.
And thanks to that connection, the Dash Express' map data is automatically and wirelessly updated. It also delivers more comprehensive traffic information because the unit takes in data from other Dash units in use in your area and combines that with additional traditional traffic reporting sources. Finally, the Dash Express has something called Send2Car. That allows you (or anyone else) to send directions or addresses right to the unit, eliminating the need to punch in an address once you get into the car. Dash Express has a retail price of $600, plus a $12.99 monthly fee. The fee goes down if you purchase a year or two up front.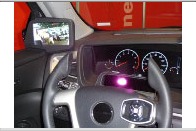 Delphi Technologies (Photo by Brian Moody) — If Delphi has its way, this is the dashboard of the future. Notable features include a driver fatigue monitor that beeps if the driver starts to fall asleep. That doubles as a face recognition system that will not allow the car to start if an approved face isn't behind the wheel. By the way, that purple glow is the eye that monitors the driver's face. It only shows up in pictures; in the real world you can't see it.
Another reason this Delphi demo vehicle is notable is because it uses a series of display screens to convey relevant information. For example, the gauge cluster is now just another display screen and that means a user can call up other menus or features in that same space. When the car is in Park, the entertainment menu can replace the gauges. When the car is moving, that menu moves to the head-up display while the gauges take their typical place. Finally, there are no side-mounted rearview mirrors. Instead cameras send images to two monitors mounted inside the car near where the traditional mirrors are usually mounted. Delphi says this technology should be a factory-installed feature in some cars by 2012.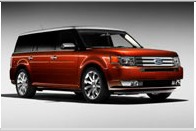 Ford and Sony Audio (Photo courtesy of Ford Motor Co.) — The Ford Flex is set to go on sale shortly as a 2009 model-year vehicle. When it hits your local showroom, it will have an available feature soon to be offered in all new Ford vehicles: a Sony audio system. It's a 10-speaker system that also includes a Sony class D, eight-channel amp and subwoofer. When paired with an available navigation system, the interface is clean and easy to understand.
A hard drive including Gracenote software will also be available in the Flex. Gracenote is the data that lets a CD player recognize a given title — it displays the usual album name, artist name, song list and now cover art. The Sony sound system will also show up on the 2009 Ford F-150 and later the Ford Fusion and Mercury Milan.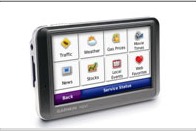 Garmin Nuvi 780 (Photo courtesy of Garmin International) — In our last comparison of portable navigation systems, we found the Garmin Nuvi 680 to be the best of the bunch thanks to its large screen, abundance of features and intuitive interface. That unit is being replaced by an even better system: the Nuvi 780. It has all of the 680's great features and ease of use but adds a few key services.
For example, you can plan trips and look up destinations from the convenience of yourcomputer, via Windows Live Local, and then wirelessly send locations to the 780. Traffic info, fuel prices and weather reports were already options with the Nuvi, but the 780 adds local events, news and stocks to that list of available services. There's also enhanced movie listings and the ability to navigate directly to a selected theater. However, there is a subscription fee for those services: $49.95 per year.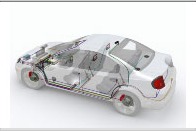 Hughes Telematics (Photo courtesy of Hughes Telematics) — The battle for in-car connectivity is really heating up. Ford's Sync system has been enhanced and OnStar continues to be a popular option on many General Motors cars, trucks and vans. Hughes Telematics is the latest company to offer OnStar-type services, although the Hughes system is by far more comprehensive than either Sync or OnStar.
Hughes services will soon be included on Mercedes-Benz vehicles.
Many of these systems offer safety-related features, so it's important to check on what's available before making a final decision on a new car or truck. The Hughes system includes features such as emergency crash notification, hands-free calling, maintenance reminders, recall notification, redlight camera alerts, roadside assistance, real-time traffic, remote emissions reporting, stolen vehicle locator, turn-by-turn directions, vehicle tracking, plus news, weather, gas station locations and streaming media. And that's only a partial list.
OnStar charges a monthly fee and Ford's Sync services are included in the $395 purchase price, but there's still no word on how much the Hughes system will eventually cost.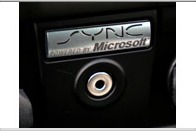 Microsoft Auto and Sync (Photo courtesy of Ford Motor Company) — As it is, Ford's Sync system is a brilliant solution for those who want greater in-car connectivity. It functions as a voice command for your Bluetooth phone and portable music player — primarily fun stuff. At this year's CES, Microsoft and Ford announced a significant upgrade to the system.
Should your Sync-equipped car be in an accident and the airbags deploy, the system will make a 911 call through your connected phone.
It's true that OnStar does the same thing, but the Sync system makes a local 911 call using your cell phone. The OnStar system sends a message to a centrally located call center; call center personnel then call your local emergency services. Both get the job done, but the Sync system could be better if you're in a life-threatening accident.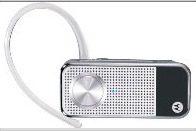 Motorola Motopure H12 (Photo courtesy of Motorola) — If you're one of those people who still talks on a hand-held phone while driving, your days are numbered. Soon, that dangerous practice will be illegal in many jurisdictions. In fact, that's already the case in places like Connecticut, New York, Washington, D.C. and soon California. Talking on the phone via a hands-free device will likely be allowed for decades to come.
In order to comply with these hands-free laws, you could get a new car — many new cars come with built-in hands-free calling features — or you can use a wired earpiece and mic. For those who just can't stand the wires and don't want to buy a new car, you're gonna have to get a Bluetooth headset. Unfortunately, most are bulky and appear as if they were designed to look futuristic by 1987 standards. That's where the Motopure comes in. It's smaller than most other similar devices and features sleek vintage-y styling. Motorola's Crystal Talk plus two microphones ensures clear, distortion-free conversations.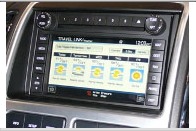 Sirius Travel Link (Photo by Brian Moody) — By now, most of us are familiar with satellite radio. But what many don't know is that the satellite connection to your car is capable of providing a lot more than just talk shows and music. Sirius Travel Link works in conjunction with a navigation system and provides real-time traffic information, weather information, fuel prices, sports scores and movie listings. These features have been around for awhile on aftermarket nav systems, but Travel Link will be available on 2009 model-year Ford, Lincoln and Mercury vehicles with the company's next-gen navigation systems.
That means all Travel Link information is accessible through the car's factory-installed navigation screen and controls. Traffic information is displayed on the main map screen, and the system can reroute you while taking into account accidents, traffic flow and construction. The weather feature is also very comprehensive, as it shows a national radar map, detailed storm information including hurricanes, five-day forecast and ski conditions.
---
.