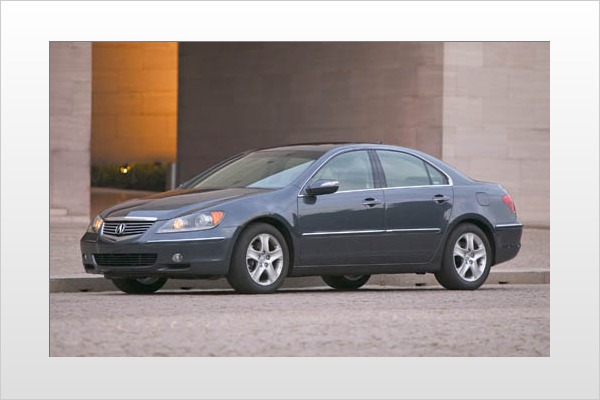 What do female executives look for in a car?
Sarah Lee Marks has a good idea. She's manager of Corporate Fleet Sales for the multibrand Integrity Automotive Group. Her executive clients — generally women in their 40s earning at least $100K — are looking for style and status. But because luxury cars are so pricey, they quickly incorporate the need for value and reliability. (Showing how they became execs in the first place.) Here are some selling points Marks says they look for:
Free scheduled maintenance, because it makes reliability and upkeep cost a nonissue.
Same-brand loaner cars, so they don't have to take a potentially embarrassing step down while their baby is getting serviced.
Good lease terms. The differences among brands can sometimes be a deciding factor.
Fuel economy. The extraordinary price of fuel has already forced most women out of the gas-guzzling Hummer H2, Cadillac Escalade and Lincoln Navigator.
Based on Marks' experience, women will often choose a smaller car within a luxury status brand rather than a larger car from a brand with less panache.
Here at Edmunds.com, we're well aware of the need to synthesize style and brand status with excellent driving characteristics and luxury amenities. After polling our editors, we've compiled a list of cars we'd recommend to these hardworking ladies, and have included plenty of "Honorable Mentions" when a smaller, less expensive model from the same brand is a fine alternative.
Acura RL
This large luxury sedan's unique all-wheel-drive system results in amazingly capable handling, even when driven aggressively. Acura's new satellite-based real-time traffic information system, a North American first, is built into the standard navigation unit's 8-inch screen to ensure that you're never late for a board meeting because you got stuck in traffic.Honorable mention: Acura TL
Audi A8
Received our Editors' Most Wanted award for sedans over $60,000. The A8 may not have the name cachet of the BMW 7 Series or Mercedes S-Class, but neither of those illustrious nameplates has anything on the Audi when it comes to luxury accommodations, interior room or driving dynamics. Better yet, unlike the other two, the A8 has an intuitive control layout that makes it easy for owners to manage its myriad of in-cabin conveniences.Honorable mention: Audi A6
BMW 6 Series
Coupe or convertible, the 6 Series is highly prized as well as priced. Though there are some sacrifices in practicality to be made in foregoing a sedan, the 650's flowing lines and exhilarating yet serene driving experience will make you forget all about its snug backseat. Those who can afford this BMW's $70K-plus price tag are in for a treat.Honorable mention: BMW 3 Series, voted our Editors' Most Wanted sedan and coupe under $35,000.
Cadillac STS
The 2005 STS shows improvements on all levels (compared to the outgoing Seville) and features some pretty cool technology. Start your car remotely with the key fob, and it will initiate climate control based on exterior temperature. Once inside, you get information through a four-color head-up display projected onto the windshield. Our editors say, "It may not be as nimble as the CTS or as flashy as an XLR, but for buyers looking for a complete package of luxury and performance, the STS is Cadillac's best offering yet."
Chrysler 300C
Our 2005 Editors' Most Significant Vehicle of the Year, the Hemi-powered, highly styled 300C has been dubbed "the American Mercedes." An awesome blend of old and new, it's the hottest American status-mobile today. Many executives, both men and women, are going for the Chrysler specifically because it denotes a sense of national pride — very important when doing business with unions or political organizations.
Infiniti G35
Available as a sedan or coupe, the stylish and roomy G35 is a good bet for fun-loving execs seeking an alternative to the BMW 3 Series that costs less and has less of a snob factor. Plus, when you buy this Infiniti, you're basically getting a four-seat version of Nissan's Z car.
Jaguar XJ-Series
More people have bought XJs than any other Jaguar. Thanks to a new aluminum infrastructure, the current XJ sedan is a huge leap forward in terms of quality, technology and performance, yet you still get a traditional British touring saloon, complete with rich wood trim, soft leather and a leaping cat on the hood. Truly a modern classic.
Lexus RX 350
If you want a reliable, luxurious SUV that has lots of high-tech goodies and rides more like a sedan, the Lexus RX 350 is our favorite. Also great is the much awaited Lexus RX 400h hybrid which offers quicker acceleration and better fuel economy to boot. Honorable mention: Lexus LS 460
Mercedes-Benz E-Class
State-of-the-art safety and luxury features make the E-Class the one to beat. Voted our Editors Most Wanted Wagon Over $45,000, even the diesel model wowed us — it's about as fast as Mercedes' gasoline V6 and gets mileage in the 30s, yet doesn't emit any of the smell and soot of previous diesel engines. The only downside is that due to emissions regulations, you can't buy the diesel in California, Maine, Massachusetts, New York or Vermont. However, we think you'll be just about as happy with the gas-powered E350 and E550. Honorable mention: Mercedes-Benz C-Class
Mercedes-Benz SL-Class
Corporate Fleet Manager Sara Lee Marks says, "If I ever hear a client 'wish' for something, it is a 30-something boy toy to drive her around in her Mercedes SL-Class roadster. But I think the two 'toys' are interchangeable in desirability." Seriously, what could be more fun than this sexy beast that transforms from a hardtop coupe to an open-air convertible at the press of a button? Honorable mention: Mercedes-Benz SLK-Class
---
.