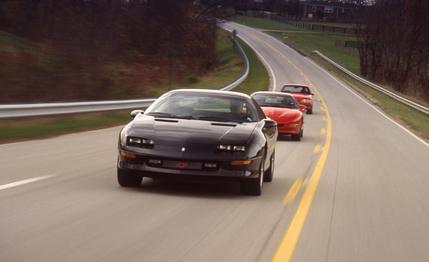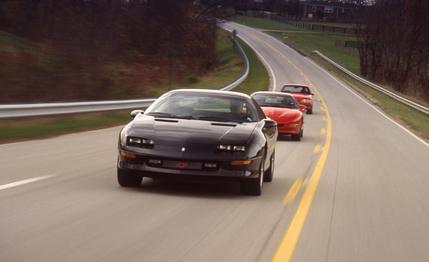 Archived Comparison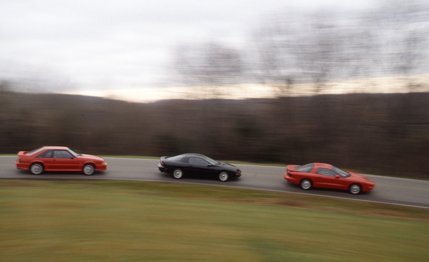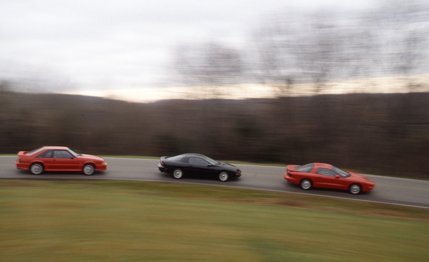 From the February 1993 Issue of
Car and Driver
TESTED
Never mind that the term "pony car" has been around for 29 years—probably inspired by the secretary's Mustang featured in advertising back then. The expression is icky enough to clog the printer, not to mention the editorial arteries, so we intend to avoid it.


Besides, the three cars assembled on these pages—the Camaro Z28, the Firebird Formula, and the Mustang Cobra—have nothing in common with the secretary's anything. These are full-house performers, optioned for that one-in-ten buyer who wants all the go and grip the catalog offers. Ford will build only 5000 Mustang Cobras. GM reckons only ten-to-twelve percent of buyers will opt for the package that includes the extremely high performance Z-rated 50-series tires, performance gearing (3.23 instead of 2.73), and 150-mph speedometer. If, after hearing of this non-pony intent, you still can't shake the equine metaphor, then think of this group as the war horses.
These war horses remind us of what the class stood for in its first decade of life, beginning with the Mustang's 1964 intro. The secretaries' rides, with their skinny tires and in-line-six engines, were everywhere, and Chevrolet followed as soon as it could with a similarly cute and thrifty Camaro. We looked right past them in traffic, searching for the relatively few that were packing the go-fast options. It was these few that inspired SCCA's Trans-Am series—in its early days, some of the best door-slammer racing that ever was.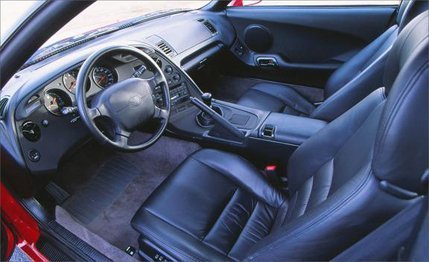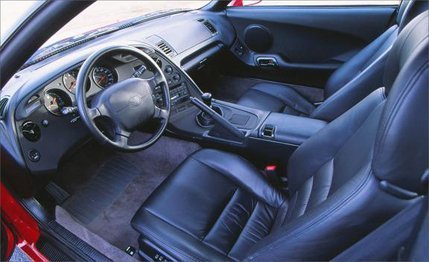 These few powerful versions repre­sented a new reach for Detroit, a thrust in the direction of sports-car speed. The mus­cle-car intermediates were faster in a straight line. The war horses were meant to be Euro fast, fast when the lines weren't straight, fast on roads where a demanding, discerning driver could enjoy a well-balanced machine.
Model-year 1993 does, in fact, finish out the third decade of this American class of sporting cars—29 years of Mustangs and Mustang emulators (bow heads here in a moment of silence for the Barracuda, Challenger, and Javelin comrades that fell along the way and for the Cougar that grew up to be too bulky and mature to entertain war-like thoughts). America 29 years after Mustang Job No. 1 is a very different place, with a much richer selection of sporting cars. Now, in addition to the American interpretations of Euro fast, we have interpretations from afar—Corrados, Eclipses, Preludes, Probes, and others that weren't even dreamed of back then. So our expectations now are based on a true international standard.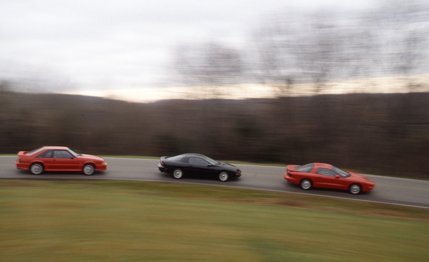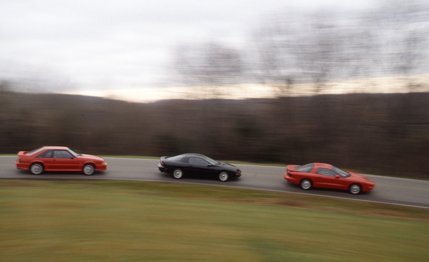 More international than domestic, in fact, because Detroit's efforts in recent years have been pretty much simmering along on pilot light—no new cars and no new tricks. But the burner is on high again for 1993. The Camaro and Firebird are all-new and as provocative as sheetmetal Madonnas. Over in Dearborn, Ford has enlisted its most enthusiastic car guys (and at least one car gal) into the Special Vehicle Team. Their job: inject enough hormones into the Mustang so that Ford dares to call it Cobra.
What's become of the fast American after all this time? We can hardly wait to find out.
Comparison-test stations, everyone!