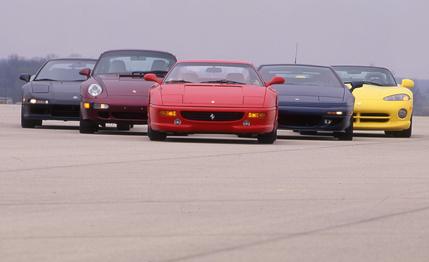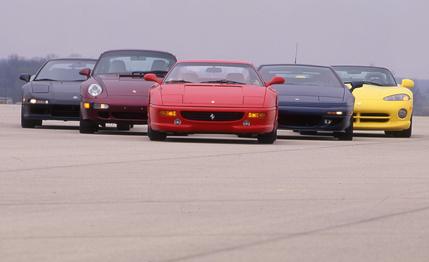 Archived Comparison


From the July 1995 Issue of
Car and Driver
TESTED
In 1897, Captain S.A. Swiggett wrote a book called The Bright Side of Prison Life. It occurred to me to take a copy to southern Ohio, where we were testing five supercars, any one of which could get me arrested while cruising in second gear on eastern inter-states. Our assault on Ohio's scenic Hocking Hills would be swift and inter­national in flavor. In total, we had 1745 horsepower on tap, from $472,000 worth of exotica. And our five supercar contes­tants represented five countries: America (Dodge Viper RT/10), Germany (Porsche 911 Turbo) Great Britain (Lotus Esprit S4S), Italy (Ferrari F355), and Japan (Acura NSX-T). Think of it as the Olympics of supercars.
The newest weaponry on the supercar scene—the Porsche and Ferrari—triggered this comparison test. In making our other selections, there seemed no good reason to include anything with a price higher than the Ferrari's $128,800, and all five voting editors agreed it wouldn't have changed the outcome anyway. Before the Anglo­philes complain, remember that the McLaren Fl is not legal here. Subscribers enamored of Italian machinery should note that the Ferrari F50 isn't ready yet, and no Bugatti EB110 has yet been sold in America. Red-white-and-blue patriots should similarly recall that the Corvette ZR-1, which admittedly would have been a better-rounded ambassador than the Dodge Viper, went the way of the pas­senger pigeon one month before this story would appear.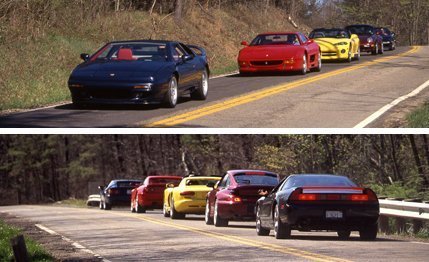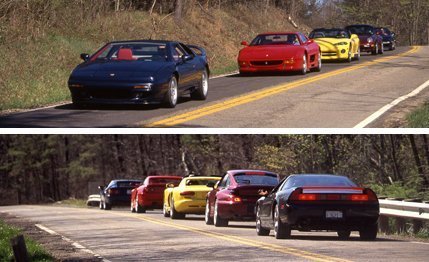 Our vehicles thus assembled, it was curious to discover that, quite without trying, we wound up with no similar engine architectures. The engines include a single-turbo inline four, a twin-turbo flat-six, a DOHC V-6, a 40-valve V-8, and a pushrod V-10. The Lotus, the Ferrari, and the NSX are mid-engined. The Porsche is rear-engined. The Viper is front-engined. From a styling standpoint—at least according to Ohio and Michigan citizens who rushed us at every fuel stop—not one of these vehicles looks very much like any other.
So what did we hope to discover in one week of driving? We, needed to know which was the fastest, and we found out after just one day at Ohio's sprawling Transportation Research Center. The intangibles were trickier. Which car is eas­iest to drive at nine-tenths on public roads? Which impresses onlookers most? Which is the most fun to drive, never mind its per­formance envelope? Which is the most potent and comfortable long-distance tourer? Which is the most passionate? Which feels the least likely to spend its life atop a service hoist?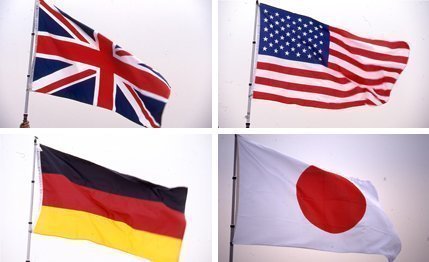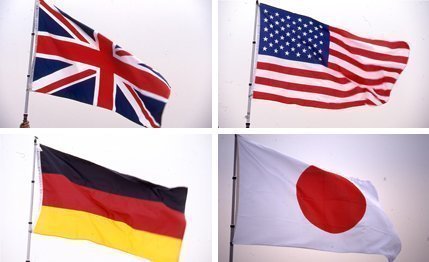 It took a week of nonstop driving and late-night arguing to find out, during which interval we pushed the vehicles hard enough that both the NSX and the Viper had to be retrieved from ditches. Said C/D godfather Brock Yates, as he brushed pieces of hemlock bough and sandstone grit off his vest: "At about 90 percent of their capabilities, all five of these cars are hugely competent and benign, lulling their drivers into Fangio-like confidence. But put one toe over the edge and there's an excellent chance you'll get to help refur­nish your insurance agent's new home in Grosse Pointe."
Or, to put it another way, begin memorizing passages from The Bright Side of Prison Life.