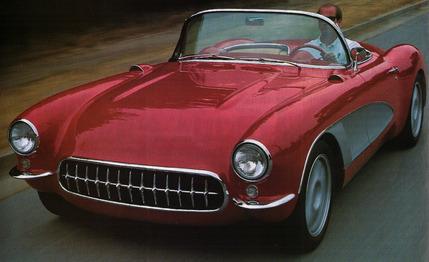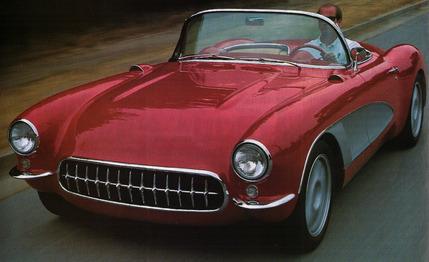 Specialty File
We're deep in the artichoke fields of Castroville on California's central coast, trying to run performance tests on a priceless 1957 Chevy Corvette, and I'm nervous. I expect angry looks from local motorists and the road maintenance guys who are working on part of the road we're whizzing by on, test equipment projecting off the side of the car. But no, everyone turns out to be a friend of the car's owner, Dave Tottino.
Tottino's family is big in artichokes. They own the local packing plant, and Dave runs it. Strangers who spot his mint '57 Corvette for the first time can't believe the car's better-than-new condition, and they eyeball the wide, wide ZR-1 wheels and tires. The modern rubber leads many people to believe this is a kit car. Those tires couldn't fit under the bodywork of an original '57 Vette, could they?
Well, this isn't a bog-stock original 1957 Chevy Corvette. It's a genuine St. Louis car, complete with authentic vehicle number, but the thing is, it's been totally remanufactured and now boasts a tube-steel frame, a suspension from a '90 Corvette, ZR-1 wheels and tires, and an entire 1992 LT1 Corvette driveline with a 5.7-liter V-8 and a six-speed ZF transmission, 4.10:1 ring-and-pinion and all.
Every panel on the body apart from the trunklid—it's original—has been remolded. For the tires to fit, the back end was flared three inches on each side and the front fenders three-quarters of an inch on each side. Yet the contours flow so naturally that you'd be hard pressed to tell it wasn't an original front or tail end. That's the remarkable talent of Alf Ebberoth and Olle Eriksson of Performance Automotive in Seaside, California, at work. They're master fabricators, laminators, and car craftsmen in the world of hot-rod construction.
These two Swedish car surgeons rebuilt Tottino's Corvette around a tube frame constructed by journeyman frame builder Paul Newman (no, not that one), who has designed and built numerous custom chassis, among them Pikes Peak-winning cars for Roger and Rick Mears and a street rod for Jerry Brassfield that was judged No. 1 by Hot Rod magazine.
Newman's tube frame uses the late-model Corvette front subframe for suspension pickup points, but unlike those cars, this front end has no detachable cross member. Says Newman: "Corvettes are weak between the firewall and the front wheels. This car is stiff." In fact, Newman's chassis is considered so stiff that Ryan Falconer, who has a shop near Seaside, wants one for his LT1-derived V-12 Corvette. Newman also modifies '53 through '62 Corvettes, allowing modern Corvette suspensions to be attached to the original frames. The old cars handle like drunken shopping carts, so you can imagine the transformation.
When Tottino bought the car in 1992, the body was not in good shape, and the chassis was, shall we say, representative Hood powers open to reveal a tidy LT1. Cockpit emulates original's, but with more space, better seats, newer gauges, and smaller wheel. Switches for hood, windows, and adjustable shocks hide under cover.of the era. The original '57 had a ladder-type frame, a solid rear axle with leaf springs, and what Ebberoth describes as "an antique front end with too many ball joints in the steering mechanism." He reminded us that the early Corvette sus-pension was based on the underpinnings of the '49 Chevy sedan.
Because the 1957 wheelbase of 101.9 inches was retained, the car's proportions look natural despite the widened front and rear wheel housings. In reskinning the car, Eriksson made moldings of the floor and exterior panels. He also modified some sheetmetal so the molded body panels could be bolted onto the new tube frame.
While they were remolding the body, the guys from Performance Automotive extended the cabin space rearward by about two inches, providing much-needed room for six-foot-tall drivers. The original car's 5.7-inch-longer wheelbase allowed them to shift the LT1 engine and transmission about an inch and a half rearward on the frame, putting the six-speed shifter in a more convenient position than the original. The rest of the interior was otherwise inspired by the original, but significantly improved. The dash is visually similar, though modern instrumentation has been added. The door inserts and custom-made seats are wholly different and are sumptuously upholstered in rich cowhide.