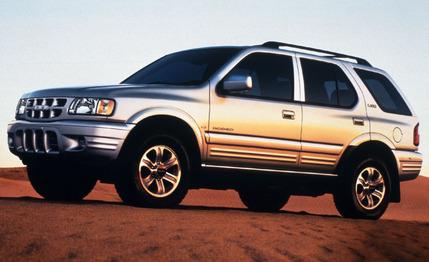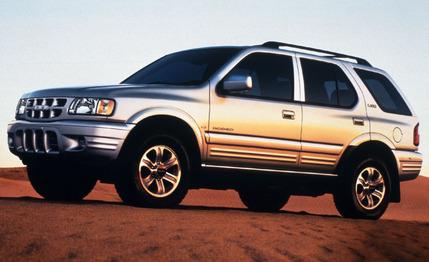 Short Take Road Test
Ever since its introduction in 1990, the Rodeo has been Isuzu's best-selling vehicle, with annual sales of about 60,000 units since 1994. And that doesn't include another 20,000 Rodeos that Honda has sold rebadged as Passports since '94. It's a moneymaker, and Isuzu has been conservative in making changes to this popular sport-ute.
The Rodeo got a major overhaul for 1998, although it turned out to be more evolutionary than revolutionary. The exterior was softened by rounding off its edgy lines, and it shed 285 pounds. Inside, it got a new dash, some extra legroom in front, and an additional 6.2 cubic feet of cargo space. By comparison, this year's changes to the Rodeo amount to more of a simple face lift than an overhaul.
We decided to have a look at the top-of-the-line LSE, which comes standard with a DOHC 3.2-liter V-6 that churns out a respectable 205 horsepower and 214 pound-feet of torque. Mated to this engine is an electronic four-speed automatic transmission that offers three shift modes at the touch of a button on the center console: normal, power (with higher-rpm upshifts), and winter (second-gear start, low-rpm upshifts). Also standard on the LSE is four-wheel drive, activated by pushing a button on the dash (although low range is engaged by a lever on the center console). The Rodeo is available in two other trim levels, S and LS, with a choice of rear- or four-wheel drive and a manual or automatic transmission. Only the base two-wheel-drive S is offered with a DOHC 2.2-liter four-cylinder engine mated to a five-speed manual transmission and is priced at $18,575.
On the exterior, Isuzu decided the Rodeo needed some rhinoplasty, so it has been given a new grille and front-bumper fascia and flush-mounted headlights that incorporate the turn signals and side-marker lights into a single assembly. The new nose is more aggressive-looking than the old one. It looks as though Isuzu is trying to reemphasize some of the rugged off-road character the Rodeo lost in its 1998 makeover, which softened its exterior appearance. A new bumper fascia and taillights freshen the rear.
Inside, the faces of the gauges on the instrument panel have been changed slightly by adding more hash marks between the numerals on the speedometer and tachometer. The front seats have been completely redesigned, with extra padding in the back and new seat cushions and side bolsters. The seats are more supportive and comfortable, but they still lack the kind of lateral support we would prefer. This isn't a sports car, after all.
And although the Rodeo may not be a sports car, its ride and handling aren't really trucklike, either. The ride is neither cushy soft in the manner of the Jeep Grand Cherokee, nor as stiff as a Dodge Durango's. Our LSE came equipped with Isuzu's new Intelligent Suspension Control (ISC) system, standard on this model and part of a $1052 "Ironman" package on the LS. The system's computer receives inputs from a chassis-mounted lateral-g sensor, vertical-g sensors in the shock absorbers, and brake sensors, and it also monitors the vehicle's speed and engine rpm. It uses this information to adjust the compression and rebound damping rates of the shock absorbers, by means of electric step motors on the shocks, to one of 17 different settings. Ride quality and handling behavior are both improved, and there's less rear-axle float than we experienced in previous-generation Rodeos over sharp heaves. Despite the noticeable improvement, the Rodeo still trails the refinement of the car-derived Lexus RX300.
Although it feels as though it rides and handles better, its lateral acceleration dropped 0.05 g to 0.69--a surprising result, given that both test cars wore the same P245/70SR-16 Bridgestone Dueler tires. Straight-line performance was slightly slower, but the Rodeo still managed a respectable 0-to-60 time of 9.4 seconds and a 17.0-second, 80-mph quarter-mile time.
Those numbers are on par with other sport-utes in this class, as is our LSE's as-tested price of $31,760. And therein lies the problem: The mainstream-SUV market continues to be crowded with lots of good players. If Isuzu hopes to keep the Rodeo's sales share at its current healthy rate, it may need to come up with some sort of price or performance advantage.