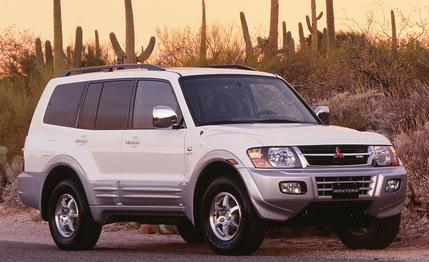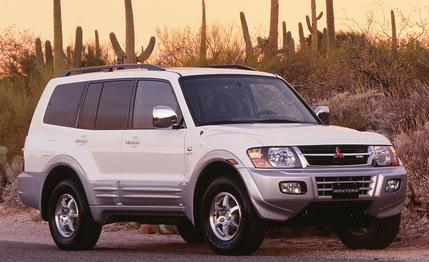 First Drive Review


The engine bay of the newly supersized 2001 Mitsubishi Montero hosts the company's tried-and-true 3.5-liter, 200-hp V-6, practically the only carry-over item in this dramatically redesigned luxury sport-utility. The compact engine seems a little lost in the underhood vastness. It is the nature of a void, Sartre said in his essay on women and sex, to cry out to be filled.
Existentialists can be so randy.
What the Montero engine compartment screams for is a V-8, particularly since the vehicle -- enlarged 2.2 inches in wheelbase to 109.5 and 4.0 inches in width to 73.9 -- is being positioned as a value-intensive competitor to V-8-powered luxo-utes such as the Lexus LX470 and the Land Rover Discovery II.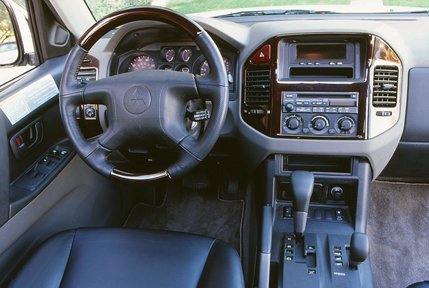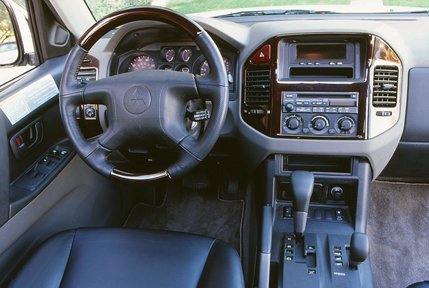 For now, the cast-iron and aluminum SOHC 24-valve six, with reprofiled camshafts and better plumbing at both ends, produces seven more pound-feet of torque (235 at 3500 rpm) than the previous model. Combined with the Montero Limited's standard five-speed Sportronic, with manumatic shifting, the six-shooter has plenty of gumption for off-roading and around-towning (a four-speed auto is standard on the base XLS).
It's only when the 4700-pound Limited is nosed toward the interstate that the lack of top-end power becomes apparent as the vehicle fights a losing battle against its own highly stylized frontal area (the company quotes a Cd of 0.42).
For 2001, a unibody chassis structure replaces the Montero's former body-on-frame design. Lighter and more rigid, the unibody is also more space efficient. Step-in height is down 1.9 inches, and ground clearance is up 1.8 inches to a rangy 9.3, reflecting the slimmer cross section of the chassis floor.
The ground clearance also benefits from the Montero's new rear multilink suspension, replacing the former three-link solid rear axle. The fully independent suspension sports significantly more spring travel, and articulation off-road is excellent. It feels as though the Montero could scrabble over a Jersey barrier. But even with its lower roll center (overall height is down 1.7 inches), the Montero seems too limber, heeling over unnervingly at speed before the progressive-rate springs tighten up. Mitsubishi engineers note that they have firmed up the suspension from the Japanese-market tuning and acknowledge that yet more tinkering may be needed.