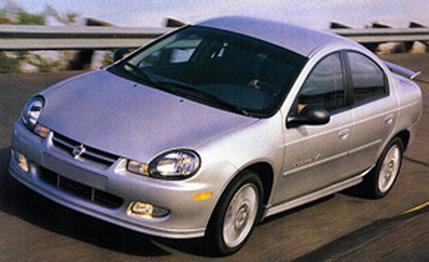 First Drive Review
The outrageous Dodge Viper and the flashy Plymouth Prowler, and a bevy of sporty concept cars of the past decade, have obscured an interesting fact about DaimlerChrysler's domestic lineup--it's been lacking in affordable performance cars. Sure, some higher-performance Neons were supposed to fill that hole--first the ACR, intended for the racetrack, and then a two-year run of street-bound R/Ts. But neither of those Neons matched the splashes of the Ford SVT Contour and Honda Civic Si.
Dodge hopes that changes for 2001 as it unleashes not one but three R/T models, each of which we drove recently near Phoenix. The Intrepid should be in showrooms as you read this, and the two others will appear in late summer. By year's end, "R/T" (which stands for "road and track") will be plastered on five of Dodge's 10 models. The Caravan and the upcoming Stratus are rumored to be working out at Gym R/T as well. It reminds us of the late 1960s, the last time Dodge offered a regiment of R/T muscle cars for public consumption. (Is a "Scat Pack" ad campaign on the way, too?)
R/T doesn't mean the same thing on every Dodge. It indicates the most significant changes on the Neon R/T, as evidenced by its engine alone. It's a version of the base SOHC 2.0-liter four, massaged to make 18 more horsepower for a total of 150. That's the same number of ponies as the previous R/T's 2.0-liter made with double overhead cams, so some rather extensive modifications were required. The ports were opened up, and a new aluminum long-port intake manifold and a welded tubular steel header were fitted. The camshaft was revised for longer duration and higher lift.
The package continues underneath with revised shocks and springs and stiffer anti-roll bars. The Neon R/T wears H-rated Goodyear Eagle RS-A shoes, size 195/50, wrapped around 16-inch lace alloy rims.
More clues alert your neighbors that you bought the go-fast version. Besides black-bezel headlamps and a Pontiac Grand Am-ish rear wing, there's a front fascia with a larger grille (borrowed from the European Neon) that can inhale 100 more cubic feet of air per minute. Inside are more deeply bolstered seats, white-faced gauges, and a new shifter knob. In back are twin-pipe exhausts, which can outhonk some imported drag racers we've come across.
The Saturday-night-special muffler is hard to ignore. Other differences take longer to discern, including a sharper edge to the Neon's already adept handling and its stickier cornering grip. The power increase, though, wasn't obvious. A couple thousand more miles on our very green test car might have cured this. Dodge expects 0-to-60-mph times to drop by a full second and the price to be about $15,500.
The Intrepid R/T at first glance seems like a more modest effort. There are some discreet badges, a blacked-out grille, and humble-looking (too humble, we think) 17-inch wheels. Climb inside, and there are R/T logos stitched into the Intrepid's gray mouse-fur upholstery. The standard AutoStick manumatic shifter is sheathed in leather, as is the steering-wheel rim.
But there's a performance improvement. Like the Neon, the R/T Intrepid feels more responsive and grippy, thanks to stiffer front and rear anti-roll bars and hefty Michelin Pilot HX MXM4 P225/55 rubber. The front brakes have strengthened calipers, outward-venting discs, and performance pads--upgrades that aren't even available on Chrysler's 300M. A "performance-tuned exhaust" is throatier than the system on the Intrepid ES, although the difference subsides with speed.
The Intrepid borrows the SOHC 3.5-liter V-6 from the 300M, unchanged save for a computer-chip downgrade that allows the R/T to run on regular gas instead of high-test fuel. The chip, which costs the V-6 11 horsepower (for a total of 242 hp), prevents the Intrepid R/T's 14.5 pounds per horsepower from stepping on the 300M's slightly better 14.2 pounds per horsepower. When we suggested that R/T buyers might like that extra power, large-car-engineering V-P Larry Achram nodded. "There was a fight about this, and I'm not sure it's over yet," he said.