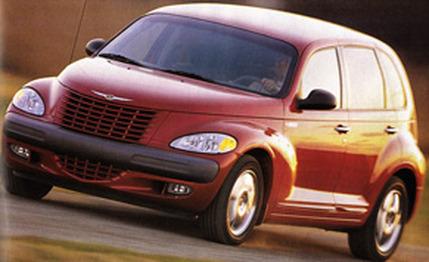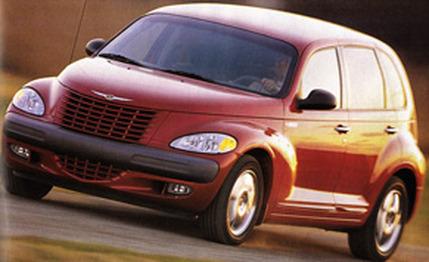 Road Test
PT is one of those silly acronyms that make a redundant distinction. It stands for "personal transportation." Well, no kidding. As distinct from what? Public transportation? Puh-leeze.
But that, and a slight shortage of grunt -- or more accurately, an overabundance of avoirdupois -- pretty much sums up the only weak points in this nifty new DaimlerChrysler invention. That's right: It's an invention. The same people who made minivan a household word 16 years ago have once again added something that's essentially new to the world's automotive inventory. In essence, it's a mini-minivan -- same clever use of interior space, same versatility, but way more cool than those ubiquitous all-purpose family freighters. Another clever concept that was afflicted with the same telltale sliding side door of the minivan were small haulers like the Mitsubishi Expo LRV, the Plymouth Colt Vista, and the Eagle Summit wagon of 1992-95. Sorry. No takers, or at least not enough. The idea flopped.
Chrysler is studiously avoiding the word minivan in its PT marketing messages. Minivans are exactly as cool as sensible shoes and have come to occupy the same psychographic niche as the much-ridiculed family station wagon.
The PT Cruiser, in contrast, sheaths its extraordinary usefulness in retro-chic sheetmetal that tempers the practicality with visual audacity. Its tall, fat-fendered exterior recalls sedans built in the late '30s, a time when American design had just emerged from the rectangular tyranny of its first four decades and shapes began to have flowing, organic contours.
In reviving the pre-WWII look, Bryan Nesbitt, the PT's principal designer, unwittingly demonstrated that those guys laboring in the Neolithic days before CAD/CAM and CATIA understood a little more about people packaging than we thought. The high roofline and upright windshield, for example, give the Cruiser extraordinary roominess for a car that measures 5.6 inches shorter stem to stern than a Neon. It also allowed a higher seating position, about midway between a Neon's and a Dodge Caravan's -- better sightlines for all -- and still provided vast headroom. And the high roof begot tall doors, augmented by wide opening angles -- easier to climb into and out of, front or rear.
The similarity to '30s sedans ends right there, of course. The minivan-style rear hatch shelters an open cargo well rather than a formal trunk; the 65/35 split rear seats flop forward behind the front seats, fold flat, and are also removable; and like most cars today, the Cruiser is a front-engined, front-drive unibody, rather than the body-on-frame rear-driver of the good old days.
Of course, depending on which aspect of the Cruiser one is contemplating, it's not a car at all. Because it has a flat rear load floor and removable rear seats, NHTSA views it as a truck, specifically a multipurpose vehicle sort of truck (which is another way of saying minivan), thus shifting its relatively high fuel-economy ratings (20/26 mpg city/highway with the manual transmission, 20/25 with the optional four-speed automatic) over to the truck side of the CAFE ledger. But for emissions-testing purposes, the EPA considers it a car. DaimlerChrysler also points out that the durability testing was by truck standards, which are more demanding than those used for passenger-car development.
On the other hand, for NHTSA passive-safety accounting purposes, the Cruiser is considered a car. It isn't every day that one satisfies the frequently conflicting goals of all the government agencies on one's own terms -- sort of like having your cake, eating it, and getting paid to do so. All of which makes the folks at Chrysler quite happy.
Car, truck, minivan, whatever -- in a world of shared underpinnings, the PT Cruiser is a one of a kind, according to Chrysler. Our original understanding was that there would be quite a lot of Neon under this nifty new shape. But even though international versions will use the Neon's 140-horsepower, 2.0-liter SOHC 16-valve four, aside from various fasteners and other small bits, the Cruiser has little in common with the compact sedan. Whether it's built in Toluca, Mexico, or Graz, Austria, the platform belongs to the Cruiser and no other product.