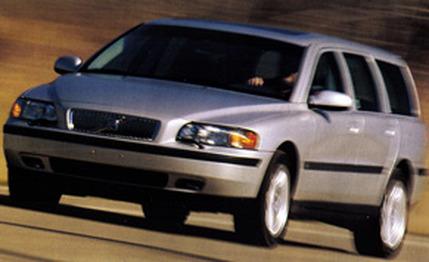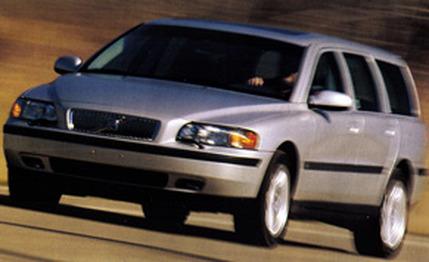 Road Test
With the appearance of every new van, sport-ute, pickup truck, or mongrelized mutation of these vehicles, we are assured that the target buyers are youthful, sexy, and cool and enjoy "active lifestyles." As if many minivan buyers actually hauled 200-foot coils of bungee-jumping cord rather than grocery bags filled with Wheaties and Pampers. And besides, why would a wring-every-drop-of-excitement-out-of-life type want to drive a sluggish, slow beast of burden on the way to the next thrill sport?
For anyone seeking a more balanced blend of payload capacity and driving excitement, Volvo offers its redesigned V70 wagon. In the T5 form tested here -- the T is for "turbo" -- the V70 can vault from a standstill to 100 mph in 18.8 seconds, come to a dead stop from 70 mph in a mere 167 feet, and corner at 0.80 g to help you challenge the mountain roads leading to your next rock-climbing expedition.
At the same time, the V70 will easily accept four adults and some 38 cubic feet of luggage. And to protect you in accidents, it comes with front, side, and head airbags; seatbelt pretensioners; anti-whiplash front seats; anti-lock brakes; and an optional stability-control system for $1100.
These features and capabilities come in a package that, at 185.4 inches in length, is 0.8 inch shorter than the previous V70. That makes it anywhere from about four to seven inches shorter than its big-buck European competitors and more than a foot shorter than a Ford Taurus wagon, hardly a behemoth.
This new version of the classic Volvo wagon is built on the modern P2 platform that Volvo introduced on the '99 S80 top-of-the-line sedan. As a result, the new V70 may be slightly shorter than the 2000 model, but it packs nearly four more inches of wheelbase, an inch-wider front track and a three-inch-wider rear track, and about two more inches of width and height. No wonder most of its interior dimensions are more generous than its predecessor's. This is particularly impressive since the skin of the new V70 is far more voluptuous than its boxy predecessor's.
Slide behind the V70's steering wheel, and you'll find not only plenty of room but also a superb seat that provides an exquisite blend of softness and support. Moreover, the driving position benefits from a steering wheel adjustable for both angle and reach, clean instrumentation, and an excellent control layout. We can't imagine anyone having trouble finding comfort in the cockpit of the V70.
Although the use of wood trim is limited to relatively small pieces, the various plastic panels feel soft and look rich, an impression that is supported by the V70's excellent fit and finish. Cushy leather elbow pockets in the doors advance the sensation of being inside an expensive cocoon.
Slip into the back seat behind a six-foot-tall driver, and you will also find a second very comfortable seat, but don't expect to cross your legs unless you're still in elementary school. All three rear-seat positions are fitted with shoulder belts, child-seat anchors, and even headrests.
When it's time to fold the seat and pack your parachutes or ice-climbing gear, the center rear headrest retracts and the outer ones fold down so that you don't have to fiddle with removing them. After flipping up the seat cushions and folding the rear seatbacks forward, the load floor is perfectly flat for its entire length.
Not only can you pack up to 72 cubic feet of thrill-sport equipment, but you can also deploy netting from the rear seatbacks that clips to the headliner, isolating the cargo compartment for ad hoc pet storage and preventing objects in the back from flying forward. There's even a neat panel that folds out of the rear load floor to form a compact area to constrain grocery bags (or bundles of pitons and carabiners) on the ride home. Alternatively, you can opt for a rear-facing third-row seat good for two fourth-graders.
But what we really like about the T5 is that in addition to hauling your family you can haul ass. Although the T5's turbocharged engine is a tad soft moving away from a dead stop, it is effortlessly powerful once on the move. Stand on the accelerator at 70 mph, and the T5 flattens you into your seatback as the transmission instantly drops down a couple of gears and brings the engine into its power-laden rpm band. In fact, the V70 T5 is easily the quickest station wagon you can buy short of the very rapid BMW 540i, which stickers just north of $56,000, more than 20 grand above the T5's $33,975 base price.