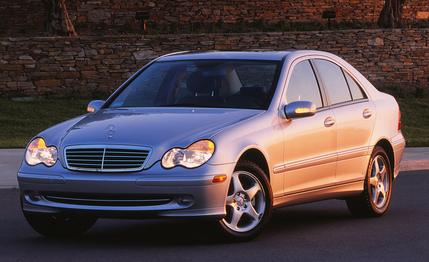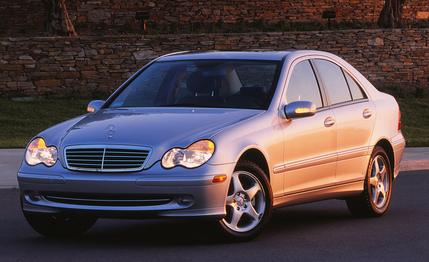 First Drive Review


When Mercedes-Benz introduced the current E-class cars for the 1996 model year, its major launch motif was the unusual headlamp treatment. You know, the two pairs of unequal-size discs? Well, with the new C-class cars, those headlights have morphed into two irregular guitar-body shapes. And these artful new asymmetrical forms perfectly suited the latest C-class's launch venue earlier this summer in Frankfurt, Germany, at the Schirn Kunst-halle (art gallery), where a retrospective exhibition of the surreal works of Man Ray was being held.
In truth, the headlamp shapes are the only surreal aspect of the new line. The new C-class cars are, in every other way, a literal realization of the company's present power and sophistication. Karen Makris, U.S. product manager for Mercedes-Benz, said her response to the new styling was "Wow!" but we believe this latest addition to the Benz family bears a clear—and perhaps unsurprising—resemblance to its relatives.
Think of the new C-class as the result of a liaison between an S-class and an E-class, and nobody will dispute the parentage. Check out the C-pillar swoop, and you'll probably agree there's even a bit of the CLK in there. All of which is good. Particularly as the new range has the voguish distinction it needs to assume the huge financial responsibilities of the old C-class (35 percent of Mercedes-Benz's global car sales) and tackle the growing, 900,000-unit entry-level luxury-car market in the U.S.
To avoid delivery delays to new customers, the C-class cars will be built in two separate plants in Germany (Sindelfingen and Bremen), with all right-hand-drive markets supplied by an assembly plant in East London, South Africa.
When the new cars reach our shores this fall, we'll have a choice of two models, both powered by V-6s. The base model is the C240, which has a 2.6-liter V-6 producing 168 horsepower and 177 pound-feet of torque teamed with either a five-speed automatic or six-speed manual transmission. That'll be the first stick-shift Mercedes sedan to appear in this market in a very long time.
The flagship C320 is powered by the now familiar 3.2- liter V-6, which generates 215 horsepower and 229 pound-feet of torque from 3000 to 4600 rpm, driving through a five-speed automatic only.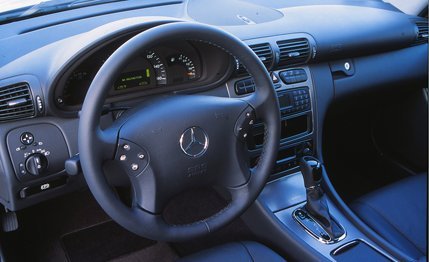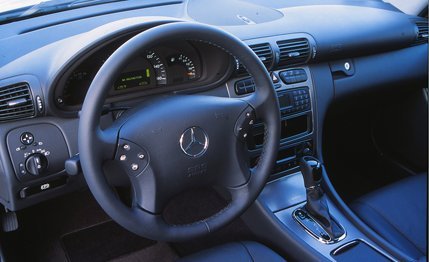 Both engines use twin-spark three-valve technology, where a single exhaust valve and double-wall exhaust manifolds reduce emissions by raising exhaust-port temperatures and burning most remnants of the combustion process before they reach the catalyst. The catalysts also get hotter sooner after a cold startup, which also reduces emissions.
We're pleased to see a V-6 engine supplanting the super-charged in-line four in our market's new C-class base model, but we found it slightly lacking in low-rev torque, particularly in contrast with the 3.2-liter C320 and Europe-only C270 models we drove in Germany. The C270 is a turbocharged 2.7-liter five-cylinder diesel the company wishes it could bring to the States. After driving it, so do we.
The svelte new body shell is similar to the old car's in dimensions (0.8 inch longer overall, with a 1.0 inch longer wheelbase), but it offers improved rear head-and kneeroom. Its makers also boast of a class-leading 0.27 drag coefficient and a structure that is 26 percent better in torsion with 50 percent better bending resistance.
It also embodies (no pun intended) Mercedes-Benz's latest impact-absorbing technologies. In addition to extensive passenger compartment shielding, there are poly-propylene impact absorbers ahead of the front bumper to absorb low-speed (up to 2.5 mph) bumps without causing any structural damage. Front and rear cross-members have replaceable "crash boxes" to absorb sufficient energy in low-speed collisions so the side members behind them are not damaged.