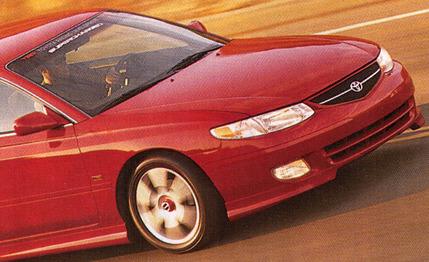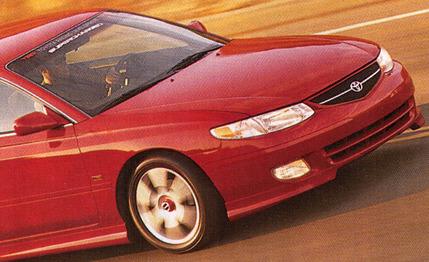 Road Test
Toyota's Camry Solara is one of those tidy, blank-sheet kinds of cars. It runs well the way a good appliance does. It's cleanly handsome, but hardly a stunner. It's large, but not humongous. It's not slow, but not quick. It is, in many ways, a 21st-century equivalent of a '66 Chevelle. And hot rodders love the '66 Chevelle.
Toyota Racing Development (TRD), the parts house in Orange County, California, owned by the Japanese automaker, wants Solara owners to experience this sort of horsepower in their cars. So TRD has loaded up its Solara catalog with everything from logo-emblazoned radiator caps to a supercharger system to help it do that. And to show off those parts, TRD took virtually all the catalog's offerings and stuck them on this Solara: a '99 equipped with the serene 3.0-liter DOHC V-6 and a five-speed manual transmission.
The big stick here is the supercharger. It's the ubiquitous Eaton Roots-type blower used atop production engines ranging from the Mercedes SLK230's 2.3-liter four through the Buick Park Avenue Ultra's 3.8-liter V-6 and the Ford SVT Lightning's 5.4-liter V-8. TRD uses the 62-cubic-inch version of the Eaton (the same unit used on early supercharged Buick V-6s) in the system it co-developed with Magnuson Products of Ventura, California, for the 3.0-liter Toyota V-6. The blower is driven by an extension of the existing accessory drive belt at two times engine speed to produce a peak 4.5 pounds of boost. TRD adds electronic boost control to modulate boost levels between shifts and to avoid detonation as the engine approaches its rev limiter.
With its own special intake manifold and with the Eaton between the engine and fire wall, this is an elegant installation. According to TRD, the blower gives the stock Toyota a 23.5 percent power increase, which works out to 47 more horses and 28 more pound-feet of peak torque over the unaltered V-6's 200 hp and 214 pound-feet.
Once a buyer has relieved himself of the weight of 3700 bucks for the blower, TRD hopes the guy will go for the rest of the Solara stuff. There's a $4220 Stage 3 TRD package, and it includes a seven-piece polyurethane lower-body kit, lowering springs that drop the car 1.25 inches in front and 1.75 inches in the rear, new struts, and 17-inch wheels wrapped in Toyo Proxes T1 255/45ZR-17 tires. Beyond that, the company has bolted up a sport muffler ($390), a short-throw shifter ($164), stainless-steel brake lines ($150), performance brake pads ($70), and a rear anti-roll bar ($150) that is 19 millimeters -- about three-quarters of an inch -- in diameter. Throw in some air and oil filters and the way-trick radiator cap, and that's nearly $9000 in add-ons.
Although it had been thrashed by other motoring writers for 25,000 miles before we got our hands on it, the TRD Solara was a sweet car to drive. The moderate blower whine and resonant exhaust add engaging mechanical character to a car that had very little in the way of zoot, while the suspension modifications stiffen up a chassis that had mush to spare. Our souped-up Solara ripped from standstill to 60 mph in 6.3 seconds and turned the quarter-mile in 14.9 seconds at 95 mph. The stock Solara runs the sprint in 7.0 and takes 15.6 seconds at 90 mph to complete the quarter-mile (Car and Driver, September 1998).
What's remarkable is how well-mannered the mechanical package remains. We never experienced detonation, the power was seamless, and the ride, although stiffer than stock, was within the boundaries of comfortable. The wider tires greatly improve initial turn-in, and the additional rear roll stiffness gives the car a more neutral cornering attitude.
The Solara has always been a big, comfortable two-door, and TRD has added the performance edge it deserves. It feels like the car Chevy's Monte Carlo SS should be. And as a good hot rod should, it leaves us wondering why Toyota doesn't build them this way in the first place.