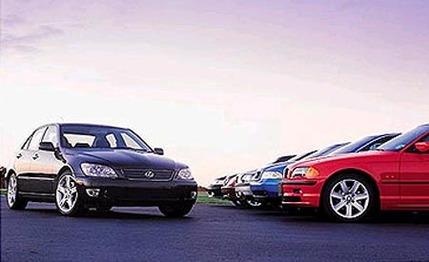 Comparison Tests
Why be cold when you can conjure up your own warm front? Five speeds or maybe six. Horsepower upwards of 200, or at least close. Tires made for grabbing the pavement, and seats cupped to hold you against the g-force. Then cloak the good stuff in four-door bodywork, just to throw off suspicion. Conspiracy to drive?
"No, sir, officer, just hurrying to get the kids from the 4-H meeting."
Sports sedans. It's a loosely defined category, at the crossroads where fun meets functionality. There's no DNA test. Trust the seat of your pants. You know 'em when you drive 'em.
You can pay a little, or you can pay a lot. How warm do you want to be? Given the chills of January, let's pay up. Thirty grand? At least. Thirty-five? We tried to hold it there. But the options have a way of defying gravity.
In any comparison of sports sedans, the first question becomes, "Which BMW?" You can't fight it. The Munich maker has the reputation, and the cars have the moves, sweet enough to capture two spots on our 2001 10Best list. Moreover, every automaker from around the world, when trying to wedge itself into the sports-sedan class, targets a BMW model. Bimmers are the gold standard.
You might find a stripper 330i in our price range. With its in-line six stroked 5.6 millimeters to 3.0 liters for 2001, it'd be a strong performer. But the idea this time is well-rounded cars, and a 325i, at a base price of $27,560, allows more room for optional equipment.
In our sports-sedan comparisons of recent years, BMWs and Audis usually end up duking it out for the top spots. An Audi A4 Quattro powered by the 2.8-liter, five-valve V-6 would fit our price range -- and our driving expectations -- just fine.
Thus far, this looks like a roundup of the usual suspects. So where's the Saab? A 9-3 SE, turbocharged to 205 horsepower at 5500 rpm, is an obvious choice.
Now for the new guys. Lexus put BMW in its crosshairs with its latest model, the IS300. This is a compact four-door measuring within an inch of the BMW 3-series in nearly every dimension. Conveniently, the 3.0-liter six from the larger GS300 was available for immediate transplant, thereby loading a smooth-revving 215-horsepower into the compact's breech. Said powerplant just happens to be an in-line six. Call it the BMW formula. And call it promising.
New for 2001 is the S60 from Volvo, a pared-down version of Volvo's big S80 sedan. Talk about family resemblance. Betcha can't tell them apart without checking the badge on the tail. Volvo is touting the sports-sedan nature of the S60 to all who will listen. Talk flows easily. But one detail grabs our attention. It's spelled T5, and it indicates a turbocharged five-cylinder engine rated at 247 hp. That's a megadose of horsepower, far more than in any other compact sports sedan at this price. The T5 outguns the 325i by 63 hp. BMW the underdog? The numbers look overwhelming.
Like Volvo, Mercedes-Benz also keeps reminding us that "sport" was a priority during the design of its new C-class sedan. And it backs up the promise by offering a six-speed manual behind the base engine, a 12-spark-plug, 18-valve V-6 of 2.6 liters rated at 168 horsepower. This is a sleek little four-door with the smooth, muscular look of an Olympic swimmer, only the fluid it was trained to slip through is air. The aerodynamic drag coefficient is 0.27. Take that as a promise of effortless speed.
That makes six sedans: two front-drivers, three sending their power rearward, and one that divvies up its torque among all four of its wheels. Six different propositions pitched to the lusts of the sporting driver. Sure, the calendar says January, but you know how the temperature rises once the scenery starts to blur. Let's see what these little scooters can do.