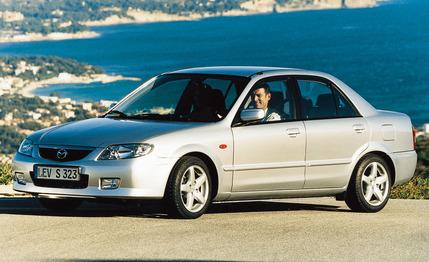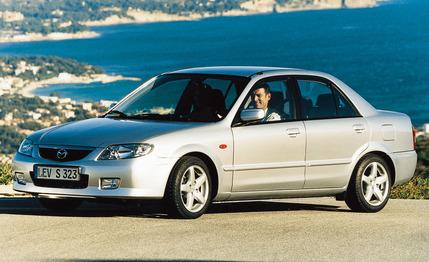 First Drive Review
It's been less than a year since the ES version of the Protegé raced to the head of the transportation appliance class here at C/D by dusting a dozen rivals in a definitive small-sedan shootout ("Little Cars 6.1," June 2000). Nevertheless, here's Mazda, fixing something that didn't seem to be broken. Check it out.
We praised the structure of that 2000 Protegé ES -- "as solid as the vault at Wells Fargo" -- but this 2001 update entails extensive suspension pickup-point reinforcements and heavier suspension subframing.
We had no complaints in the realm of noise, vibration, and harshness -- "no rattles and buzzes, no quivers and thrums" -- but Mazda has installed yards of sound-damping material on the floorpan, underhood, and behind the fire wall, and a damper has been added to the front engine mount that inhibits torque motions related to throttle response.
We liked the precision of the steering, but that, too, came in for revision. The engine-speed-sensitive variable-assist power rack system has stiffer shaft mounts, a stiffer steering torsion bar, and a new support yoke, and Mazda claims that system friction has also been reduced.
And even though we found the acceleration satisfactory -- 8.9 seconds to 60 -- and the 1840cc engine "songful," Mazda bolted in an entirely different powerplant as part of this limited makeover.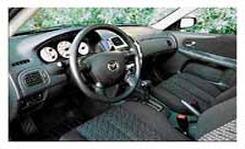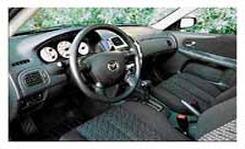 All of which goes to show, once again, that keeping up with the neighbors -- formidable neighbors in this class, such as the new Honda Civic -- pretty much eliminates any standing around wondering if the other guys are gonna catch up. As in any other race, if you do that, you'll soon be watching taillamps disappearing into the mist.
In addition to the various functional updates, the enthusiast's-choice ES sports freshened front-end sheetmetal -- a new hood and fenders, mesh grille, and headlamps -- and some minor detail changes inside, including a new audio system and a bevy of black-on-white instruments. The interior is one area where Mazda didn't have to invest much effort. We considered it "easy to find a good driving position in this car" last year, and that continues to be true.
But if the basic accommodations are essentially unchanged, the sensations coming up through the driver's glutes are different.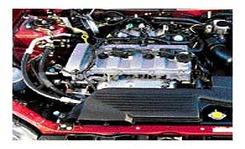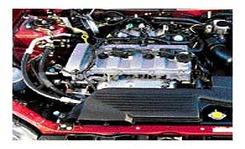 For one thing, there's a stronger sense of urgency when the driver tramps on the throttle. Mazda substituted a 2.0-liter twin-cam 16-valve four, borrowed from the mid-size 626-sedan parts bin, for the previous 1.8-liter engine, increasing horsepower from 122 to 130 in the process. But that's a little deceptive. Those eight additional ponies are hitched to a buggy that's about 100 pounds heavier, so rated horsepower to listed weight is all but unchanged: 20.8 pounds per horsepower for the 2000 ES and 20.3 for the 2001.