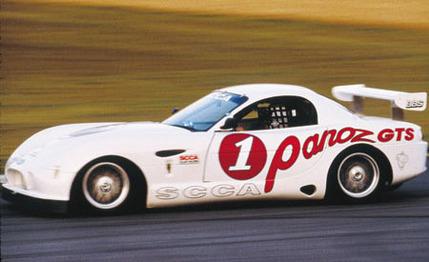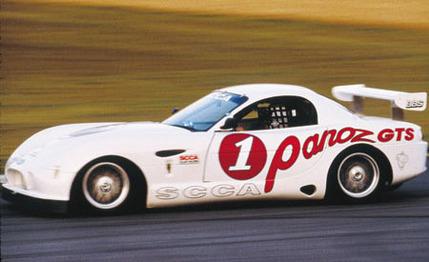 Specialty File
At 5500 rpm in fifth gear, a Panoz Esperante GTS is traveling at about 140 mph. That's not exactly light speed; we regularly test street cars capable of more. But it's still fast enough to require one's undivided attention, even on a racetrack such as Road America, with its long foot-on-the-floor straightaways. And speed is exactly what's required to make this classic four-mile Wisconsin road course really interesting. In the slower cars we've taken to past Sports Car Club of America races at this circuit, the time consumed covering those same long straights borders on boredom, which isn't what your average club racer is after. Quite the contrary: Racers are among the world's foremost adrenaline junkies.
When I checked the lap times from my first practice session in this distinctive racing coupe-my best was 2:37.182, or 91.613 mph-and learned that I was getting around the circuit some 14 seconds faster than I'd gone in a variety of other cars on this course, you could say I found it gratifying. Not only was the car easy and forgiving to drive, but I found I was within a second of the two other Panoz cars on hand for the event.
This was no obscure club race in South Snowshoe, either. It was the 46th-annual June Sprints, arguably the best weekend of amateur road racing this side of the SCCA's national championship runoffs-big racing fields, close competition, and the best bratwurst on the continent.
Ah, sweet ignorance. For that one golden moment, I felt like Terry Malloy in On the Waterfront-"I coulda been a contendah." Then a member of the Panoz crew turned up with a sheet listing all the lap times from the session. It took a lot of reading. My lips were parched before I finally found my number down there near the bottom.
That personal-best lap was almost 25 seconds slower than the fastest car in the session, a Mustang that was competing in the same class-GT1-as the Panoz. Shattering. A disparity of that magnitude makes a racer consider other pastimes. Croquet, maybe, or needlepoint.
But this isn't quite as humiliating as it seems. Yeah, I was a comparative snail. But so were the two Panoz owners, Gary Curtis, from suburban Minneapolis, and Bob Deeks, from Cleveland. They weren't quite as slow as I was, but they were almost as far from the front of the grid. Both guys are experienced drivers, and both have been campaigning the GTS long enough to know how to extract the best from their cars.
The problem was this: The Panoz Esperante GTS is racing's equivalent of the man without a country. Panoz is lobbying the SCCA to establish the GTS as a class unto itself, which would make a lot of sense for guys who like the grunt of a V-8 engine in a real race car without the cost and significantly higher speeds of a competitive SCCA GT1 machine. The plain truth is that many GT1 drivers are relative newcomers to the sport, often middle-aged guys who are finally in a financial position to give racing a shot. They want the rush that goes with big-inch V-8 muscle, and all too often they find themselves driving cars that are beyond their experience and/or abilities.
A word on GT1. This is SCCA's top class for cars with enclosed bodywork. The cars have tube-steel frames, fiberglass body shells that bear some resemblance to stock machinery-mostly Mustangs and Camaros-and big ol' carburetor-fed V-8 engines generating big horsepower. How big depends on how much the racer is prepared to spend. Does that sound like a Trans-American Sedan Championship car? Right you are, and a good many GT1 machines have seen Trans-Am service.
Although the specifications for the Esperante GTS are similar-tube frame, ABS, plastic body panels, V-8 engine-there's a major difference in power-to-weight. Minimum competition weight, including the driver, for a Panoz GTS is 2950 pounds. Minimum weights for GT1 cars range from 2430 to 3180 pounds, depending on engine displacement. For comparison purposes, let's pick a GT1 Mustang in the same displacement class as the GTS, 5.5 to 6.0 liters. Minimum weight: 2880 pounds. Engine output: 500 to 650 horsepower. The spec Panoz engine, a 5.8-liter pushrod V-8 from Ford Motorsports (iron block, GT40 aluminum heads) is rated for 385 horsepower at 5750 rpm and 377 pound-feet of torque at 4500 rpm.