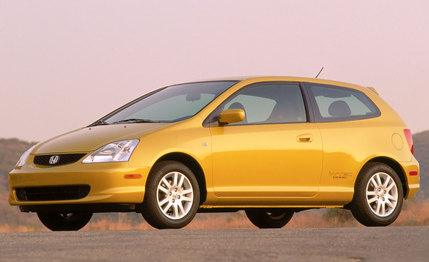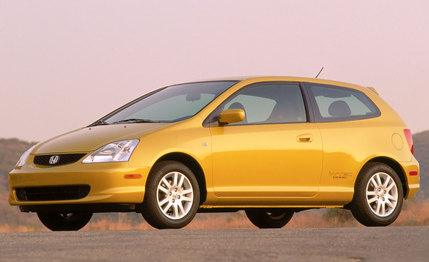 First Drive Review
We're on an autobahn in the eastern part of Germany, and we're traveling at an indicated 130 miles an hour. Our Honda Civic Si tracks as if it were on rails, and the steering feels taut and responsive under our hands. The car feels familiar. In fact, it feels a lot like a German car.
No surprise there, since a lot of the development work for the new-for-2002 hot hatch was done in Frankfurt, Germany, at Honda's European R&D facility, and moreover, the Si is assembled at the Japanese automaker's factory in Swindon, England.
Anyway, the three-door Civic hatch was conceived to be a model for the Japanese and European markets, so the character we recognized is no coincidence. And it's a good thing in this, the Civic's sportiest incarnation. Borrowing a fair bit from the Euro Type-R Civic, our Si uses a 2.0-liter engine with i-VTEC, a system that takes Honda's variable valve timing and lift system (VTEC) and further varies the intake-valve timing by rotating the cam. The next step in valve control, i-VTEC not only provides optimal valve lift and timing over the entire rev range but also juggles valve overlap to control exhaust-gas recirculation for NOx reduction.
Despite the displacement increase from 1.6 to 2.0 liters, engine output remains at the same 160-hp ceiling we remember from the previous Si. You don't require a permanent seat at the Mensa table to figure out that means a 20-percent upgrade in peak torque and more torque throughout the engine's operating range.
Peak operating revs are down, to 6800 rpm, but the midrange throttle response is so much stronger than the last Si's that we think even devotees of shrieking high-rpm engines will be mollified. Honda expects about the same 0-to-60-mph acceleration (7.6 seconds), but it believes—correctly, we think—that American drivers will appreciate more pull at low revs.
The engine is hooked up to a five-speed transmission controlled by a red-stitched-leather lever that emerges from the bottom of a shield-shaped center console just to the right of the wheel, à la rally cars, and it's a very sweet-shifting mechanism. Despite the torquey power delivery, the gear ratios are stacked fairly close together, making sporty driving big fun.
We like the interior design, which features prominent instrument gauges with cream-colored faces, snug sport buckets with rippled cloth and moody black suede bolsters, a leather-clad wheel, and a center console finished in silver paint. The front seats, with 49 cubic feet of volume, accommodate tall drivers comfortably, and the rear compartment is surprisingly spacious, with almost 36 cubic feet available. Even the cargo bay offers four cubes up on its predecessor.
Like every new Honda, the Civic boasts improved structural rigidity over its predecessor. In this case, according to Honda engineers, it's 95 percent stiffer in torsion and 22 percent more resistant to bending. Furthermore, although the new car weighs a few hundred more pounds than the old Civic, Honda says the use of high-tensile steel saves 44 pounds. Electric power steering further lightens the weight of the car. And, say Honda spokesmen, all the body gaps are smaller, and the fitting tolerances are tighter.
Indeed, the new hatchback feels like a bank vault when on the move, such is its sense of solidity and quietness. It doesn't feel austere, either, thanks to a high equipment level, including a four-speaker stereo with a CD player and a sunroof powered by a thinner-than-ever motor for less loss of pate space.
The chassis feels secure and controlled on the road, with rear-shock rebound valving taut enough to call into question how good the ride will be on frost-heaved Midwestern roads. The hardware is similar to that of other Civics and Acura's new RSX, with struts up front and links in the rear, and the calibrations are, according to chassis specialist Yuichiro Yanagasawa, almost exactly like those of the Euro Type-R Civic. No wonder it feels like a European car.
The exterior styling looks as European as the Ford SVT Focus, against which the Civic Si will conduct a knockdown, drag-out fight in this market. With the legendary Honda DQR (durability, quality, and reliability) on its side, the Civic Si should reach its sales goal of 12,000 cars a year without much difficulty when it goes on sale in March 2002. Now, can you wait that long?