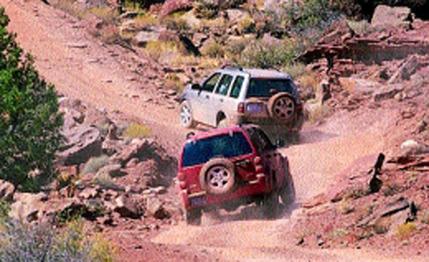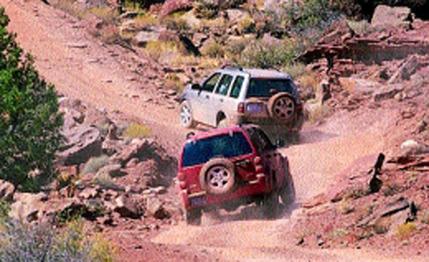 Comparison Tests
Some people are just never meant to be rich. Charlie Steen was probably one of them. The Texan's troubles began almost at the moment the slug of gray rock from his Mi Vida mine pegged the Geiger counter at Buddy Cowger's gas station in Cisco, Utah.
It was July 18, 1952, a time when Americans believed they would soon be winging to work in uranium-powered saucers and baking meatloaf by the glow of the same fission keeping our enemies at bay. Weary of overpaying for South African uranium, the U.S. Atomic Energy Commission was eager to find a domestic supply. Any miner who tapped a vein on the Colorado Plateau got $10,000 cash, plus $8 for every pound of high-grade ore in it. To sweeten the deal, government geologists combed the plateau and pointed prospectors toward promising sites. If a vein were discovered, the AEC would bulldoze a road through on the taxpayers' nickel. The AEC's dangled carrot and Steen's discovery of the huge Mi Vida lode sparked the biggest mineral rush of the past century. Doctors, accountants, school teachers, and assorted opportunists dropped everything to head for Utah wielding nothing more than an AEC pamphlet on uranium prospecting and a store-bought Geiger counter.
By 1969, the nation's uranium stocks were overflowing, but atomic saucers were in short supply. Steen's fortune had disappeared into bad investments, lawsuits, and tax-fraud indictments, thousands of investors had been bilked with dubious claims, miners were dying of cancer, and the formerly pristine sandstone deserts of Utah were blotched with toxic mine tailings and scribbled with more than 900 miles of crude roads. The White Rim Road, a 100-mile billy-goat path of sand and slickrock built to service uranium dog holes on the 3000-foot-high Island in the Sky mesa about 350 miles west of Denver, is perhaps the best thing to come out of it all. It traces the bleached cliffs of the arrowhead-shaped mesa, overlooking the Colorado and Green rivers as they meander southward in vast gorges every bit as grand as the Grand Canyon. The two rivers converge at the pointy bottom of the mesa and head off for the craggy inlets of Lake Powell.
Jeepers, mountain bikers, and other worshippers of Kokopelli, the flute-tooting Hopi glyph that is the de facto god of desert stuff, have gravitated to the White Rim and the nearby town of Moab in the years since Pres. Lyndon Johnson dedicated Canyonlands National Park on September 12, 1964. Bring just $30 and the Park Service will sell you a permit to ride the White Rim, but come in a "high-clearance four-wheel-drive," or you'll be viewing Canyonland's rocky chasms, skyscraping buttes, and wispy spires shoulder to shoulder with herds of slow-moving retirees at the park's few paved overlooks. It so happens that the two most respected names in off-roading, Jeep and Land Rover, are launching new small four-wheel-drivers this year. That alone is not unique. What is: Jeep and Land Rover actually build the little utes for forays into the wild toolies, and going places you can't get to in a BMW M5 is the best reason to buy a sport-utility, in our opinion.
Optioned correctly, the base Jeep Liberty Limited Edition and Land Rover Freelander price out to a wash, although our fully loaded (with no options) $32,220 Freelander HSE cost more than our fully loaded Liberty Limited Edition by $3435. Our plan was to compare the Liberty with the more popularly configured but not available for testing Freelander SE, which has a base price of $28,400 and lacks only the HSE's power sunroof, the fancier Alpaca Beige leather, a Harman/Kardon stereo with six-CD changer and built-in navigation system, and 17-inch wheels.
All Freelanders, including the cloth-upholstered $25,600 Freelander S and the base leather-upholstered SE, have the same 174-hp, 2.5-liter V-6 mated to a five-speed automatic and viscous-coupled single-speed four-wheel-drive system. Suspension of the unitized body is by sturdy long-travel struts, and a thick aluminum skid plate keeps the engine safe from accidental mineral deposits.
The Jeep Liberty has a beefy cast-iron suspension built for boulder crawling. Our $28,785 Limited Edition was porked up with the $2945 Customer Preferred package, including leather seats, power everything, premium stereo, and the Selec-Trac two-speed four-wheel-drive system with an "auto" setting and low-range gear. Another $700 went for the sunroof, $600 for ABS, $520 for the Off-Road Group (including a limited-slip rear diff, larger tires, various skid plates, tow hooks, and cooling upgrades), $415 for a trunk-mounted CD changer, $390 for supplemental side airbags, $250 for heated seats, $245 for a towing package, and $40 for an engine-block heater. Stripped of nonessential frills (the $2445 Sport Value Group with air conditioning we feel is essential), our Limited's White Rim badge could be earned with a Liberty Sport for as little as $23,650. Oh, and don't forget the 30 bucks for the permit.