Road Test
It is extremely rare for the Honda Motor Company to find itself playing that most American of all games -- catch-up -- but that's pretty much what the new Pilot is doing. While the rest of mechanized civilization traded elbows and hip checks in a free-for-all rush to score in the growing mid-size sport-utility game, Honda found itself watching wistfully from the sidelines. Worse, to get into the action, Honda did something previously unthinkable: The corporate sachems traded a future draft choice, plus a certain amount of credibility, to get a player from outside the company. Put plainly, the company attached the sacred H logo to a product not made by Honda!
Heresy. Although the Passport (a.k.a. the Isuzu Rodeo) was (and still is) a respectable member of the mid-size fraternity, it is not a Honda, neither in its engineering (we're talking body-on-frame, live-axle truckness here), nor its dynamics, nor its quality.
This state of affairs has endured for some eight years, proving that even Honda can yield to pragmatism, but it's at an end. Honda is about to send in the first team.
To be fair, the Pilot doesn't represent a totally clean sheet of CAD/CAM cyberpaper, although in this case Honda borrows from within rather than buying from without. The new SUV shares the bones and powertrain of the Acura MDX -- although not its sheetmetal -- and both trace their lineage to the Odyssey minivan, meaning it's fundamentally a front-drive design. As such, it's also a unit body, although the structure is enhanced by integrated perimeter frame rails, which should help it stand up to the beating that goes with rough dirt roads.
This last leads to the inevitable caveat of most mainstream SUVs -- that is, the Pilot isn't designed for mountain-goat terrain or other trackless wastes requiring a short wheelbase, vast ground clearance, underbody armor, a low-range transfer case, and a platoon of locking differentials. The Pilot's VTM-4 (Variable Torque Management 4-Wheel Drive) system--standard equipment--does have a dashboard switch that locks both rear half-shafts to get the driver unstuck (there's no center or rear differential), but it operates in just the first two gears and unlocks at 18 mph. Otherwise, the system, which draws its marching orders from the ABS sensors, functions like an all-wheel-drive setup, operating primarily in front drive and sending torque to the rear wheels when wheelspin is detected up front.
Although this kind of hardware draws sneers from serious rock hoppers, we'd say, based on some slithering around on slushy, muddy dirt roads in Southern California's San Bernardino Mountains, the Pilot will handle the worst any owner is likely to throw at it. With aplomb. And in comfort.
But we're getting ahead of the story.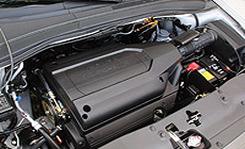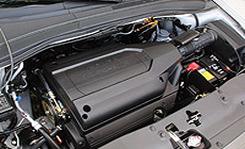 Like the MDX, the Pilot rides on struts up front with a coil-spring, multilink arrangement at the rear designed to allow a flat load floor. It has the MDX's wide track, too--66.3 inches front and 66.5 rear, by far the widest in this class--which enhances stability and also contributes to the Pilot's ability to accept four-by-eight-foot sheets of building material lying flat on that cargo floor, a feat none of its competitors can duplicate.
However, with smooth ride as a key dynamic priority, the Pilot's suspension tuning is a little softer than that of its more expensive cousin, and its 70-series tires (all-season Goodyear Integrity, P235/70R-16) aren't as aggressive as the MDX's 17-inch Michelins. This doesn't seem to hurt the Pilot's skidpad performance much--at 0.73 g, its grip is just 0.01 g behind the number turned in by the MDX (December 2000) and distinctly better than the grip of the Chevy TrailBlazer, Ford Explorer, and Toyota Highlander we tested a year ago (June 2001), none of which cracked 0.70 g.