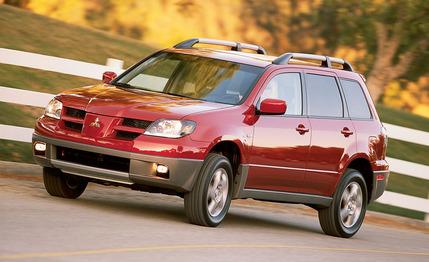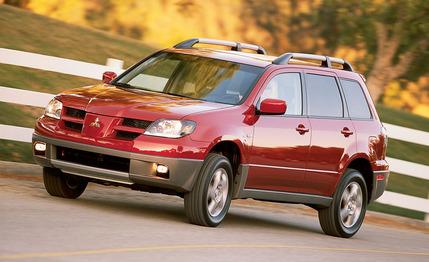 Road Test
Mitsubishi chose to introduce its new Outlander compact sport-utility in the high deserts of Oregon, which was quite a gutsy move for a vehicle motivated by a 2.4-liter four-cylinder engine cranking out just 140 horsepower. At 5000 feet, adequate power becomes marginal, and marginal power feels distinctly inadequate.
"We thought the writers would have enough imagination to realize the Outlander will feel more powerful at lower altitudes," said Mitsubishi's product communications manager, Janis Little. If that's true, we at C/D obviously have little imagination, because the first thing we did was get an Outlander over to our California-desert test track to run the numbers.
At face value, they suggest the four-wheel-drive, full-boat XLS Outlander to be somewhat underpowered, taking 11.7 seconds to reach 60 mph and 18.6 to run the quarter. That's way slower than Honda's CR-V, Toyota's RAV4, and Ford's Escape, due to the Mitsu's 20-to-45-percent weight-to-power disadvantage. We also found a peculiar contradiction in this small ute's performance portfolio: When you're hammering it, it often feels slow, but when you're taking it easy, it feels fairly strong.
With its maximum torque available at a leisurely 2500 rpm and its lively part-throttle response, the Outlander feels more than adequate when running errands and commuting to the office. But hit the interstates or the mountains, and you will find the manual shift mode on the four-speed automatic -- the only transmission available -- to be essential for keeping the little four on the boil up long grades or out of switchback turns.
Of course, performance will undoubtedly be better in two-wheel-drive versions that carry less equipment than did our test vehicle. Mitsubishi will offer Outlanders in front- and all-wheel-drive formats and in two trim levels, LS and XLS. Mitsubishi's own specifications quote a 221-pound difference between two- and four-wheel-drive models, with a price range -- from the front-drive LS to the fully equipped AWD XLS -- of $18,000 to $24,000.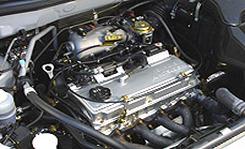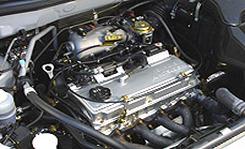 Our XLS AWD employs a center differential that splits torque 50/50 front to rear. A viscous limited-slip device helps to maintain torque delivery to both axles when the going gets greasy, but without a low range, traction control, or limited-slip devices on the front and rear axles, the mini-Mitsu remains a soft-roader.
All Outlanders use essentially the same engine and transmission, although the final-drive ratio on all-wheel-drive models is slightly shorter. So it's fairly obvious that the lightest models will be the quickest.
Since SUVs are more about utility and all-weather security, their quickness probably matters only to people like us. But what will likely appeal to power junkies and slowpokes alike is the Outlander's noteworthy refinement. With a stiff structure (the rear hatch is particularly sturdy) and a chassis tuned for a decent compromise between bump-impact attenuation and body-motion control, the little Lancer-based SUV scoots around without much jarring or rocking of its occupants.
Not only that, it steers well. We found ourselves placing the wheels closer to curbs and lane markings than we might do in many other SUVs. That's how clear the sense of path control is. Steering-wheel effort is low, but since the mechanism responds accurately, that's about all the feedback you really need.