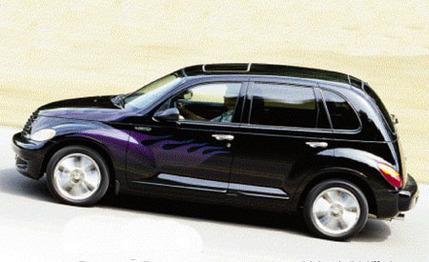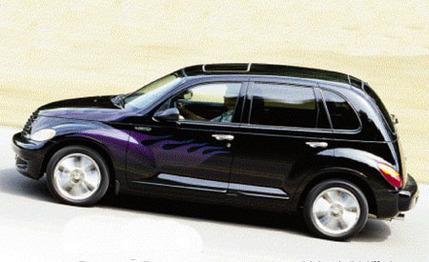 Short Take Road Test
Underneath the hoopla and hosannas that attended the 2000 launch of yet-another Chrysler show car come to life, various pundits could be heard murmuring doubts as to whether the PT Cruiser's retro rod had legs or was just a passing fad. Comparisons were made to VW's New (in '98) Beetle, but that retro cutie was just starting its third sales season, so the jury was out on its staying power. One camp contended that once there was a PT Cruiser (or a New Bug) on every block, the infatuation would end and folks would see these cars for what they are: curvy, underpowered cars in a truck world. Contrarians pointed out that once the honeymoon was over, PT Cruiser owners were left with an amazingly versatile interior with which to bond.
It turns out that the logic of the first camp may hold water for the VW-sales peaked at 83,434 in its second year (during which the turbo option was added) and have slipped ever since. Meanwhile, the still-underpowered 150-hp PT Cruiser continues to sell well in a down market, with nothing but wood-grain, chrome, flames, and a Dream Cruiser styling package to stir the pot.
This popularity probably best explains the three-year wait for the performance boost that many have clamored for. After all, the company that brought the PT Cruiser to life in a reported 24 months could surely have adapted the turbocharged 2.4-liter four-cylinder engine sold in Mexican sedans to fit the PT long before now.
Be that as it may, the 2.4-liter engine has been thoroughly reengineered along with its Mexican cousin, which previously generated lower output. The water jackets in the block and head are revised for better cooling; the crankshaft hardness is increased; new pistons that lower the compression ratio from 9.4:1 to 8.1:1 are now cooled by oil jets; and the valves are all-new. The biggest improvement is the new low-inertia HMC turbocharger, which is integrated into the exhaust manifold. This pleases green types by getting the catalyst working more quickly, and it hastens turbo spool-up for us speed freaks.
With its wee little turbine spinning 14 pounds of boost, the dyno dials churn to 215 horsepower at 5000 rpm and 245 pound-feet at 3600 rpm-a gain of 65 horsepower and 83 pound-feet. The initial batch of PT Cruiser GTs (nickname: PT Turbo) will all be mated to Chrysler's four-speed AutoStick transmission (a Getrag five-speed manual arrives in December), so our test car's transmission was an automatic. A relatively low torque-converter stall speed makes it difficult to lay much rubber down in a drag-strip start, but we managed a 0-to-60 time of 7.2 seconds and a quarter-mile of 15.7 at 88 mph. Our last automatic PT ambled through those milestones in 10.9 seconds and in 18.2 at 75 mph. Top speed climbs from a drag-limited 105 mph to a governed 120, and the 50-to-70-mph passing time drops from 7.6 to 4.7 seconds-useful on a twisty two-lane. Chrysler's engineered-in turbo also handily outran an aftermarket bolt-on Stedebani turbo we tested on an automatic PT Cruiser in September 2000. That one needed 8.0 seconds to reach 60 mph and 16.4 seconds for the quarter.
This 2.4-liter turbo is well-suited to the PT. Power delivery is smooth and linear, with no objectionable boost lag or torque steer. A nicely damped intake system and well-plumbed turbo waste gate manage to quell the whistles and whoops one used to expect from turbos. Of course, this refinement shouldn't surprise us: Chrysler has turbocharged more passenger-car engines than anyone else in the business.
The kind of turning and stopping that often attends 215-hp acceleration calls for chassis upgrades, and the PT Cruiser GT gets 17-inch wheels shod with 205/50 Goodyear Eagle RS-As, standard ABS and traction control, and slightly more-buttoned-down suspension tuning. The 0.77-g skidpad grip and 197-foot 70-to-0-mph braking distance we measured nearly match those of that last automatic PT Cruiser (a Limited model), but the car corners eagerly with minimal noise, and from the better-bolstered driver's bucket, it feels much more sporting. Outside, the GT gets monochrome bumpers with an enlarged lower grille to feed the intercooler, plus a big chrome tailpipe.
Priced at $22,880 to start (the base Cruiser is $17,185), we figure this turbo should keep the PT pot boiling for a good long while.