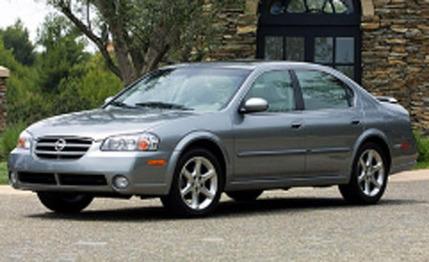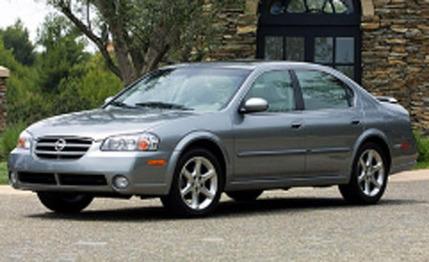 Short Take Road Test
If you've ever found yourself speculating on famous names that have faded into obscurity - like, "Whatever happened to Bill Haley?" - you have a basic understanding of our feelings when we've strapped on recent editions of the Nissan Maxima: Whatever happened to the real Maxima?
Okay, okay, Bill Haley is still dead, and the Maxima is still with us. But it's not quite the Maxima that was once a benchmark C/D sports sedan - a three-time 10Best winner - and it's no longer portrayed as the "four-door sports car" in Nissan ads. What happened here? When did this erosion of spirit begin? And will a six-speed manual gearbox reverse the malaise?
The short answers: Greed, 1995, and no, not entirely, although it helps.
The longer answers: In the early '90s, Nissan retreated from the sporty image it had established for itself via such offerings as the Z-car and the Maxima in an attempt to broaden its market appeal and deepen its penetration. The result - an essential image vacuum, followed by sliding fortunes - wasn't quite what Nissan had hoped for. Made over for 1995, the Maxima mirrored Nissan's retreat from its former high ground to the humdrum of the amorphous mid-size midfield.
The product planners scrapped the old strut multilink rear suspension - and the handling precision that went with it - in favor of a torsion-beam setup (Nissan calls it a "multilink beam") that cut cost, improved ride quality, and allowed the design engineers to substantially enlarge trunk capacity.
Useful refinements, but not the sort of thing to win hearts here. The last time a Maxima won a C/D comparison test was in August 1992. In three comparos following installation of the beam axle (May 1995, November 1995, June 1998), its best finish was second. Like a middle-aged athlete, the Maxima was getting soft.
Nissan sought to revive the Maxima's old macho in its 2000 stem-to-stern makeover, stiffening the structure and adding more power, and then it upped the ante again this year with another healthy jolt of vitamin HP and an additional cog in the manual transmission. There are six forward speeds to stir now, and the extra punch - 255 horsepower and 246 pound-feet of torque versus the previous 222 (227 on 20th-anniversary SE editions) and 217 - comes from Nissan's excellent 3.5-liter DOHC 24-valve V-6, the same engine employed to propel the new Altima, 350Z, and Infiniti G35.
Adding power is certainly one way to revitalize a car's image. Even with the stiff, deliberate shifting action of the new gearbox, the extra punch makes for a distinctly quicker point-A-to-point-B experience: 6.0 seconds to 60, 15.7 to 100, and 14.7 seconds at 97 mph over the quarter-mile, a sharp contrast to the last manual Maxima we tested in June 1999: 0 to 60 in 7.0, 19.5 to 100, and 15.6 seconds at 91 mph for the quarter. The '02 car also posted substantially better braking numbers, requiring 182 feet to stop from 70 mph, compared with a very indifferent 195 feet by our 1999 test car.
Respectable hustle, yes. But it doesn't stand out from the herd as have previous Maximas because the herd has gotten quicker. The cheeky little Subaru Impreza WRX, for example, dashes to 60 in 5.4 seconds and to 100 mph in 15.5, and runs the quarter-mile in 14.1 seconds at 96 mph. The 260-hp Acura 3.2TL Type-S hits the 60- and 100-mph marks in 6.2 and 16.0 seconds, respectively, covers the quarter in 14.8 seconds at 96 mph, and stops from 70 mph in 186 feet - despite an automatic transmission. The rear-drive G35, another automatic, chalked up almost identical acceleration results and stopped from 70 mph in just 162 feet ( C/D, May 2002).
Moreover, although more muscle certainly lends haste to the Maxima's dynamic traits, it also adds torque steer, particularly in editions equipped with manual transmissions. It's not as unruly as in the old Saab 9-3 Viggen, but it's there. Although this is one of the quickest sedans for the money, it once again illustrates the limitations of front-wheel drive.
That's the Maxima's dilemma. Surrounded by increasing numbers of rear- and all-wheel-drive competitors, it has reached its developmental zenith. And in fact, this is the last ride for the current platform. The next generation will share the latest Altima's foundations, a change that should produce improvement but will leave Nissan's top sedan committed to the performance drawbacks of front-wheel drive.
As a footnote, we reflect on our reaction to the original Maxima (C/D, April 1981), which debuted as an upscale version of the 810 sedan: "What we have here seems to be a clear case of over-Americanization." The more things change...