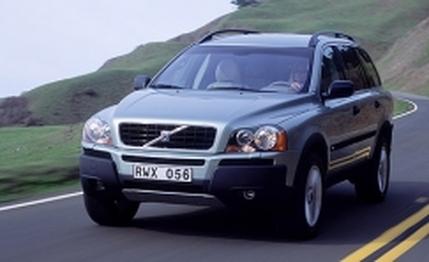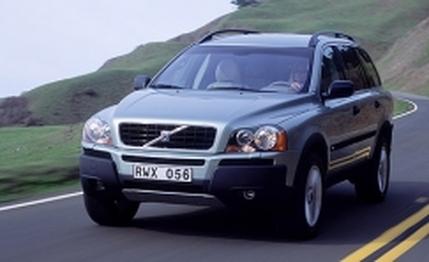 First Drive Review
When a car company whose name means "I roll" in Latin plans a foray into the world of sport-utility vehicles, you can bet there's some serious review of the issues. Particularly if that company has already acquired a hard-won reputation for safety.
Volvo's answer to any philosophical challenge prompted by the introduction of its handsome XC90 SUV is the acronym RSC. That's "roll stability control" in longhand, and it designates a system intended to predict and prevent rollover accidents.
With RSC, Volvo is confident that it has addressed the SUV rollover bugbear in a meaningful way. Indeed, RSC may add considerable fanfare to a product launch intended specifically to increase Volvo's market share.
The segment into which Volvo so boldly places the XC90 is one that commands 400,000 sales annually. Dominated by the Jeep Grand Cherokee (Volvo excludes the Explorer on grounds of image), which owns fully half the segment, it is a class in which the Mercedes M-class, Lexus RX300, Acura MDX, and BMW X5 vie for position. Volvo plans to sell 39,000 XC90s alongside these models.
As a premium European brand, Volvo slots into the segment like a missing jigsaw-puzzle piece. And what a stylish piece it is. Sketched and shaped by a team headed by vice-president and chief designer Peter Horbury, the XC90 has morphed Volvo's car-design language into an attractive and distinctive entity.
The egg-crate grille, the V-shaped hood, the pronounced beltline shoulders, and the familiar taillight forms are all current Volvo motifs, yet they combine in this new SUV without a hint of contrivance. The XC90 is clearly not the V70 XC - that is, a car dressed as an SUV. It's the real thing.
Nonetheless, the XC90 is based on current Volvo car architecture, using S80 platform technologies and drivetrains, but with substantial revisions. The in-line five- and six-cylinder turbocharged engines are similar to those in the cars, nestled transversely under the hood for optimal packaging, says Volvo. This layout even allows a tad more crush space up front.
To handle the extra weight of the XC90, both engines have been slightly increased in capacity. The five-cylinder unit has grown from 2.4 to 2.5 liters and now produces 208 horsepower at 5000 rpm and 236 pound-feet between 1500 and 4500 rpm. Volvo's biturbo six went from 2.8 to 2.9 liters and now makes 268 horsepower at 5100 rpm, with 280 pound-feet of torque available between 1800 and 5000 rpm.
With either engine, automatic transmissions incorporating Volvo's Geartronic manual override are the order of the day. The five-cylinder engine gets a five-speed box, and the six, with its greater torque, makes do with a GM-sourced four-speed. Both engines feel strong and responsive on the road, and both transmissions shift smoothly. The primary difference - aside from a perceptible power advantage from the six - is that the five-cylinder warbles lustily while the six is more muted and relaxed.
An SUV wouldn't be worthy of its appellation without some sort of four-wheel-drive system. So the XC90 offers the electronically controlled Haldex system like the one on the S60 AWD (standard on the AWD T6, optional on five-cylinder 2.5T models) that can shift from a normal 95-percent front-wheel bias progressively through to a 95-percent rear-wheel bias if conditions warrant it.
Side-to-side wheel slip is managed by the traction-control system, and the all-wheel-drive mechanism is automatically disengaged during parking maneuvers or when one of the stability systems kicks in to prevent a slide. The result is a wholly transparent four-wheel-drive system not unlike those underpinning the other players in this segment.