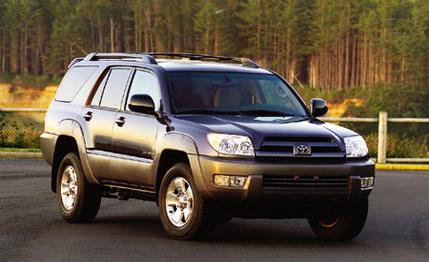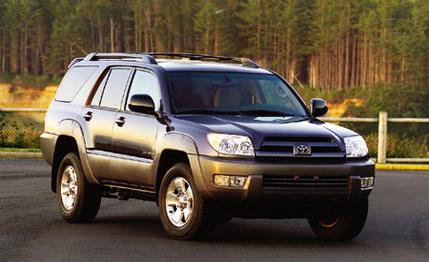 Road Test
According to Toyota senior vice-president and general manager Don Esmond, mid-size SUVs now account for 10 percent of all vehicles sold in the U.S and are the biggest sellers in the SUV category.
So it doesn't seem unreasonable for Toyota to have two players in that category: the Highlander, which is a car-based monocoque vehicle, and the 4Runner, which is a body-on-frame vehicle with truck DNA and better off-road potential.
The 4Runner got here first, having played the market for 18 years in three successive generations. Make that four. The new 4Runner is here as a 2003 model, and it's bigger, heavier, and more powerful than ever before.
Seeking improvements in comfort, on- and off-road handling, safety, performance, and economy, Toyota has completely reinvented the 4Runner. Based on the Prado (a sort-of seven-eighths-scale Land Cruiser not sold in this country) rather than the Tacoma, the new vehicle has a wheelbase that is 4.5 inches longer (109.8 inches), as well as an equal increase in overall length (now 187.8 inches).
Accordingly, the stretched 4Runner offers two more inches of front legroom. There's 0.4 inch more headroom, and the outboard passengers sit two inches farther apart in an interior that's now four inches wider.
Under the more-spacious bodywork is a new frame with full-length box-section rails and nine fully welded crossmembers. The front crossmember is mounted low enough to engage the bumpers and crash systems of smaller vehicles, and "soft" front-end sheetmetal and a plastic grille are intended to reduce injury to pedestrians.
Two engines are offered in two- and four-wheel-drive configurations. A new 4.0-liter V-6 is now the base motivation for the 4Runner, developing 245 horsepower at 5200 rpm and a hefty 283 pound-feet of torque at 3400 rpm. As well as being Toyota's first aluminum truck engine, the 1GR-FE (as it's known internally) is the product of 3-D engine-modeling techniques and features chain-driven camshafts, variable valve timing with intelligence, and variable intake geometry.
The upscale engine is a 4.7-liter V-8 related to the i-Force mill found in the Sequoia, Tundra, and Land Cruiser. In this guise it produces 235 horsepower at 4800 rpm and 320 pound-feet of torque at 3400 rpm. As you can see from the numbers, the V-6 has more horsepower, but the V-8 has more torque, and it's delivered across a very broad rev range.
Thus, our V-8-powered 4Runner SR5 test car purred to 60 mph in just eight seconds--no mean feat for a two-plus-ton SUV with full-time four-wheel drive. We'll have to wait until we test the V-6 model before we'll know whether it can duplicate that achievement. Clearly, though, power isn't a problem in the new 4Runner.
Nor is driveline refinement. The 4Runner shifted smoothly and elegantly in every situation through the five ratios of its new automatic transmission. Selecting low range with the dash-mounted rotary switch--also used in the part-time system on V-6 models to shift from two- to four-wheel drive--was equally transparent.
The transfer case in both engine variants uses a lockable Torsen center differential and in normal operating circumstances has a rear-wheel torque bias (the planetary gearing splits torque 40/60 front to rear). It can increase rearward torque distribution up to 70 percent when needed, or send up to 53 percent forward when the rears lose grip.