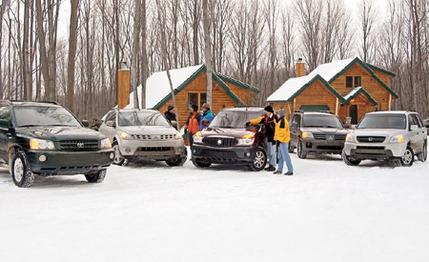 Comparison Tests
They're called crossovers, a term that demonstrates-to us, at least-that the auto industry's creative pumps are sucking wind in the realm of descriptive nomenclature.
Crossing over? From where? To what? And why?
Let us propose another term: neither-nors. The machines you see arrayed on these pages are neither sedans nor station wagons nor sport-utilities, although they do have, in varying degrees, that broad-shouldered, bull-nosed, square-backed, high-steppin' SUV look that has seduced so many Americans in the past 20 years.
Looks notwithstanding, the neither-nors defy traditional classification. Whereas a traditional SUV is composed of a body and perimeter frame that are strangers until late in the production process, the neither-nors are unit bodies, with frame rails integrated into the body shell. Unit bodies are not quite as rugged as bodies on frames when it comes to pounding across trackless wastes, but they're lighter and stiffer and better suited to fearless expeditions to the mall and supermarket, destinations that rank high on neither-nor itineraries.
Another distinction: A traditional four-wheel-drive SUV generally possesses a two-speed transfer case, providing a low-range gearset for particularly tricky off-road navigation-rock crawling, bog slogging, stump jumping, and other forms of automotive amusement that eschew pavement. The neither-nors also offer the option of traction at all four corners-every vehicle in this comparison was so equipped-but they're derived from front-drivers and most operate primarily in front drive before transferring power to the rear wheels at the onset of wheelspin.
Towing capacity is yet another difference. Traditional sport-utilities deliver higher ratings than vehicles based on front-drive platforms, which usually list 3500 pounds as their upper limit. That was the case here, although the absence of a towing package on our tester limited the Buick Rendezvous to 2000 pounds.
Crossover is an amoebalike category embracing a bewildering variety of machines. The Pontiac Vibe and the Toyota Matrix, for example, are regarded as crossovers. So is the Honda Element. And the offbeat Suzuki Aerio SX. And the Subaru Baja, an automotive jackalope if ever there were one.
Viewed against the total neither-nor diversity, our test group seemed pretty cohesive to us. With the possible exception of the Nissan Murano, all have that SUV-wannabe look (so no one can possibly confuse them with minivans-very important). All have at least a smidgeon of extra ground clearance for travel on unpaved roads and trails, all provide cargo- and passenger-carrying flexibility (albeit in varying degrees), all are closely grouped in the low-lux $33,000-to-$35,000 range, and all are conceived to deliver carlike drivability.
Conceived. That's a key word, one that leaves considerable latitude for interpretation, as we learned during a 600-mile midwinter ramble to northern Michigan. The route went from our Ann Arbor headquarters to Boyne Mountain, a ski resort in the northwest corner of the Lower Peninsula, then through Harbor Springs, Petoskey, and Charlevoix-the Michigan Riviera-and finally home. Included along the way were backwoods excursions to see how our fleet behaved on dirt roads covered with a few inches of snow, an exercise spiced up by occasional squadrons of snowmobiles sharing the routes.
As the miles passed, it became clear that for all their general similarities, each of our neither-nors had a distinct personality. The question then became one of what barometer to apply in picking a winner. In the end, we focused on all-around usefulness-utility, in fact. Not that this made the ranking any easier.