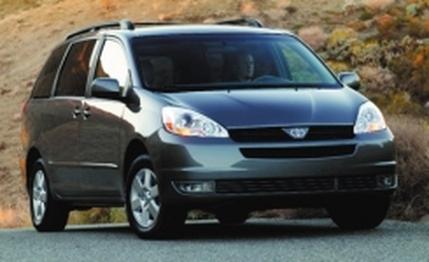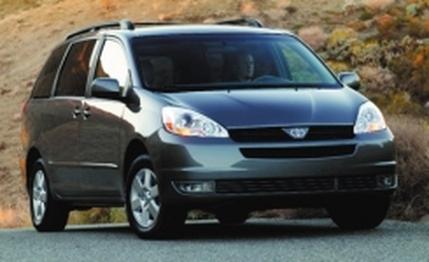 First Drive Review
It's well after midnight at the minivan club, and the patrons have started to drift away. In 2000, more than 1.3 million customers paid to get in, but last year just over a million turned up, and the expectations for 2003 aren't much better. Sport-utilities and segment-splitting wagonoids-those are the hot tickets now. The lingerers are practical young families and retirees with grandchildren. Well, the world isn't running thin of those folks, Toyota counters. And even if it's just a million or so who want a traditional minivan in all its two-box, five-door, 10-cup-holder glory, that's still a lot of cash in play.
So here comes the new Sienna, a traditional minivan, as minivan as minivans get. The public was queried, the competition was studied, and in a few cases, the competition was copied. Plus, chief engineer Yuji Yokoya personally drove 53,000 miles across America, Canada, and Mexico in an old Sienna, strictly avoiding Hawaii "to keep [my boss] from thinking this was nothing but a big vacation."
The diminutive Yokoya fell in love with Wendy's burgers and also figured out what's wrong with the old Sienna-slovenly handling, a limited turning radius, and a general lack of comfort, space, luxury, stability, and optional all-wheel drive.
The boxes are all checked now: The Camry-based Sienna for 2004 is bigger than its predecessor by 4.0 inches side to side, 5.1 inches at the wheelbase, and 5.9 inches stem to stern. In fact, the Sienna is now as big outside and bigger inside than a long-wheelbase Dodge Grand Caravan. Shoulders, legs, and heads now receive ample airspace throughout.
The Sienna is handier. The interior has been shotgun-sprayed with hooks, power sockets, and cubbyholes and fitted with flip-and-fold middle-row seats that slide fore and aft. In the case of optional captain's chairs, they can be repositioned left to right. The 60/40-split third row folds into the floor without the need to remove the headrests and is assisted by springs to lighten the load. It thoroughly outmaneuvers the Honda Odyssey's non-splitting, headrest-intruding collapsible bench.
The Sienna is stouter. A new 230-hp, 3.3-liter DOHC 24-valve V-6 cogitates with a five-speed automatic and optional all-wheel drive. Urban nimbleness goes up with a 36.8-foot turning radius, the tightest of today's minivans, and electronic panic-brake assist.
The Sienna is also plusher. Four trim levels range from the better-equipped base CE starting at $23,465, which includes keyless entry, dual-zone climate control, and a dashboard maintenance reminder, to the chrome-accented XLE Limited with leather, a wood-grain steering wheel, and power-operated side doors and rear hatch. The Sienna's options sheet includes a navigation system, a rearview camera, adaptive cruise control, ultrasonic bumper-distance alarms, and a back-seat movieplex. Toyota wasn't ready to reveal prices on the upper trim levels, but figure the emperor-class Sienna will cost at least $36,000.
Not a whole lot is new here, Toyota admits. The Ford Windstar is represented by the Sienna's convex kid-spying rearview mirror. The Mazda MPV is flattered by the Sienna's lateral-moving captain's chairs (although the Toyota's don't slide but must be detached and resecured), and roll-down windows on the sliding doors. The Chrysler minivans were first with power liftgates.