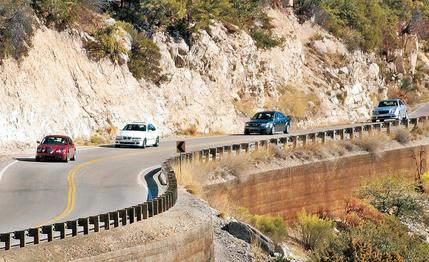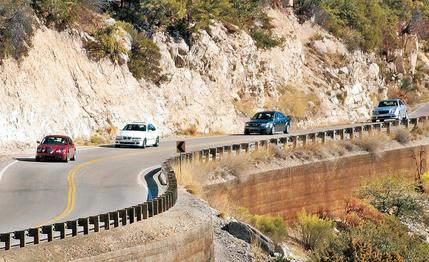 Comparison Tests


From the May 2003 Issue of
Car and Driver
The pursuit of happiness is something we all share as a Declaration of Independence promise, but the mere existence of cars such as these makes it clear that some of us are inclined to pursue happiness more rapidly than others. In fact, for some there's a direct correlation between the velocity of the pursuit and the level of happiness. The framers of the Declaration couldn't foresee how far this phenomenon would go, but they can be forgiven, toiling, as they were, a long time before the establishment of Audi, BMW, Jaguar, and Mercedes-Benz.
Would Thomas Jefferson have idealized an America of self-sufficient yeoman farmers if he'd known that someday there would be a Mercedes E55 AMG? Not likely. For one thing, a device such as this blitzin' Benz is clearly beyond the economic horizon of simple yeoman farmers. For another, T.J. would have been kicking himself for having been born a couple centuries too early. Even a guy who'd never seen an automobile could appreciate these formidable four-doors.
For the driver who wants sports-car performance with luxo-sedan convenience and comfort, it doesn't get any better than this. It can get fancier, it can entail even more power, and it can get a whole lot more expensive. But not better, when better is defined as quicker and more agile.
We need to temper the foregoing. Although they're all fast, with two-ton curb weights no player in this quartet has the moves of a BMW M3. On the other hand, they're close to that standard (the handling guys seem to keep finding ways to enlarge the loopholes in the laws of physics), and beyond this size-and-performance class the offerings become more relaxed in character and even heavier.
They also become triple-digit dear. Go beyond the Audi RS 6, and you're in the realm of cars with hacienda-size price tags. For that matter, the window stickers of our test group aren't for the faint of pocket. The demographers tell us these formidable four-doors are likely to attract mostly guys (90 percent, according to Audi), mostly in the 45-to-50 age range, mostly making upwards of 250 large. Guys whose pockets are, if not Maybach bottomless, at least deep enough to indulge in lavish whims.
So before lighting the fuses, we spent some time speculating on what sort of driving priorities these guys might bring to the showroom. Would they want relentless rush? Speed is a common denominator here, but it's clear that some members of this classy cartel deliver more of it than others. Leather-clad hedonism augmented by symphonic sound systems? Another common denominator, but with only subtle variations. How about halfback agility? Significant distinctions on that front, for sure, but significant divisions within the test crew on its importance. And 600 miles of touring blitz amid the exotic cactus-clad landscape of southern Arizona didn't entirely resolve those divisions.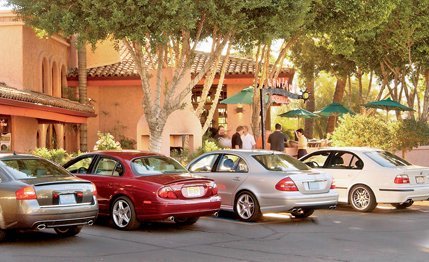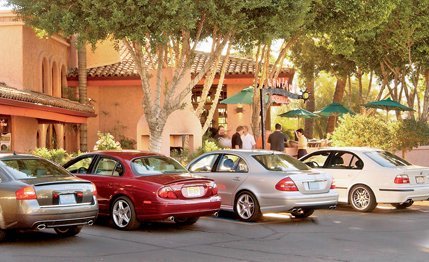 We were unanimous on one point, though. These sedans are seductive in the extreme—stylish, handsomely appointed, competent, and, as noted, capable of shrinking distances in a faster-than-average hurry. Much faster. Beyond that, the distinctions get to be pretty subjective.
You may recall we've visited this category before ("Battle of the Best," March 2000). In that test, the then-new M5 squared off against a Jaguar XJR and a Mercedes E55 AMG.
How quickly things change. The M5 goes from youthful phenom to seasoned veteran, facing fresh challengers from Audi, Jaguar, and Mercedes, and the horsepower standards have escalated by a bunch. Three years ago the Bimmer's 4.9-liter DOHC 32-valve V-8 made it the power player of the supersedan pack. This time around, the same car comes to the starting grid with the second-lowest horsepower rating (394 versus the Jag's 390) and the lowest torque numbers. The E55 AMG, meanwhile, has been made over and enters the fray with eye-widening output from its supercharged 5.4-liter V-8—469 horsepower and 516 pound-feet of torque, a huge uptick from the 349 horsepower and 391 pound-feet of its naturally aspirated predecessor. Audi's entry is only slightly less potent. Clearly, the ante has gone up in this thoroughbred sweepstakes. So, who holds the winning ticket now? Only one way to find out.