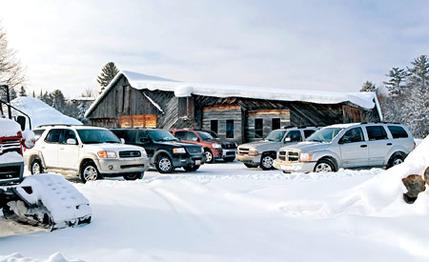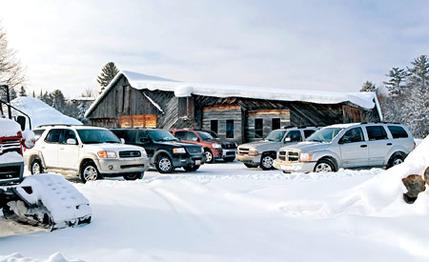 Comparison Tests
Gitche Gumee, according to Henry Wadsworth Longfellow, is the old Ojibwa name for Lake Superior, upon whose shores young Hiawatha spent his formative years. The territory includes northernmost Michigan and Wisconsin and northeastern Minnesota. It was Ojibwa turf in the days of Longfellow's epic poem "The Song of Hiawatha," which old Henry finished up in November 1855. That was a little before the advent of the snowmobile and the sport-utility vehicle. If Longfellow were to tackle the same saga today, Hiawatha's life would probably be a little different. None of this sleeping in a deerskin wigwam during ice storms and subzero temperatures, for one thing. The 21st-century Hiawatha would probably be managing the Pair-A-Dice casino in Christmas, Michigan, and living in fancy Gitche Gumee lakefront digs, maybe in Grand Marais.
And the chances are better than even that he'd be driving a selection from this quintet of super-size SUVs, a class of vehicles that are eminently well suited to the challenges posed by the dramatic climate of Michigan's north coast.
Winter driving in this area-Michiganders refer to it as the U.P., for Upper Peninsula-provides one of the key conditions that send people in a headlong rush to these big boys: snow, ice, slush, and combinations of the three that make traction treacherous.
When wintry conditions prevail, does a four-wheel-drive truck really have an advantage over an ordinary car? Only one way to find out. We assembled a fleet of jumbos-three established entries, two all-new-and headed for Hiawatha territory in the U.P. We were accompanied by abundant snowfall, plenty of ice, frozen water falling from the skies at regular intervals, bandito packs of snowmobiles popping out of the piney woods at unexpected points along the way, the absence of temperature (meaning zero degree Fahrenheit, and that was the high one day)-in short, excellent winter test conditions. Add in access to the General Motors R&D facility near Kinross, Michigan-a former Strategic Air Command base that once echoed with the thunder of B-52 bombers-and you have the right recipe for sorting the merely good from the outstanding. It just doesn't get any better-or do we mean worse?
Our route led from Ann Arbor north across the Straits of Mackinac to Kinross, where we put the trucks through their paces on a 1.6-mile off-road handling course GM uses to evaluate-you guessed it-off-road handling. Lapping this layout told us more about tires than anything else-the Tahoe was by far the easiest to herd around the circuit. But the slippery staging area, part of an old runway system, proved to be beautifully suited to drifting, and Pund surprised everyone, perhaps even himself, by displaying a hitherto unsuspected talent for this unique pastime. Drifter Dan.
From Kinross, we booked across an icy Highway 28 through a beautiful sunset into near-blizzard conditions as we approached the Gitche Gumee shoreline. The weather menu included white-out conditions at various points, as well as episodes of deep, salty slush that lent a measure of credibility to the old "road-hugging weight" ethos.
After an overnight in Marquette, we headed back the way we'd come, diverting to the lakeside for a lunch stop at the Dunes Saloon, a brew pub in Grand Marais, which may be the snowmobile capital of North America.
In all, a thousand wintry miles, from which we emerged with a clear winner, and an observation: Hiawatha, dude, we think you would have been happier in Phoenix.