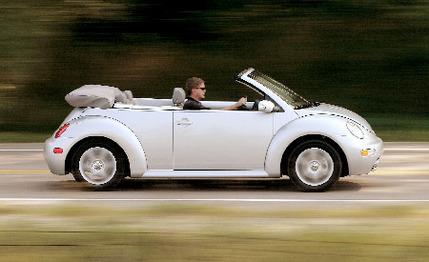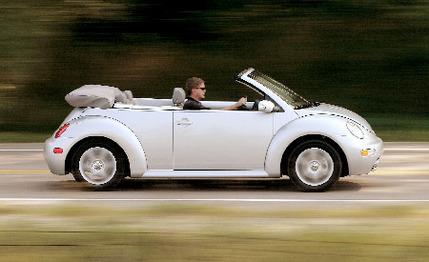 Short Take Road Test
When we tested Volkswagen's New Beetle GLS 2.0 convertible last year (February 2003), we came away impressed with its "reasonableness"-which is to say, its well-insulated top, solid structure, and six-speed automatic. But we were unimpressed with its sluggish performance. For a borderline-reasonable $25,735 as tested, the portly 3194-pound droptop Beetle, with a meager 115-hp, 2.0-liter four-cylinder, huffed and puffed from standstill to 60 mph in a distressing 12.4 seconds-or about the same time it takes the softtop to lower and fold into a whale tail-and through the quarter-mile in 18.9. That Bug was more of a slug than a Beetle.
As usual, Volkswagen's engine queue was holding a familiar adrenaline shot. The ubiquitous 1.8-liter, 20-valve turbocharged four, which adds oomph to the brand's Golf, GTI, Jetta, and Passat, and even the Audi A4 and TT, was just waiting in line, itching to give the Bug some speedier legs.
Speedier, indeed. Our 1.8T test vehicle, a GLS fitted with a five-speed manual, makes the naturally aspirated 2.0 model look like Grandma's proverbial Sunday driver. Despite the 1.8T's diminutive displacement, it makes a healthy 150 horsepower (35 more than the 2.0) and an even healthier 162 pound-feet of torque (37 more). Arguably one of the best four-cylinder motors around, the 1.8 is smooth and refined, exhibits very little turbo lag, and makes the Beetle convertible a much more powerful-and enjoyable-hair dryer. With the boosted engine, the 3206-pound convertible scoots to 60 in 7.7 seconds, 4.7 ticks quicker than the 2.0 automatic and only 0.4 slower than its 2940-pound hardtop counterpart ("Cheap Speed," June 1999). Likewise, the 1.8T's quarter-mile time drops significantly, shrinking the 2.0's time 2.7 seconds to 16.2.
As a general rule, more performance costs more money. But in the case of the Turbo cabrio, it's a modest sum that is well spent. The manually shifted GLS model tested here carries a base price of $25,395, which is $2180 more than the 2.0 manual model and $1005 more than that car with an automatic. Not a steep increase considering the performance upgrade. Plus, with some sensible options added in, such as our test car's leather package ($900), ski sack ($185), and wind blocker ($250), the as-tested price comes to $26,730, just $995 more than the loaded '03 2.0 automatic we tested last year.
Other than the big bump up in straight-line speed, the Turbo performs much like its naturally aspirated sibling. Wearing identical 205/55R-16 Goodyear Eagle RS-As, the Turbo posted a 174-foot stopping distance from 70 to 0 mph-three feet shorter than the 2.0-and handled the twisty roads with the same moderate understeer. Although we couldn't verify the 1.8T's roadholding due to a snow-covered skidpad, we suspect it would match the 0.82 g we recorded with the 2.0 car.
Now in its second year, the New Beetle convertible gets several noteworthy upgrades. Seat-mounted side airbags now shield the head and thorax of the driver and front passenger, the front seats get active head restraints to help minimize whiplash, and the previously optional 10-speaker Monsoon stereo is now standard in the GLS.
These niceties add peace of mind, as well as some noise, but they don't overcome the cabrio's dismal five cubic feet of trunk space or the back seat's lack of shoulder and legroom, which measure 7.2 and 2.0 inches less than in the sedan.
With the recent announcements that Mini is bringing a Cooper convertible to market in the second half of 2004 and Chrysler will begin selling its topless PT Cruiser for between $19,995 and $28,155 about the time you read this, it's apparent that Volkswagen is about to get some cute competition in the four-seat, compact-convertible segment. Whether that's good company or bad for VW will require a comparison test. At least for now, be advised that the New Beetle convertible need not be a slug Bug.