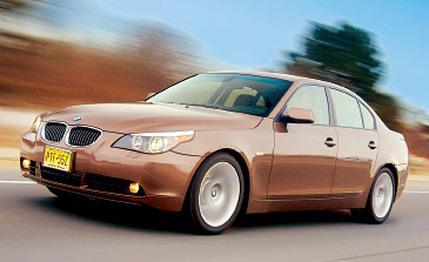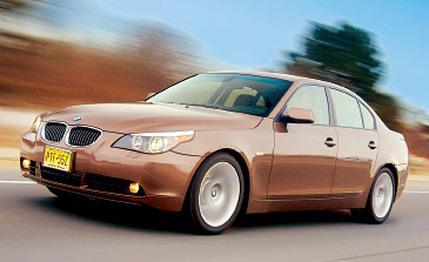 Short Take Road Test
With its heavy-lidded, serial-killer eyes, the latest BMW 5-series looks like a scowling jack-o'-lantern-styled with a paring knife that might have nicked a finger or two. Not bungled, just Bangled.
We tested the new 530i last January with its 225-hp inline six. Now comes what really engorges the salivary glands: the 32-valve, 4.4-liter V-8 lifted from the 7-series. It produces 325 horses versus the previous 540i's 290, but those 35 bonus ponies come at a cost. The 545i automatic carries a base price of $55,695. With the manual six-speed, as tested here, the sum climbs to $58,995. That's $13,400 beyond the 530i's attractive base, or, uh, $6700 per additional cylinder.
Know what? It's worth it. This V-8 is among the friendliest, most enthusiastic engines in existence. It revs so fast, so freely, so smoothly that you'll bang into the 6500-rpm redline five or six times in the first hour of motoring. Revs accumulate with so little vibration, and the engine note is so elegantly hushed that you're repeatedly 1000 ticks beyond what's intended. From 1500 rpm to redline, the thrust is steady, constant, eager, hiccup-free.
Some of the glory goes to BMW's trademark throttle tip-in. Not a trace of transmission windup or snatch, and seamless transitions from ratio to ratio. It's actually difficult to mismatch revs, even when you let out the clutch prematurely. If you misjudge a turn and need to apply more throttle-or need to jump out of the gas entirely-this driveline is magical at damping the herky-jerky, concealing your errors.
Moreover, the shift linkage is among the lightest and most frictionless extant. Shifts are short, quick two-finger affairs, individual rifle shots. The clutch is light, with takeup that is quick but predictable, and the pedals are perfectly arrayed. You don't need a clutch at all from third to fourth. The last manual transmission that supplied this much pleasure was in a Honda Civic EX. And before that? Well, in about six or seven different BMWs.
Sixty mph is yours in 5.5 seconds, same as a 282-hp 540i we tested in 1998. But the older, less powerful car, which was 232 pounds lighter, was 0.9 second slower to 100 mph and two seconds slower to 130 mph.
Our 545i cleared the quarter-mile in 14.1 seconds at 103 mph, an improvement of 0.2 second and 6 mph over a 3924-pound automatic-transmission 540i we tested in 2001. That's sports-car performance-similar to, say, a Nissan 350Z Touring's-from a two-ton sedan.
On our 10Best handling loop, the 545i was ever flat, stable, controlled, predictable. Body roll? None that we can recall. No combination of lumpy pavement and confused S-turns came close to surprising the suspension. The ride is surely firm-as solid as Midwesterners will tolerate on frost-heaved roads-but rarely jarring. And like an Iditarod husky, the structure is shiver-free.
The 545i's brakes are deep into Zuffenhausen territory, bleeding off 70 mph in only 156 feet. Better yet, the pedal is so communicative, so nicely calibrated, that it's a simple matter to push until you feel one or two ABS pulses, back off, then push again. Even at that threshold of ABS, the decelerative force will rearrange your hairdo. In the 545i, there are no panic stops.
Which is not to say that ol' Pumpkin Eyes is perfect. Every 5-series is now fitted with iDrive, which might better have been called "iDrive While Someone Else Attempts to Tune the Radio." The dour cockpit is approximately as inviting as a coroner's office. Depress either the spring-loaded turn-signal or wiper stalk, and it immediately returns to its original position, as if disputing your command. The headlamp switch has been downsized to suit pre-schoolers' fingers. The analog engine-temp gauge has taken a runner. When the ultra-aggressive traction control is activated, the V-8 dies as if you'd just driven into a river. And the "active steering" is, well, active at distracting-too much gain at low speeds, too little at high speeds. If you hustle the 545i into a decreasing-radius turn, you'll get to sample both extremes in the span of a second or two. Truth is, BMW needs to fear the sort of electronic gee-whizzery that currently pollutes so many Mercedes models.
The 545i is more effective than its predecessor, if considerably less warm and inviting. Still, it's reminiscent of the first Benz 500E-that same aura of steely invincibility, that same eagerness to help its pilot drive smoothly. In the car biz, compliments rarely come larger.