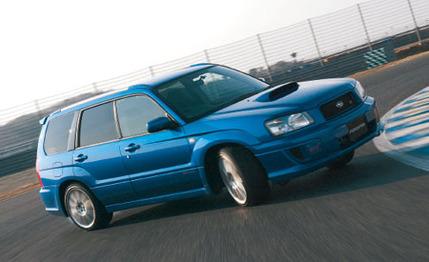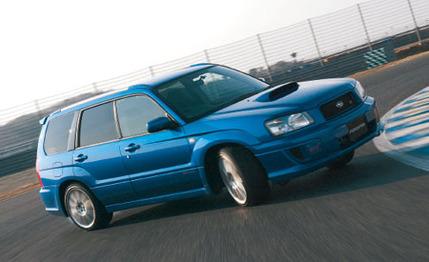 Mini Test Road Test
Up until now, the Forester tall wagon has always been the undercover performer of Subaru's boxer-engined family, which includes the Impreza, the Legacy, and the stonking Impreza WRX STi. Patting itself rightly on the back for 50 years of carbuilding, Subaru will throw a coming-out party of sorts by turning the Forester over to its power-making performance shop, STi.
Subaru set out to create the fastest and meanest-looking Forester ever. Every piece of the best hardware has been thrown at this boxy wagon to complete the metamorphosis. After driving the Forester STi at the Twin Ring Motegi circuit north of Tokyo, we think the skunkworks has produced a genuine beast.
Take a look at the spec sheet, and what one notices is that underneath the librarian-friendly exterior of the Forester lie the mechanicals of the U.S.-spec WRX STi. The 2.5-liter turbocharged flat-four from the STi is under the hood and making 265 horsepower, 55 more than the next-hottest Forester, the 2.5XT. A six-speed manual, a larger intercooler, and a low-back-pressure exhaust system round out the changes. Shift throws are short and tight, and the top three ratios of the box are 14 percent taller to match the engine's torque curve.
To deal with the extra power, the Forester STi gets upgraded suspension components. In addition to STi sport springs and revised struts at each corner, there are beefier anti-roll bars and cross-members. The changes result in a ride height that is 1.2 inches lower and produces an improved resistance to torsional forces. Rolling resistance is also improved, but the higher center of gravity of the Forester reminds the driver that this is not a WRX STi.
The steering on the Forester STi is similarly transformed. The new rack has a quicker ratio that leads to more-deliberate turn-in. Understeer will rear its head when you near the ridiculously high limits, but oversteer is as easy as lifting your right foot off the accelerator.
Other items lifted from the Impreza parts bin are the wheels, tires, and brakes. The STi gets 18-inch, 10-spoke alloy wheels with wide 225/45R-18 Bridgestone Potenzas. Four-piston Brembo brakes do duty on the front rotors, and two-piston units clamp the rear. The combination has the depth to scrub off enormous amounts of speed instantly without a great deal of dive, thanks to the stiffer suspension.
Inside, the fastest Forester gets aggressively shaped STi seats and a smaller leather steering wheel and shift knob with red stitching. Aside from these carefully chosen bits, there aren't many more creature comforts. Subaru's goal with this wagon was to create a hard-core Forester that could keep pace with a WRX STi but with more utility and for less money. That's exactly what's been done. And for about $28,000 in Japan, it's a bargain.